1 - Zay Jones: We're building an identity
When the Bills' roster reported to One Bills Drive Wednesday, they were greeted by two new empty stalls in the locker room.
Buffalo decided to part ways with Kelvin Benjamin and Andre Holmes Tuesday evening, cutting ties with two veteran wideouts who entered the 2018 campaign with significant roles.
The moves reminded the Bills' young receiving corps that roster spots aren't guaranteed. Sophomore Zay Jones, who is now Buffalo's longest-tenured receiver, will miss his former teammates.
"I was in a position last year where things were a little unexpected," Jones said. "Changes happened, and I didn't know quite how to handle it. Now, I understand the nature of the business. I wish Kelvin the absolute best, I wish Andre the absolute best. Two brothers that I have off the football field that I will continue to talk to."
Buffalo is now left with an inexperienced, but eager receiving corps that will have the opportunity to prove itself over the final four weeks of the season. Jones is confident in the team's young playmakers, and he senses that a group identity is taking form.
"We aren't a group of guys that's played, I haven't played four or five years," Jones said. "I'm still a young player, as well. We are building an identity. I think that we're a hard working group, a competitive group, we're hungry. Rob Foster brings things to the table, Isaiah [McKenzie] brings things to the table, dynamic players. Our focus is just to keep working hard and expand on what we do well."
2 - Isaiah McKenzie: Change the culture and raise the standard
Though there was undoubtedly a different feel in the receivers meeting on Wednesday, the absence of Benjamin and Holmes is only causing motivation. Second-year wideout Isaiah McKenzie wants the team to build upon what they accomplished when the two receivers were in Buffalo.
"Those guys, they came here, they did their job, and they really set the standard for us," McKenzie said. "We've just got to take over. We came in the room, and I told Zay Jones this, I said 'We have to change the culture and raise the standard.' Because we're all young guys. We've got to show the coaches that we can do it and stay consistent and win games."
McKenzie wants to see the group make an impact, and he thinks that they will be able to do so as early as this weekend.
"It's a big opportunity," McKenzie said. "We have to go out there on Sunday and show what we've got. We're going to be silent assassins. We're going to do our job the best way we can, make big plays as young guys. Eventually we'll show the world that we can win games with these young guys."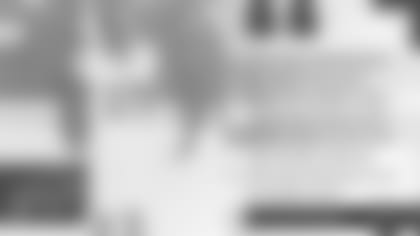 3 - Ray-Ray McCloud views Jones as a leader
Jones also talked about becoming a leader in the locker room, someone that the team's young receiving corps can look up to despite his age. For rookie wideout Ray-Ray McCloud, Jones has always been a role model.
"I take advantage of [Jones], as well, just kind of feed off his brain, the experiences he's been through," McCloud said. "He's grown throughout the year that I've been here, I can't imagine last year when he was here. Definitely, he's a good leader."
McCloud is a player who may see more playing time in wake of the changes at receiver. The former Clemson Tiger, who has appeared in seven games this season, has been a healthy scratch in recent weeks.
McCloud is eager to showcase his skill set in the final four games of the season.
"It's an opportunity for me, an opportunity for the team," McCloud said. "Just help us grow the future and develop for future years just to see what we're all about."
4 - Deonte Thompson wants to be more vocal
Jones is not the only player who plans to step up over the next several weeks. Veteran wideout Deonte Thompson, who is now Buffalo's oldest receiver by five years, feels as though helping the team's young receiving corps adjust to the NFL is his responsibility.
"I've always been kind of the older guy in the room, even last year," Thompson said. "It's pretty much the same role for me. Now, I really am the oldest guy in the room. I most definitely have to be a little bit more verbal than I have in the past."
Head coach Sean McDermott has referred to the final stretch of games in the 2018 season as an "evaluation" period, an opportunity for the team to see who should stick around moving forward. For Thompson, each and every week is an evaluation period.
"Every game is an audition in this league, man," Thompson said. "You only get 16 opportunities. That's your resume. Every time you're out there on the field, that's your opportunity to solidify something for the next week, even for the next year."
5 - Robert Foster: I don't want to get comfortable
Robert Foster knows a thing or two about being released.
The undrafted rookie made Buffalo's 53-man roster out of training camp, but was released after a six-game stretch in which he caught just two passes. Foster was added to the team's practice squad, and he eventually worked his way back up to the active roster. Since being promoted, Foster has been incredibly impactful, reeling in five passes for 226 yards over the past three weeks.
For Foster, the decision to move on from Benjamin and Holmes was a cruel reminder that anything can happen.
"It's real," Foster said. "Like I said, anything can happen, free agent, first round, second round, it doesn't matter. It's real. This is a business, so you've just got to embrace every opportunity that you're given and show up on Sundays."
Some could view the moves as an indication of Foster's security moving forward. Even so, the former Alabama wideout is not going to get complacent.
"I don't want to say [it's] a confidence boost," Foster said. "I just want to say that I don't want to allow myself to get comfortable. I keep saying that over and over, I don't want to get comfortable. I just want to continue to do what I'm doing and hope that it shows up on Sundays."