NFL.COM
SPORTS ILLUSTRATED'S MMQB
Peter King discusses EJ Manuel's weapons on the outside, RB Bryce Brown, TE Tony Moeaki and DT Marcell Dareus
SI'S MMQB
Moving Day in Buffalo
Robert Klemko looks at the Bills training camp moving process from One Bills Drive to St. John Fisher College in Pittsford, NY.
STORY EXCERPT ... The move to Pittsford takes four days, employing 10 to 12 men from Cook Moving Systems, several dozen Bills employees and 53 team interns. The haul includes 300 footballs (a rainy practice day can render up to 40 balls unusable by quarterback standards), 18 different types of facemasks, 260 terabytes of video data, 2,000 rolls of athletic tape and roughly 22,000 pounds worth of weight room equipment (the equivalent of two African elephants). Cook Moving Systems employees work 12-hour days and load up approximately 170,000 pounds of gear among 18 truckloads headed for suburban Rochester.
NFL.COM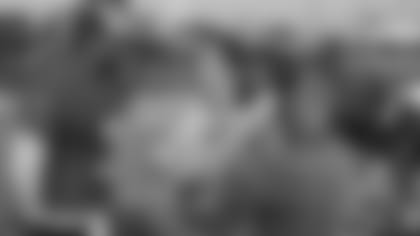 STORY EXCERPT ... It's July, and like everyone else in the league, the Bills are undefeated. Buffalo's players and coaches believe that they very well could be -- maybe even should be -- the team to continue an annual tradition in the NFL: the worst-to-first turnaround. More than just that, it's the way they see themselves.
"That was the plan for all the moves this year," Bills GM Doug Whaley said, as practice opened on a perfect Sunday evening. "Listen, we've been in doldrums for 14 years. Let's do everything we can to get into the playoffs. We owe it to our fans, we owe it to our late Hall of Fame owner, and we owe it to these players and the staff and the employees.
That's why we made the bold move in the draft. That's why we did what we did in free agency. Do we believe we have it? Absolutely."
Then Whaley took a step back and added this, "When you go to 31 other camps, they're saying the same thing at this time of year. It'd be a problem if we thought, 'No.' "
SI'S MMQB
STORY EXCERPT ... WHAT I THOUGHT WHEN I WALKED OUT OF CAMP
I've been coming to see the Bills in camp most years since the glory ones. And this is probably the best supporting cast the team has had in a decade. Driving away, I'm thinking: If Manuel and Dareus play to their abilities, the Bills should win 10 for the first time this century.
But those, of course, are very big ifs.
USA TODAY
STORY EXCERPT ... Sammy Watkins was the undeniable star at the Buffalo Bills' training camp Monday.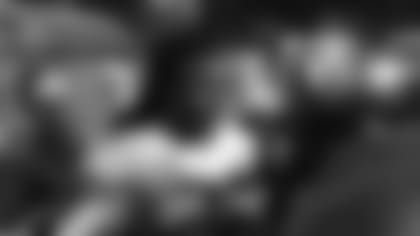 On one play, the dreadlocked, first-round receiver from Clemson burned a cornerback on a go route and hauled in a deep spiral from EJ Manuel for a score covering more than 60 yards. A few snaps later, he slashed across the middle, caught the ball in stride and accelerated. As advertised.
His most impressive moment, though, came on the play that provided the biggest scare. After Manuel's pass was deflected at the line, it fluttered in the air. Watkins was surrounded by three defensive backs.
Guess who won the jump ball? Watkins.
Never mind that he was poked in the eye during the exchange and walked off the field with trainers. No sweat. Watkins held onto the football. He was back a few minutes later, running two-minute drills.
Bills general manager Doug Whaley stood on the sideline with a look of I-told-you-so assurance. "It's not a hobby," he told USA TODAY Sports. "That's why we picked him up."
SI'S MMQB
The Sammy Show
Peter King looks at the instant impact rookie WR Sammy Watkins has made in the Bills offense
STORY EXCERPT ... Over coffee Monday morning, Buffalo general manager Doug Whaley told me a story about first-round receiver Sammy Watkins reporting, alone, for an offseason practice at the Bills training center at 6:45 a.m. "He wanted to get his footwork that he'd been taught right,'' Whaley said. "He was out there, alone, before anyone else got there. This is one dedicated player."
You always want to be careful about rookies in training camp, particularly when it's not even August, and particularly when they're playing without full pads and thus not in full contact. So I reminded myself Monday afternoon, midway through Watkins' second NFL training-camp practice, that this all meant nothing.
But Watkins owned this practice.
SI'S MMQB
Welcome to Camp Hope
Peter King describes his the positive vibes at the Bills first training camp practice on Sunday, July 20th.
STORY EXCERPT ... There were fans, boisterous ones. About 4,000 fans jammed the stands on this football field in bucolic Pittsford, a southern Rochester suburb, for the 2.5-hour practice that ended as the sun was setting over the shade trees in the distance. One guy called me over to show me the Ralph Wilson tattoo he just had etched on his arm this off-season, in tribute to the late Hall of Fame owner of the team. "E.J. [Manuel]!! I love you!!" cried out one fan early on. Not to be outdone, another fellow yelled to the second-round Alabama tackle, Cyrus Kouandjio, who'd hoped to be a first-round pick last May, "Hey Cyrus! Prove everyone wrong buddy! We're gonna road-grade people this year!!!"
There was the promising quarterback (the Bills hope), Manuel, getting the benefit of the doubt from the adoring crowd. He'd missed six games last year due to injury, and never played as well as the Bills had hoped, and he enters this summer with a giant question mark over his head. As Manuel goes, so will this team. You can say that for so many teams, but it's especially true for a team that has playoff talent at running back, receiver, pass rusher and cornerback. It'll be wasted if Manuel isn't good, and he had some good moments on this night. In a team period, he hit exciting rookie Sammy Watkins on four throws out of four.
FOX SPORTS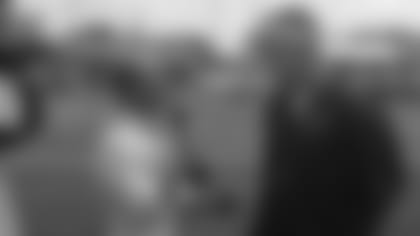 STORY EXCERPT ... While he's yet to take his first professional snap, Watkins has flashed in practice, said all the right things publicly, revealed remarkable character in front of the camera and behind the scenes and showed outstanding work ethic. He might be the complete package and, as he revealed in college, plays much bigger than his listed 6-foot-1, 211 pounds.
During Monday's practice, Watkins showed that ability to grow bigger than his frame when he went up to grab a pass between three defenders. They all pinballed off him and fell to the ground. Watkins did as well, but only because he'd been poked in the eye. He staggered off to the cheers and then returned to practice, intent on further honing his route-running on this muggy, mid-June day. "I've got the playbook down already," he boasted, though his performance in practice certainly backed up that statement. "It's just being consistent, knowing the little details to things and just really working against the defense, seeing things faster and doing the right things when you're tired. When you get tired, that's when you stop thinking, but once I get in shape, really know defenses and really start watching film, it'll be better for me."