NFL players aren't often star struck. Their line of work often gives each of them their own measure of celebrity. But even in the NFL there is a hierarchy of fame, recognition and reverence. Bills running back Frank Gore has all three in plentiful supply, despite the fact that the 15-year veteran would be more than happy with just the respect of his teammates.
"Yeah I'm star struck all the time (around him), absolutely," said teammate Mitch Morse. "Frank Gore is a cool dude. He's been doing it for a long time."
Gore, who is poised to soon move into third place on the league's all-time rushing list passing Hall of Famer Barry Sanders, is essentially a lock to wear a gold jacket five years after he retires himself. Sanders even tweeted his congratulations to Gore when he crossed the 15,000-yard rushing plateau earlier this season. Gore was awed by the mere mention of his name by Sanders on social media.
"I'm blessed," said Gore, who has since eclipsed 19,000 total yards from scrimmage as well. "It comes from hard work and love of the game, and I want to thank all the O-linemen, fullbacks, receivers and coaches who helped me get it. I just want to keep playing ball."
Most of Gore's current teammates certainly respect his ability and longevity as a player, but it seems what teammates refer to most about the veteran running back is his humility.
"He's just a humble dude," said John Brown. "Everything that comes with the game, even the running back position, he's got a bunch of respect for. But seeing the way he practices and the way he moves at the age that he's at is unbelievable."
Especially considering the fact that Gore had a pair of ACL repairs in the span of a year and a half before he was finished with his collegiate career at the University of Miami. And Gore is all too aware of how fortunate he has been to have the career he's had playing the position he does.
"It's a blessing, especially what I had to go through to even get into the NFL," Gore said. "A lot of injuries. A lot of people doubting me saying that I would play three years at the most, and I'm still going. I'm still having fun. I'm happy that I'm on a team that's a tough team. I feel like the guys here are just like me. I'm happy to come to work with guys like that. I'm happy that I'm here."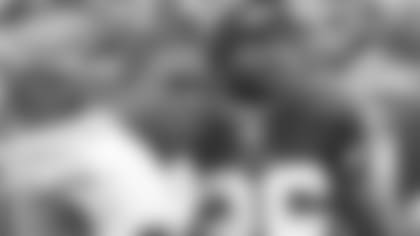 His ability at his age is due largely to an unrelenting work ethic that even drives the roster of grinders that head coach Sean McDermott and general manager Brandon Beane have assembled in Buffalo. His teammates know they are all witnessing a living legend every day they come to work.
"I've been in this kind of situation before with Larry (Fitzgerald)," said Brown of his four seasons with the Cardinals all-time leading receiver in Arizona. "It motivates me to be around guys like that. They take their job real serious."
And perhaps that's why Gore is so revered by his current teammates. What he is doing is extremely rare and the men who play this game know the level of commitment necessary to reach 15 seasons at one of the most punishing positions in the sport.
"Most people would've shut it down, or turned over and quit, but Frank just kept it stirring," said Dion Dawkins. "It takes a special person to keep going. Injuries are in everybody's life in the NFL. It's a 100-percent injury rate, but it's how you overcome. Frank has hit them harder than most. I'm guessing that he took his injuries as minor setbacks for a major comeback. But I definitely think that it helps him because of what he's had to overcome, but you don't see that often."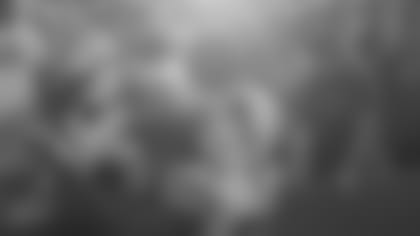 Gore's teammates haven't witnessed or participated in many of his career exploits first hand, but his accomplishments as a pro often give him the platform to dispense his football wisdom whenever he sees it as a way to help the team.
"When Frank talks everyone is quiet," said Brown. "They're listening and taking in what he says. And Frank is just a great dude, not just on the field, but off the field also."
As productive and consistent as Gore has been as a player, with nine 1,000-yard rushing seasons and more than 19,000 yards from scrimmage and almost 100 touchdowns, it's what he can provide to his coaches and his teammates that carries just as much weight.
"Having a guy like Frank Gore, who can talk to talk to everybody and explain things to (Brian Daboll) and (Bobby Johnson) what he sees as he's running and what calls he feels comfortable with," said Josh Allen. "He does a good job of really finding holes. He's been around the game for a long time and he's a great mind to have, not just a great person and a great teammate, but a great leader for this team. With the football knowledge that he has it's pretty special to hear stuff come out of his mouth for this offense."
His current teammates aren't certain if they'll re-tell stories of their playing days when they blocked for Frank Gore and helped him reach 15,000-rushing yards when their own careers are over. But they are unanimous in stating that Gore is deserving of having a bust in Canton. Not only because of what he's accomplished in the game, but how he has represented the league for a decade and a half.
"Frank is just that type of dude when you walk in the room, you take your hat off," Dawkins said. "He's done so much for football. He's a special player. He has guys around him who don't get as much shine. He has a fullback here named Pat DiMarco who blocks for him on every play. I'm sure there are multiple others, but I think Frank understands that he didn't do that by himself and that's what makes him special."