His time on the field may have come sooner than planned by the Bills organization. Head coach Sean McDermott had a detailed and defined plan for bringing Josh Allen along. Whether or not that plan has been accelerated, Allen's time is now.
As he prepares for his first career NFL start, Allen knows he's likely to experience some hard lessons in his rookie season. But the first-round pick has a perseverance to him that you don't find in every rookie NFL quarterback.
He doesn't make the same mistakes twice. Allen dedicates himself to improvement and isn't satisfied unless he's the first one in the building and the last one out.
It's a work ethic embodied by the city for which he'll play.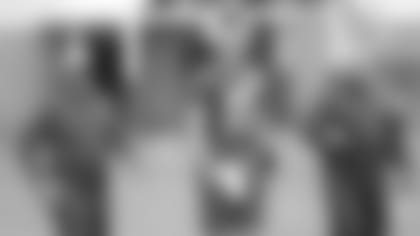 It's 30 minutes before practice and Josh Allen is diligently going through footwork drills with offensive assistant Shea Tierney and offensive coordinator Brian Daboll. Allen is running his mental checklist as his feet are pumping up and down through the drill work.
Tie the feet in with the hands, keep my shoulders perpendicular to the line of scrimmage, keep the eyes downfield.
"The more repetitions that I get, I feel the ball comes out of the hand better," Allen said. "When things are flowing smooth and you feel confident in your throw, in my opinion, that's when you become a more accurate passer."
There remains a list of things for Allen to improve upon to be a successful NFL quarterback as he prepares for his first career start. Yes, the physical talent is unquestionably there. So too is the football acumen necessary to play the position. What may separate him from the other four quarterbacks who also went in round one last spring is a genuine thirst for the work that must be put in to be great at the pro level.
Allen knows reshaping his mechanics will only help him in the passing game when it comes to accuracy and consistency. So, he's committed himself to putting in the extra time to get it down. Not on a Tuesday. Not in Week 10. Not in year two of his career.
"For any young player you come into a new system and you learn how the coaches want things done," said Daboll. "Then you as a coach, you drill it. You drill it pre-practice, during practice and there are different techniques for every position. He's been grinding."
Allen loves the daily demands. Whether it's field work, film work, weight room, working with teammates or coaches, the rookie QB embraces all of it.
"This is breathing for me, playing football," said Allen. "This is what I've wanted to do for a long time, and to get out here and be with this organization, be in this facility as much as I can, it's just been awesome because it's been everything I've always wanted and more, being a professional football player."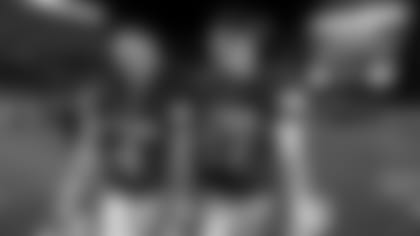 It was his first day in front of his new teammates. Other than his name and where he came from they didn't know much about Josh Allen. They didn't know about his work ethic, his competitive nature or his desire to be the best when it came to playing quarterback. After all, he was transferring from Reedley Community College.
Wyoming WR Tanner Gentry knew he, himself, wanted to play in the NFL some day and that was only going to happen if he had a quarterback who could get him the ball. Fortunately for Gentry, Allen had the same long-range goal as Gentry.
"We talked about it all the time," said Gentry of playing in the NFL. "We both knew that's what we had wanted to do. That was our goal. We wanted to help each other get there. We definitely talked about it a lot."
"I think it was constantly a topic because of how much we both love football," Allen said. "He was a guy that I looked up to when I got there, as a role model, how hard he worked, how much he loved the game, the type of person he was. He was like an older brother to me in a way.
"We had a good chemistry on the field. I always seemed to find him. If you looked at my highlight tape, it was basically his highlight tape too. We made a lot of good plays together."
Even though Allen was a new addition to the roster at Wyoming, getting acquainted with his new teammates didn't take long.
"He earned respect pretty quick, just by the way he played and the way he carried himself and how hard he worked," said Gentry, currently a practice squad receiver with the Bears. "You could tell how much he cared for his teammates. He'd build up his teammates and you could tell he wanted to win and that's what we all wanted to do.
"I think he's just a natural leader. I think guys just want to follow him. He's an easy guy to follow. When he talks people listen. He earned that respect. He definitely fits the mold of quarterback really well."
All those qualities are key assets for a quarterback to be successful. Assets that Allen had in abundant supply along with a rocket arm and exceptional mobility for a 6-5 signal caller. Even if his game may not have been refined there was more than enough upside for the Bills to make him the seventh overall pick.
Allen didn't play favorites prior to the draft knowing just about any NFL club could pick him. But after being picked by the Bills, he had a gut feeling that the fit would be a very good match.
That was only confirmed with the outpouring of support he received on social media and upon his arrival in Buffalo the day after he was selected.
"It's a special feeling," he said. "I don't think a lot of places are like this where the fans are as welcoming and family like as possible. That's the feel that I get from the community surrounding Buffalo. It's been awesome; it's something I'm kind of used to, coming from a small school in Firebaugh. The small community kind of supports everything that you do and [it was] the same thing in Laramie at the University of Wyoming. I just get that same feeling here, so it's just that 'at-home' feeling."
"I just think it's a great, great match," said Wyoming head coach Craig Bohl. "As the whole draft was playing out one thing I thought was very important was for Josh to get in a program that fit his DNA. After having an opportunity to talk to a lot of people in the Bills organization, seeing the direction and trajectory of the program, I think it's a great match. The city of Buffalo is going to like Josh. He's got an effervescent personality. He's engaging. He's a great leader."
"Buffalo is going to be the biggest city he's ever lived in," said his personal quarterback coach Jordan Palmer. "This market doesn't feel small or cold to him. When he gets in and proves himself, this guy is so Buffalo, they're going to put a statue up of this kid. He's that tough, blue collar, doesn't-care- about-the-weather type player. I love this fit."
"I think if you're a football player who loves to play football and really doesn't care about all the bells and whistles of a big city and your main focus is to play football, this is the spot where you want to be," said Allen. "A family-like feel, everybody here cares about each other, not just in this organization, but in the community and the city of Buffalo and surrounding towns. It's just evident that they care and that's cool.
"I got to Wyoming where coach Bohl had been for just one year. Now I'm in Buffalo where coach McDermott has been here for a year. It's the same type of feel. It's the same type of ideology and trying to switch the thinking around this organization to have that championship mindset."
"He has my respect, but he's earning my trust. That's big when you have young guys you're depending on. He's showing me some great things. He's been hit in the mouth, gets up and shrugs it off. He has great confidence so I'm very pleased with his growth and where he's going." Bills linebacker and captain Lorenzo Alexander
When Allen was given the nod to start the team's third preseason game, usually the one tabbed as the final dress rehearsal for the starters before the regular season, naturally speculation about Allen's chances of being named the starter ran rampant.
Allen remained focused on self-improvement.
"I'm not going out there to try to prove why I'm the starter or whatever the case may be. I'm going out there to play football and move the chains, put points on the board and help this offense in whatever way I can," he said leading up to the Cincinnati preseason game. "I'm going to trust what coach calls and trust my teammates around me."
It was an approach that earned respect from even his most experienced teammates.
"He has my respect, but he's earning my trust," said Lorenzo Alexander in an appearance on the Jim Rome Show. "That's big when you have young guys you're depending on. He's showing me some great things. He's been hit in the mouth, gets up and shrugs it off. He has great confidence so I'm very pleased with his growth and where he's going.
"Everybody has their shortcomings and he's going to work to overcome those and improve his game. That's why seeing his growth from OTAs to now and to me he looks like he has that 'it' factor that star players normally have in this league."
"He does process things well," said Ryan Groy. "He has since the beginning. He knew he was going to have to bust his butt to get everything down as far as the offense goes and make sure he wasn't behind the other quarterbacks. He's not the type of guy who is going to repeat something that he messed up. He's a confident kid who believes in his ability, and he should."
Allen was making good progress through the course of the preseason, but he hit a bit of a speed bump when it came time to run with the starting unit in the third preseason game against Cincinnati. He wasn't alone, but he recognized there were instances where he was at fault for some of the offensive shortcomings.
"Getting out there with the ones it's moving really fast," he said at the time. "To see that speed, it was eye opening. Sometimes when the play clock got low I couldn't dissect or understand what they were doing. That's tough on a quarterback. So that's something else I have to get better at and learn from."
As much as Allen didn't let his successes go to his head, he also didn't let his failures affect his confidence.
"You kind of go through trials and tribulations just by failing in practice. Understanding it's okay to miss a throw or okay to miss a read," he said. "You look at Peyton Manning's first year in the league and it wasn't too pretty, but he bounced back to become one of the best quarterbacks to ever play the game. It takes a special mindset to have that. I've been working on it every day through practice. I'm aware that if I make a mistake once, I can't make it again."
"He's been pretty steady mentally. That's a great quality," said McDermott. "I think the guys appreciate that. For a rookie to have that quality is important. The mental toughness element if you will that's so important to manage the highs and lows of the NFL."
He may not have it all figured out yet, but the work he has put in is being recognized. That combined with his physical skills have his teammates convinced it's a matter of when, not if.
"He's a rookie, so he'll take his lumps," said LeSean McCoy. "He's learning. Every team, every game, every stadium is going to be a new experience for him. To see his talent, his arm strength, he's put together. If I had to draft a quarterback I would draft a kid like him. He's mobile, he's tall, he's strong. He's not afraid. He's smart and he has a big arm. Guys like him… they're special. They're different. This year, next year, you'll see him put it together and it'll be a scary sight for a defense."