Bills fans are a rare breed. They're tough, tailgating through any weather. They're supportive, cheering on their Bills through the good and the bad. They're many, spanning continents and banning together en masse to watch their team rock the Ralph from miles away.
They're the reason the Bills are the Bills, and in 1992, their many contributions to the organization were recognized when they were inducted into prestigious Buffalo Bills Wall of Fame. The fans joined the likes of Jim Kelly, Marv Levy, Jack Kemp and other Bills legends, represented as the "12th Man" on the Wall of Fame ring inside Ralph Wilson Stadium.
"When you walk out on the football field and you see 80,000 screaming fans it makes you want to play the game a little bit harder," said Thurman Thomas, of Bills fans' incredible gameday involvement.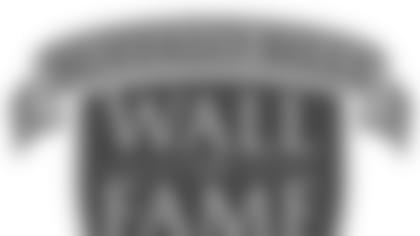 This weekend, Thomas and his fellow Wall of Fame members will be honored in a special halftime tribute during the home game versus the Carolina Panthers, and as all Bills fans were inducted in 1992, YOU will be honored too. The first 50,000 fans through the gates will receive a special Wall of Fame inductee window cling (pictured, right), and will be represented on the field during the ceremony.
As Jim Kelly once said, Bills fans are the best in the NFL, and we hope you proudly display your Wall of Fame inductee cling on your car or kitchen window in recognition of that honor.
"The excitement and fun that the fans provided for our team will be the thing that I remember for years to come," said Bruce Smith.
Like our legendary Wall of Famers, the 12th man will continue to provide lasting memories and unmatched support for the Buffalo Bills organization now and into the future.