Recent Chapter of the Month Winners
Recent Chapter of the Month Winners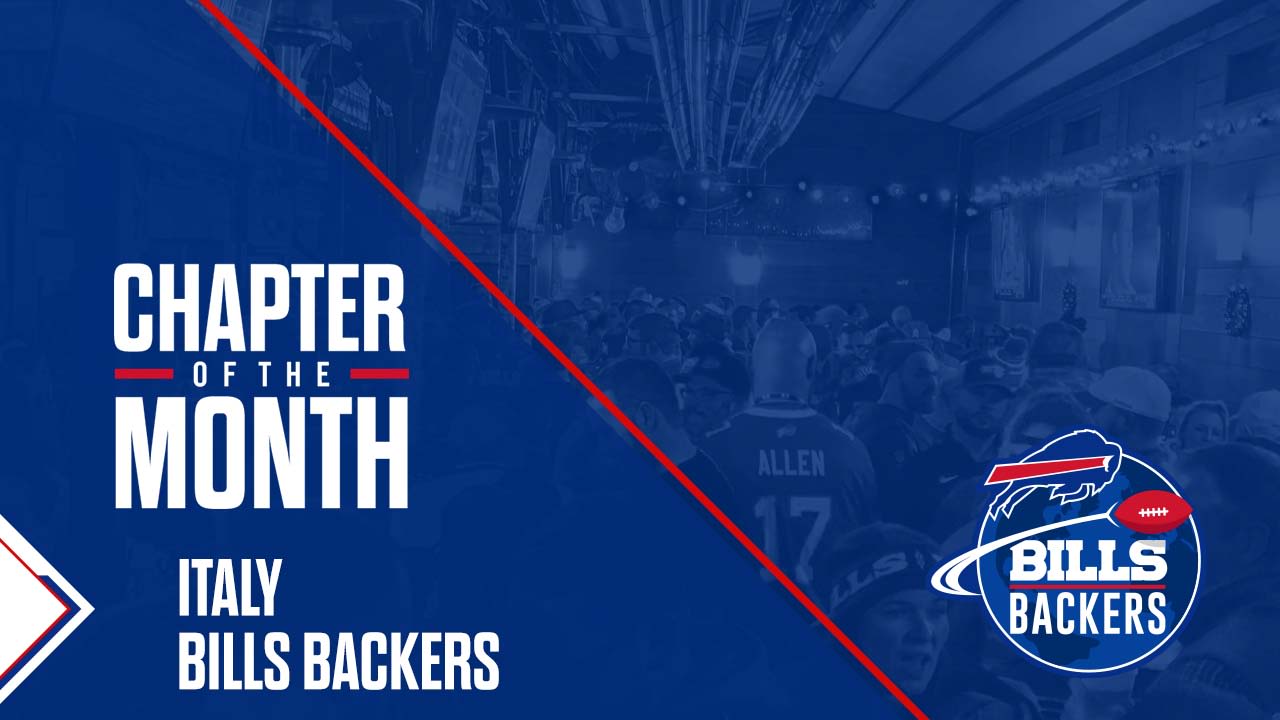 The Italy Bills Backers
I started our marvelous group after my first game back in 2004 as I wanted to have Italy on the Bills website. Then we got out first member, and I was very excited about discovering other Bills fans. But it was just the beginning! The group started to get bigger and bigger with requests from all around Italy and other countries. Everyone had a different reason for being a Bills fan - from where they grew up as kids, to having a friend who is Bills fan, or even someone who watched their first game in Buffalo. Now we are a group of more than 60 people, and every year we all get together to watch a game.
On the other side of the ocean there is a big family with a big red, white and blue heart.
The Toronto Bills Backers
Toronto has always had a large Bills fanbase with a storied history. Fast forward to last year when we started the Toronto Bills Backers Chapter aka Bills Mafia North! It started over a conversation with friends and fellow Bills fans about how due to COVID and the US/Canada border being closed, we weren't able to go across to see games. This hit hard for many of us in the Kingsway neighborhood of Toronto who normally took shuttles down across the border to Orchard Park every Sunday…we were now forced to miss out on all that fun and action! So I said, "let's just watch all the games here at The Sod! We'll get some deals going for our Bellows BBQ menu (tasty smoked meats), cheap beer, prizes, and a few foldable tables from Canadian Tire for halftime fun in the back parking lot!"
Week 1 we had a small crowd of regulars from the pub who were also Bills fans. By Week 2, the word naturally started to spread as more Bills fans from our neighborhood came for the action. By Weeks 3 and 4, die hard Bills fans were coming from all areas of Toronto, excited they finally found a place to call home for big Bills Sunday shifts! Toronto Bills Backers aka #BillsMafiaNorth was born, and we're now out in full force.
We look forward to rooting on the Bills from North of The Border alongside all the awesome Chapters out there across the world! Cheers and LET'S GO BUFFALO!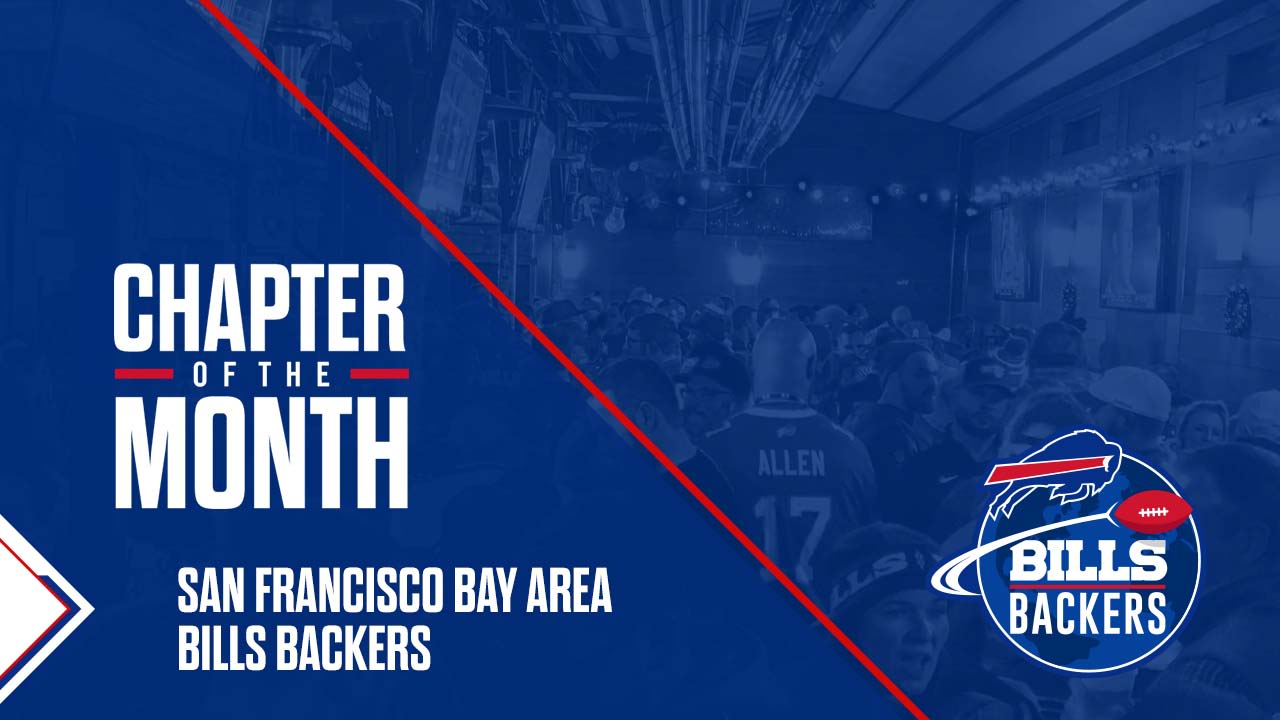 San Francisco Bay Area Bills Backers
The long history of the San Francisco Bay Area Buffalo Bills Backers goes back to the mid 90's, but the meeting grounds for this Backers community—The Northstar Cafe—has been in operation since 1885. The current owner, Mark Jennings, bought the bar from Chris Dickerson in 2001 and just celebrated their 20th Year Anniversary of business! Mark proudly kept the Bills Backers community alive and has now been going strong for 25 years.
The SF Bills Backers are currently run by President Dennis Mill and Vice President Christopher Fuzi, who keep the spirits high and FLOWING, as the ONLY bar in SF to serve Labatt Blue. Buffalonians, transplants and visitors are made to feel right at home as they belly up to the bar for some Bills & Blues, just as they would in WNY! Being a member of the SF Buffalo Bills Backers is one of TRUE grit and loyalty as we must assemble at the astonishingly early time of 10am on normal game days. But that never stops west coast Bills Mafia from showing up bright and early on game day ready to cheer on our team! Hey-Ayyyyyy-Ayyyyyyy-Ayy!!!! can be heard several blocks away every Sunday morning when the Bills score a touchdown - GO BILLS!
The Charm City Bills Backers
The Baltimore Bills Backers (Charm City Bills Backers) were started back in 1999 when Buffalo native and St. Bonaventure alum, Bryan Burkert, along with three other Bills fans watched every game at his bar in Historic Fells Point. With the rise of social media, Bryan and his friends were able to reach out to other expats across the Baltimore area. Soon, a sea of red and blue-clad fans rose out of the purple camouflaged masses on the city streets of Baltimore to descend upon Bryan's bar in Fells Point. Bryan's meet ups to watch the Bills quickly went from a group of four to a bar full of Bills fans.
During the pandemic, we wanted to do our part to help out struggling local businesses. Over the years we have worked with Jimmy's Famous Seafood who has hosted our parties, thrown multiple tailgates, and catered bus trips down to Washington D.C. for Sabres games. Jimmy's created a charitable drive named the "Famous Fund" to donate to local businesses. The Charm City Bills Backers applied to receive a donation from the Famous Fund on behalf of a local business, Joe Benny's, without their knowledge. We were selected and had the honor to present the owner of Joe Benny's with a $10,000 donation from the Famous Fund. We even had the pleasure to present the donation alongside Del Reid, who broke the news. 
Over the years, the Charm City Bills Backers have moved locations and leadership, but the Bills Mafia continues to follow. The group includes members from all over Maryland, Pennsylvania, and Delaware, and has seen many new friendships grown out of meeting up for the Bills. Home is now Admiral's Cup in Fells Point. Current president, Jared Sanson, established this location in 2018. The Charm City Bills Backers' fanaticism and passion for the Bills has even converted the owner of the bar—a Maryland native—into a Bills fan himself. And a Bills flag now proudly hangs from a second-floor window year round in the heart of Ravens country!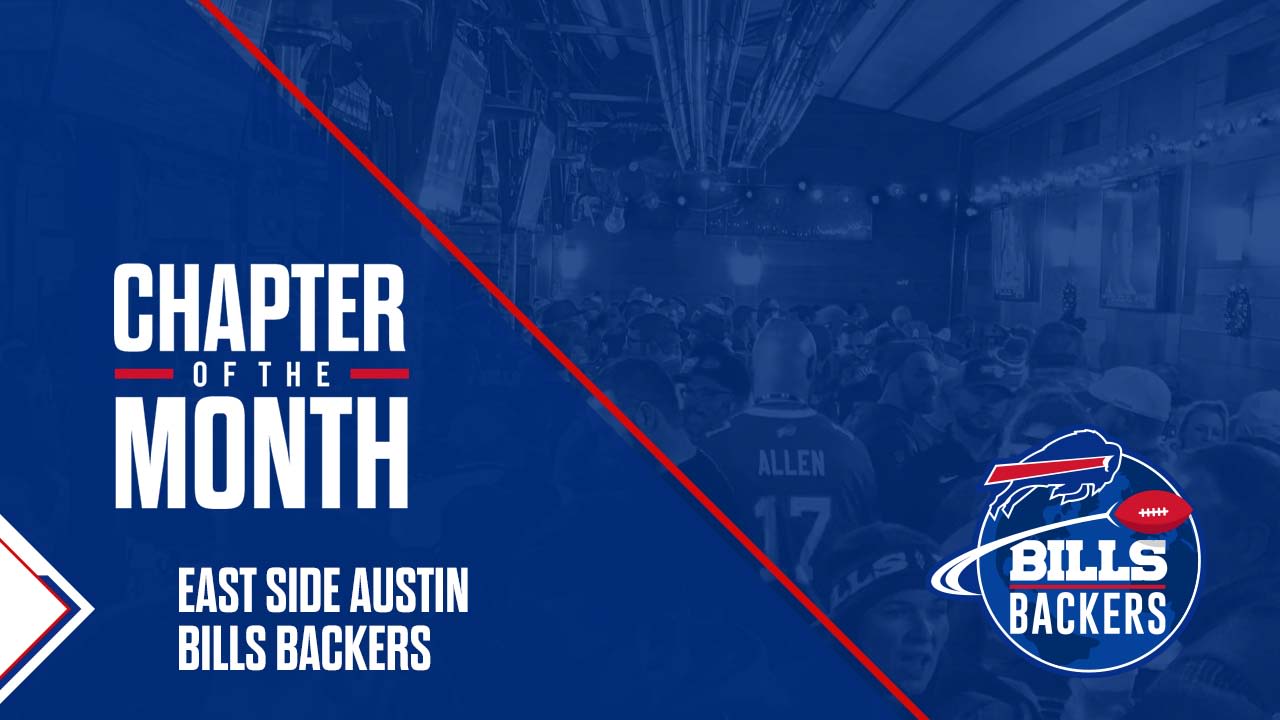 The East Side Austin Bills Backers
East Side Austin Bills Backers was founded through the same love, dedication, and passion that runs through every Bills fans life. Travis Tober (Buffalo Born) opened Nickel City in 2017 in Austin, TX. He offered his four walls as a forever home to the people who not only loved their Buffalo Bills but also who loved their community, and each other.
A small group of us started to watch our beloved Buffalo Bills at Nickel City back in 2018 and because of the genuine Buffalo hospitality and that "City of Neighbors" attitude our small group drastically grew over the next several years. Austin is a melting pot of cultures and people from everywhere around the country so naturally when you go out enough and just talk to the people in your community you realize how many Buffalo natives are running around. Every time I was stopped while wearing my 90's bills sweatshirts with a "Go Bills" I always had to ask them to come by and grab a Labatt and some wings at Nickel city with us on game days.
Everyone from our initial core group all have different ties to the incredible city of Buffalo, but the Bills give us an opportunity to share our stories and the love of our team every Sunday. I have met some of my lifelong friends who I consider family now because of this awesome little neighborhood bar that is Nickel City. Special shout out to that group: Andrew, Mark, Catherine, Isak, Danny, Travis and of course my co-president, my dad.