Whether you're a social media aficionado or someone who limits their browsing time to a minimum, if you're a Bills fan, then chances are you've noticed several Bills players' awe-worthy adventures this offseason. From extravagant trips around the world to life-changing experiences and acts of good will, the Bills have made the most of their winter and summer breaks. Read on to discover where your favorite players traveled and what made the adventures epic. Bills offseason travel is presented by Peace Bridge Duty Free.
1. Micah Hyde hits the traveler's home run
Destinations: New Zealand, Fiji, Australia, France, Egypt, Athens, Santorini and Mykonos, Greece (basically, everywhere)
Highlights: While I'd be inclined to say "everything," according to Hyde, the highlight of the trip was New Zealand.
As if traveling to one beautiful destination this offseason wasn't enough, Bills safety Micah Hyde and his wife Amanda managed to visit six different countries. Before the spring offseason program began, the Hydes, along with friends Christian Kirksey from the Browns and Casey Hayward from the Chargers, racked up serious air miles when they took on New Zealand, Fiji and Australia.
Trading in the #views from their home in San Diego (a vacation in itself), the Hydes flew over 6,600 miles to get the full New Zealand experience. Home to breathtaking scenery, and even a few "Game of Thrones" filming locations, the country didn't disappoint. With so much to offer, the group did a little bit of everything. Soaking up the sun on Waiheke Island and hiking a glacier (yes, you read that right) in Queenstown proved as surreal as it sounds.
In Fiji they relaxed at the famous Tavarua Island Resort, Hyde got a chance to admire the picturesque sights from the air when he proudly piloted a helicopter.
It's not every day that you have a chance to visit "the Land Down Under" with your mates, so when you do, you take advantage. Keeping things "lowkey" in Australia, Hyde and his crew went on hot air balloon ride and fished along the Great Barrier Reef.
You get my point. This trip was epic.
While most would think an impossible task, the Hydes outdid themselves on their recent summer adventure. Together with friends, they made stops in Paris, France, Egypt and the Greek cities of Athens, Santorini and Mykonos.
Why it was epic: No further explanation needed.
2. Poyer conquers Carnival
Destinations:  São Paulo & Rio de Janeiro, Brazil
Highlights: Carnival, of course.
Take it from Poyer, if Brazil is on your bucket list, then Carnival should be too.
The annual Brazilian festival that makes the New Orleans version seem small, Carnival is a phenomenon that you must see to believe. Well, consider Poyer a believer. Fully embracing the celebration, the Bills safety and his wife Rachel dressed up and attended some of its world-renowned parades.
"It's kind of hard to explain," said Poyer about the parades. "It was really surreal – the atmosphere and the people. It was cool because everyone, we were in the VIP suite, and everyone was wearing the same outfit. You had to go get a shirt. So, it was a lot of fun. The people were beautiful; it was so nice."
In addition to the famed festivities, Brazil is beloved for its rich history and culture. Embracing local traditions, the Poyers made stops at the country's most iconic landmarks such as the 'Christ the Redeemer' statue and soaked up the scenery while hiking.
Why it was epic: "Everything was so different," said Poyer. "The people are amazing. Carnival was an experience [and] I definitely want to go back …We went for the championships and it was kind of surreal. The atmosphere and…all the parades and everything like that [were great]. It was a lot of fun."
3. Jones keeps up with the Poyers
Destinations: New Orleans, Louisiana
Highlights: Mardi Gras balls, the local cuisine
Speaking of New Orleans, wide receiver Zay Jones spent time there this offseason. While visiting his good friend and former Bills wide receiver Malachi Dupre, a NOLA native, Jones was hard at work training for the football season. He also got to experience the city's rich culture.
"It was deeper meanings than that [in New Orleans]," said Jones. "[It's all about the culture.] I went to this one African American ball. We did numerous balls. We saw all the parades – there are multiple parades. I thought it was all in one day. But if people don't know, Mardi Gras is weeks long – even up to a month of just celebration."
Why it was epic: "[There's] a lot of culture, a lot of festivities," said Jones. "The food is a main key for people celebrating. So, his family was introducing me to different types of gumbos and different crawfish and the red beans and rice that they have there. Just different stuff than what you're used to. The music was so different too, said Jones. The true roots of being down there in Louisiana…"
4. Rafael Bush takes a trip fit for a king
Destinations: Cairo, Giza and Luxor, Egypt
Highlights: Valley of the Kings, Pyramids of Giza, Nile river
When it came to vacation, safety Rafael Bush and his wife were torn between going to Italy or Egypt this offseason. In what Bush calls a "tossup" decision, made after a hefty dose of Google and YouTube research, the couple set their sights on Egypt. Visiting the country's capital city of Cairo, nearby Giza, and Luxor, the Bushes basked in the beauty of some of the most iconic and historic man-made monuments in the world. Making the most of their week-long stay, they also took a boat ride down the Nile river and took a hot air balloon ride over the Valley of the Kings.
"There's a lot of people over there, but they were real nice," said Bush. "They were real welcoming. The pyramids were nice. They were massive in person. We're talking, these blocks were huge. We were able to go to Luxor – to the Valley of the Kings where they buried Nefertiti, King Tut and some of the pharaohs, some of the Ramses. So, that was amazing. If I had to pick [one highlight], at first I thought it would be the pyramids, but I would have to say the Valley of the Kings."
Why it was epic: "…You know, it's so historic," said Bush. "It was just amazing. I definitely may go back. It was a trip [that] I wasn't ready to come back [from]. The people were nice. The food was great. We went to this restaurant that was on the Nile river. It was some type of chicken that I had [and] it was just amazing…They eat healthy over there. There's no fried food. No pork. It's a lot of healthy foods and I was amazed at the food selection over there. They're pretty good at getting the chicken cooked right. That's their specialty. I definitely had an amazing time. [We took] thousands of pictures, you know. So, that's something I'll never forget."
5. Stanford's stay in "the Land Down Under"
Destination: Cairns and Whitehaven Beach, Australia
Highlights: Scuba diving at The Great Barrier Reef
Using his down time to get in touch with nature, Bills linebacker Julian Stanford and his wife jumped on a plane and headed for Australia. Upon arriving in "the Land Down Under," the Stanfords made their way around the country, visiting several unique spots such as Cairns, a city in Queensland and Whitehaven Beach. While he assured us that they didn't see any of the crazy and downright nightmare inducing bugs the place is known for, he did encounter local wildlife when he stayed on a reserve in Cairns that is home to over 2,000 kangaroos. Hopping around, the couple also got a rare glimpse of marine life when they went scuba diving along the Great Barrier Reef.
"So, my wife and I stayed on a boat for about three nights – two nights, three days," said Stanford. "We did probably 10 dives over the course of those three days. I had an opportunity to do two night dives, which were really cool. I got a chance to see a lot of the marine life and things come to life at night. It was a great experience. We actually got certified and we dived [on the trip]. That was the first I got to dive that deep. It was a great experience and now I'm a certified diver, so I am planning on doing a lot more."
Why it was epic: "I would highly recommend visiting Australia," said Stanford. "I think it's a beautiful country and there's a lot to see – different culture. I like animals and I like exploring. I like adventurous things. They have all different types of things you can do, sights you can see."
6. Milano catches rays in Costa Rica
Destination: Costa Rica's West Coast
Highlights: Four-wheeling in the Rain Forest
For Bills linebacker Matt Milano, the offseason was all about R&R. Along with seven of his friends, Milano packed his bags and headed to the West Coast of Costa Rica for a remarkable four-day journey. While he enjoyed taste testing the popular local cuisine, which consisted of chicken and rice, he was most impressed by the breathtaking landscape around him.
Why it was epic: "We went on a four-wheeling adventure through the rain forest," said Milano. "We saw a couple of waterfalls and we went to the highest peak of the mountain and had a nice outlook there. I just hung out and relaxed. I saw a surf competition, which was pretty cool."
7. Going back to Cali
Destinations: Newport Beach, San Clemente, California
Highlights: Sunshine and family time
During the offseason, many Bills players call Southern California home including Josh Allen, Matt Barkley and Stephen Hauschka. From boat rides in Newport Beach to beach days at Crystal Cove, they can't get enough of the Golden State. Spending their days with their friends and family, the guys also made a point to get together for a dinner bonding session.
Why it was epic: Sun, sand and palm trees. What more could you ask for?
8. Allen sees greatness
Destinations: Augusta, Georgia, Monaco, France
Highlights: Masters Golf Tournament, Monaco Grand Prix
In addition to his time on the West Coast, Allen also attended the Masters Golf Tournament in Augusta, Georgia and the Monaco Grand Prix in France. Trading in the gridiron for an up-close look at some of the best golfers in the world, Allen had a chance to connect on the links with Jets quarterback Sam Darnold and former Bills QB Ryan Fitzpatrick. The Bills second-year signal caller, along with his longtime girlfriend Brittany Williams, got to witness another legendary competition at the grand prix.
Why it was epic: Visiting either one of these sporting events is impressive, hitting two in the same year is next level.
Destinations: Cabo San Lucas, Mexico
For Bills defensive players Harrison Phillips and Lafayette Pitts, Cabo San Lucas, Mexico, was just what they needed to decompress before the start of offseason workouts. While the two went separately, each with their significant other, Phillips and Pitts both had positive reports about their trips. During his five-day stay, Phillips went on ocean excursions – one of his favorites being scuba diving. For Pitts, the vacation festivities included ziplining, riding a camel and even swimming with dolphins.
Why it was epic: Did I mention dolphins?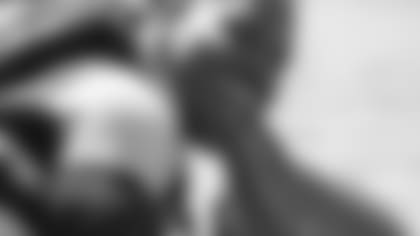 10. Hausch-Money cashes in on Europe
Destinations: Lisbon, Portugal, San Sebastian, Spain and Bordeaux and Saint-Emilion France
Highlights: Food, crews and epic views
Just after the 2018 season ended, veteran kicker Stephen Hauschka and his wife Lindsey added three stamps to their passports. Visiting the European cities of Lisbon, Portugal, San Sebastian, Spain, and Bordeaux, France, the Hauschkas escaped the cold winter for rich culture and Instagram worthy views.
Why it was epic: Visiting ancient landmarks like the Castle de Sao Jorge, savoring the flavors at Saint-Emilion wineries, and trying one-of-a-kind seafood dishes in San Sebastian, made the trip unforgettable.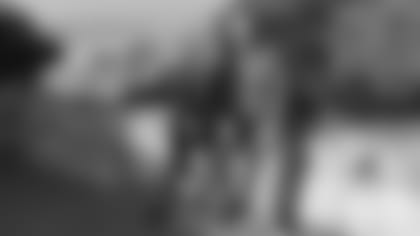 11. Alexander's 716 staycation
Destinations: Buffalo, New York
Highlights: Spending time with family and giving back to the community
For Lorenzo Alexander, downtime in the winter months is a key opportunity to be with his family and give back to the community.
"…Our kids love it here. They didn't necessarily want to leave here to go to a different school in the spring," said Alexander. "So, it just says a lot about this community and how they not only embraced me as the football player, but my kids really enjoy it here too and so we decided it was best for us to stay here. And while I'm here, I want to be productive and continue to be intentional about trying to impact this community."
Why it was epic: "It wasn't just something to do so that people would know me, but it's something that I really care about," said Alexander. "And [I]feel that if I could use the leverage and the extra time that I have on my hands in the offseason to continue to build those relationships and try and impact the community as best I can, [I will]."
12. A couple of milestones
Destinations: The wedding altar, fatherhood
Highlights: Getting married and becoming a father x2
For Bills offensive lineman Ike Boettger and defensive lineman Kyle Peko, this offseason was all about milestones. Boettger said "I do" to his longtime girlfriend in March. Surrounded by his family and friends, he couldn't be happier to start this new chapter in his life.
In April, just a few weeks before he returned to Buffalo, Peko welcomed a beautiful baby girl to his family. He and his wife Giuliana and their toddler son Kai, were thrilled for Evangeline's arrival.
Why it was epic: Boettger and Peko both got a chance to experience life-altering milestones with their friends and family.