It's only a month into the offseason, but Bills quarterback Josh Allen is keeping busy preparing for the 2019 campaign in his home state of California. Despite maintaining a fast-paced lifestyle, Allen recently found time to help one of his best buddies Cade "SuperCade" Spinello, celebrate his 13th birthday. Not only did the impromptu visit take Cade by surprise, it strengthened the duo's friendship. The pair met at one of former NFL quarterback Jordan Palmer's QB Summits and Allen was touched by Cade's story of strength and perseverance. The epitome of a superhero, Cade, who at just five years old was discovered to have a brain tumor, suffered a massive stroke while in surgery. Although he is battling the side effects, Cade is determined to "Never, ever give up" and is constantly inspiring others to do the same.
On Tuesday, when Allen received a text from Cade's father Mike, a common interaction between the two who have made it a point to stay in touch, he was presented with an opportunity to brighten Cade's day. What he did next, however, exceeded Mike and the entire Spinello family's expectations.
"Cade's birthday was coming, and I just had an idea and I sent Josh a text and said, 'Hey, Cade's birthday is tomorrow, I said you have done so much for our family, there is no pressure here [and] feel free to say no, but would you be open to the possibility of just doing a quick 10-second happy birthday Cade video on your phone and just send it to me?'...it would mean the world,'" said Mike.
"That was Tuesday around 1 o'clock I sent that to him. I didn't hear back, and I would've been completely fine if he never responded. He's a busy guy. That night, he calls me…I grabbed the phone, I step outside in case Cade was around, and he basically says, 'Hey I'm in San Clemente, I'm 15 minutes from you. What's your schedule tomorrow? If you want, I can do better than that and just swing by, wish him happy birthday.'"
Sure enough, that's exactly what he did.
"I was blown away," said Mike after Allen and his longtime girlfriend Brittany Williams made the house call. "So, the coming by was completely his initiative and his idea…they brought doughnuts, brought Cade a couple of gift cards for his birthday…They literally hung out for a good hour…it was just such a cool, intimate hour. Cade and Josh were playing catch in the hallway."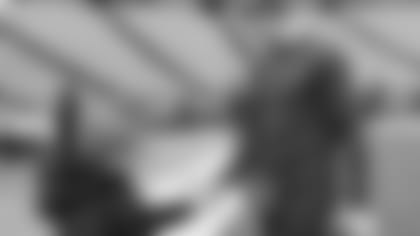 Less than two months after Allen hosted Cade, his parents Mike and Erin, and his sister Lucy, for a one-of-a-kind One Buffalo weekend, as highlighted in a heartwarming edition of "Beyond Blue and Red," presented by New Era, Allen was happy he was able to successfully pull off another surprise for the vivacious teen.
"He said he knew something was up, but he didn't know who was coming," explained Allen. "He was very excited, very surprised…We just kind of hung out, he showed some of the memorabilia in his room and his parents gave us a little tour and we sat down and talked about life and what they were up to and how much they missed Buffalo."
While Allen views the simple act of kindness as the least he could do, it meant the world to Cade.
"Oh, yeah, absolutely [Cade is still talking about it]," said Mike. "It's the kind of thing that sinks in throughout the day, processing what just happened, you know? But he's talked about it, he's asked me to send him pictures so he can have it on his phone and show his friends…"
"…It was eight years ago that Cade was in the intensive care unit," said Mike. "He had a stroke eight years ago right now. So, this kind of has been his life for the last eight years, rehab and stuff. So, he's met some people along the way. What's cool about this [though], is he's old enough now [where] he's going to remember it. He will remember everything about that Bills trip…What's neat is we have a picture of Cade with Todd Gurley that he had met over the summer…he would say he met Todd Gurley [but], Cade [can say he] knows Josh. It's totally different. It's a genuine friendship with them."