The spring schedule for the Bills is now in the books. The team's three-day minicamp wrapped up on Thursday, bringing an end to two months of work installing a new offense and blending new pieces in for all three phases of the team.
So which players or coaches stood out during this time?
Buffalobills.com takes a closer look.
1. Best first impression – Tremaine Edmunds If the rookie linebacker isn't impressive enough just walking out of the locker room onto the practice field at 6-5 and a chiseled 250 pounds, witnessing his approach to the game and realizing he's just 20-years old makes him seem like the total package.
Edmunds did nothing this spring to dampen the excitement for what he could be as the starting middle linebacker in Buffalo's defense in 2018.
2. Best body change – John Miller Although it was Taiwan Jones who won the team's biggest body composition change this spring and Shaq Lawson has re-shaped his body, you've got to give a lot of credit to the big man who worked his tail off to get in the best shape of his career.
Miller is at the low end of body fat percentage for offensive linemen already at 23 percent. It's helped him win back a starting role at right guard. He plans to work out the next six weeks at the Pete Bommarito training complex in Miami until he reports for training camp.
3. Most important newcomer – Vontae Davis Davis was a key piece to Buffalo's offseason puzzle as he upgrades what was already a talented secondary. The veteran corner gives the Bills a proven cover corner, who can still match up with an opponent's top receiver.
4. Best sense of humor – Tre'Davious White If he's not messing with teammates on offense during team work, he's ribbing assistant coaches on the sidelines. Even when players are the butt of his jokes, it's hard for them not to laugh along with White with his million dollar smile.
5. Best community activist – Lorenzo Alexander You'd be hard pressed to find a Bills player doing more in the local community than the veteran linebacker of late. His recent bowling event benefited in Buffalo benefited the South Park HS football team and the Belle Center on Buffalo's West Side.
His ACES Foundation actually encourages young men and women to take pride in their own communities and serve in the same way he does to continue what he calls "the positive cycle."
6. Best comeback story – Rod Streater An injury that most thought would cost him half the season at most, wiped out all of 2018 for the receiver. Now re-signed with Buffalo, Streater began to show in minicamp what made him a virtual lock for a roster spot before his dislocated toe in the preseason game at Philadelphia.
7. Most competitive position – Wide receiver After Kelvin Benjamin and Jeremy Kerley, much of Buffalo's wide receiving corps is unproven. All that has done is create a virtual dead heat battle between the 11 other receivers on the roster.
8. Top under the radar performer - Robert Foster The undrafted receiver was pretty consistent getting behind the defense and turning in big plays through the OTA practices and minicamp. If he can carry that consistency into training camp and the preseason, he stands a good chance of making the 53-man roster.
9. Most consistent quarterback - Nathan Peterman The Bills second-year QB was the signal caller who performed most consistently day in and day out through the course of the spring. He wasn't the one providing the most eye-popping plays, but he was connecting the most with his receiving targets from series to series and effectively moving the sticks during two-minute drill segments.
10. Most improved – Shaq Lawson With a new attitude and body to match, Lawson looks much faster off the line. His improved core strength is also helping him win battles on the edge as he was a disruptive force during team segments when it came to collapsing the pocket. If he stays on track, he could have a breakout season.
11. Sleeper to root for – Owa Odighizuwa He's got an uphill battle to earn a roster spot, but it's hard not to root for the former third-round pick of the Giants (2015). Still young in football, Odighizuwa flashed at times during the spring, but he'll have to do more to climb the depth chart.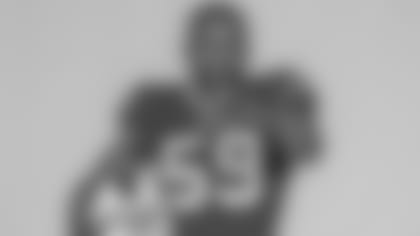 12. Most impressive spring performer – Tre'Davious White The second-year cornerback was a frequent playmaker on defense throughout the spring. The talented corner looks poised to have a Pro Bowl type season.