The heavy lifting of the Senior Bowl practice week is over and the teams look ahead to the game itself. The North and South kick off Saturday afternoon at 4 p.m. at Ladd-Peebles Stadium in Mobile. We've had a chance to see most of the practices leading up to the game, and here are five observations after watching the top senior prospects.
1. COVERING COATES: A CHALLENGE IN THE NFL
The best receiver on the field through the three days of Senior Bowl practices was Auburn's Sammie Coates. Defensive opponents on his South team had to respect his tremendous speed by playing off most of the time during the workouts. Coates 40-yard dash time at the Combine next month will be highly anticipated, with some experts thinking he could clock in at 4.3. That's blazing.
But when we talked with Coates after Thursday's practice, he said he's not just a burner.
"I've got a lot to offer," he said. "I'm running good routes down here. I'm showing that I can catch the ball. I'm a play maker; I bring a different aspect to the game. I'm just a freak of nature playing football." We followed up and asked Coates what makes him a "freak of nature?"
"The speed, I can go get it in the air, I can go snag it out of the air," he answered. "I'm very physical, I'm strong, I bench press a lot--I got a lot of in my package."
You can expect some deep shots aimed at Coates from South quarterbacks come game time Saturday.
2. AMEER 5-9, 195 POUNDS, BUT NFL POTENTIAL
Nebraska running back Ameer Abdullah is on the small side, at 5-9, 198 pounds. But he's got big time production in his resume from his four years at Nebraska. He scored 28 touchdowns in his last two seasons with the Huskers and finished with more than 3300 yards from scrimmage. Abdullah graduated from Nebraska in 31/2 years with a degree in history. In my opinion, he was the best back at the Senior Bowl practices this week, consistently showing tremendous acceleration. But the size could be an issue. Abdullah packs his pounds on a thin lower frame and you wonder how many tackles he'd be able to break in the NFL.
Other observers this week name Minnesota back David Cobb as their top performer at the RB spot.
3. UP AND DOWN DAY FOR GRAYSON
Colorado State QB Garrett Grayson experienced some highs and lows during his South team
workout Thursday. During the 11-on-11 team work, he badly underthrew a pass intended for Dezmin Lewis 20-yards downfield, and the pass was picked off by CB Kevin White of TCU.
On the very next play, Grayson fired a strike over the middle that was caught by WR Tyler Lockett of Kansas State, one of Grayson's preferred targets all week.
In red zone team work, Grayson's pass into the end zone was picked off by CB Ladarius Gunter of Miami (Fla.) with a sliding interception. The next play, he threw a beautiful fade into the end zone that was caught by WR Rannell Hall of Central Florida—a nice throw and a spectacular catch.
You can clearly see the slight hitch in Grayson's throwing motion and his inconsistent performance was on display Thursday. But he remains an intriguing 3rd or 4th round prospect with the draft three months away.
4. GREAT LINEBACKER PLAY
There are a couple of standout linebackers on the North squad who've gone relatively unnoticed this week. One of them is inside LB Hayes Pullard of USC, who's the defensive signal caller on the field for the North. He insists he can be an every-down linebacker when he makes the move to the NFL. And the North got solid play all week from outside LB Nate Orchard of Utah. He wants to play "with his hand in the dirt" he told me, as a 4-3 Defensive End. The team that drafts Orchard will have to make sure they can find the right fit for his slight, 255 pound build.
5. SOUTH TEAM HAS OFFENSIVE LINE TALENT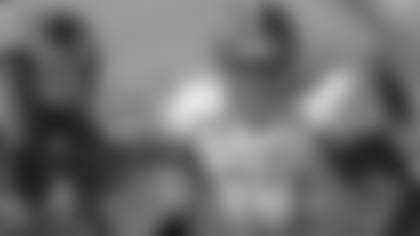 Colorado State OT Ty Sambrailo had some very strong moments in the OL/DL pass rush drills the South team ran Thursday. He looks quick and athletic and able to get to the second level on a fairly consistent basis. Sambrailo played tackle for the Rams but got in some work at the guard spot during the workout Thursday. He may need to add some strength and bulk, but he looks the part of a 2nd round, maybe late 1st round selection.
The Bills 2nd round pick last year, Cyrus Kouandjio, will probably be watching Saturday's game closely to see how his brother fares. Arie Kouandjio of Alabama is one year older and one year behind Cyrus in football terms. He got extensive work at the left guard spot for the South team and showed some good movement skills.
Kouandjio, an Alabama product like his brother, says Cyrus' experience heading into the draft last year has already made him more comfortable.
"I kind of experienced a lot of the things he was going through with him, " Arie Kouandjio said. "I got to live vicariously through him and see what's going on. I was able to almost make my own judgment on things. I'm blessed to have a brother, a younger brother, who's gone through all these things and I got to experience it with him."