MOBILE, AL-It was down to football for the 110 college prospects assembled in Mobile with the first day on the field for practice Tuesday. And it was a good chance for the new members of the Bills brain trust to start to look ahead to the draft.
Head Coach Rex Ryan took in the action at the National Scouting Weigh-In bright and early Tuesday and then watched the top prospects on the field for the North and the South practices. We were there as well, and here are five observations I've made from a Bills point of view:
1. REX IS WELL-REGARDED ALL OVER THE LEAGUE
I wish I had a nickel for every football person, in and out of the media, who's told me how much we'll enjoy having Rex Ryan as the Bills Head Coach.
Fellow coaches, scouts, and longtime media members in and out of New York have high praise for his coaching ability and his people skills. But Ryan was not in Mobile to schmooze with his colleagues. He's here for a first- hand look at the college prospects. In fact, Ryan says the Senior Bowl is head-and-shoulders above the February Combine when it comes to evaluating the college talent.
"You're not competing in shorts," he told me. "It's real football out here. That's the most important thing to me.
Ryan says the Senior Bowl lets coaches and scouts evaluate prospects in a competitive, football context.
"You can see their competitive fire when they're going up in these drills, how passionate these guys are. We want a team built on passion, built on guys that love to play the game. We're looking for Buffalo Bills. That's more important than what a guy can run."
2. DAVID LEE IS LOOKING AT SENIOR BOWL QBs
The Bills are serious about stepping up the competition at the quarterback spot in 2015. That's obviously the reason new quarterback coach David Lee is the only Buffalo positional coach on hand here in Mobile.
Lee would not tip his hand when we asked which of the six Senior Bowl quarterbacks the Bills are most interested in, saying "we're going to look at them all." But he also spoke highly of 2013 1st round draft pick EJ Manuel. Lee remembers Manuel coming out of FSU two years ago, and he talked about "cutting him loose."
" I'm excited about EJ Manuel," he said in Mobile. "I liked him coming out and I'm looking forward to working with EJ, that's for sure. I remember that Florida-Florida State game and he took off and he beat a fast Florida secondary with his legs two or three times. I know what he's capable of doing. We've just got to cut him loose and let him go play."
3. NORTH QBS UNIMPRESSIVE IN THE FIRST PRACTICE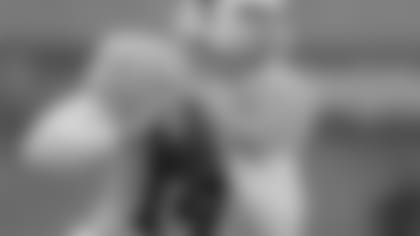 David Lee may have been disappointed in the work of the three North Team quarterbacks during the workout Tuesday. None of them offered much in the way of NFL potential.
The most highly regarded QB here is probably Baylor product Bryce Petty and he had an unspectacular first day on the field. Petty showed good, quick feet in executing a 7-stop drop in the QB-WR "routes versus air" portion of the workout. But he seemed to float some of his passes downfield in 7-on-7, including one way over the head of TE Casey Pierce of Kent State.
QB Sean Mannion of Oregon State hit WR Justin Hardy downfield for a nice 20-25 yard strike during the WR vs. DB drills. But other than that, the North QBs had few great moments.
4. INTERIOR DL SHINE FOR THE NORTH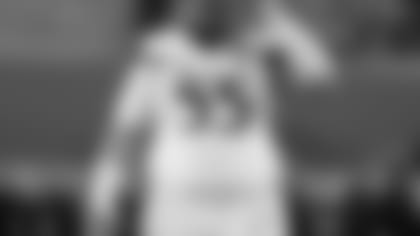 The best players on the field for the North were two interior defensive linemen-Danny Shelton of Washington and Carl Davis of Iowa.
Shelton was expected to impress. He weighed in at 343 pounds and still showed tremendous quickness and strength off the ball during team work. Shelton is considered by many the best draft prospect in Mobile this week.
But Davis was almost his equal. The 6-5, 315 pound Iowa Hawkeye constantly pushed the pocket during the team drills. He and Shelton made a formidable duo up front.
"He's a heckuva player and it's nice playing with him," Davis said about Shelton after the practice. "All these guys are really good out here. No matter who lines up next to me, we're going to have fun. He likes to have fun out here, I can tell."
5. BOOLA-BOOLA-YALE IN THE HOUSE
Even before Tuesday's practice, Yale RB Tyler Varga was one of the great stories of the Senior Bowl.
Born in Sweden, Varga grew up in Kitchener, Ontario, where his parents were avid bodybuilders. He transferred from Western Ontario University after one year, the same school that produced former Bills FB Tim Tindale. Varga carried a 3.5 GPA at Yale during his time there, majoring in Evolutionary Biology. All that would be enough to make a good story.
Then Varga goes out and makes big plays in his first Senior Bowl practice. He ran through a sizable hole on the right side of the offense during team work and made some nifty moves in the secondary. Two plays later, he caught a swing pass coming out of the backfield and made some DBs miss when he moved downfield.
All this, while making a slight position switch, from Tailback to Fullback at the Senior Bowl.
"It was a little of an adjustment, putting me at the fullback spot, because I've been playing tailback my whole career," Varga told me after the North practice. "So, there was a little thinking going on there, it slowed me down at the beginning of practice. I think I really started to hit my stride a little bit later on. I was able to get out in space. I was glad that I was able to show a little bit of versatility out in open space, because that's something that I ran a lot between the tackles this year. I'm a firm believer that I can run outside the box, too. I was happy that I was able to catch the ball in space and make something happen with it. "
Varga bears watching when the Senior Bowl prospects return to the practice field Wednesday.