The Bills defeated the Carolina Panthers 24-23 to earn their first victory of the season at Ralph Wilson Stadium. The Bills marched 80 yards down the field in 1:36 to earn the come from behind victory on a two yard touchdown pass from QB EJ Manuel to WR Stevie Johnson with two seconds remaining in the game.
Manuel threw for 296 yards and one touchdown on the day on the way to earning his first career victory. RB C.J. Spiller led the way on the ground with 103 yards on 16 carries, including a 46 yard scamper.
RB Fred Jackson also had a touchdown to go along with 30 yards on 12 carries.
Leading the defensive effort for the Bills was DE Mario Williams who set a team record and posted a career high with 4.5 sacks.
2. Tuel Time
Second-year QB Jeff Tuel completed 12-of-17 passes for 74 yards, one touchdown and one interception as he saw his first action of the season in the Hall of Fame game. Tuel also added 13 yards on the ground.
3. Have we seen you before?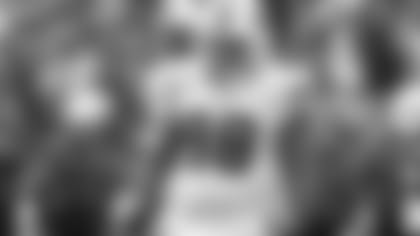 A few connections between the Bills and Panthers:
-Panthers DL Dwan Edwards played for the Buffalo Bills in 2010 and 2011
-The NFL Career of Panthers GM Dave Gettleman began in 1986 as a Bills scouting department intern. From 1987-92, Gettleman worked as a full-time scout for Buffalo.
-Panthers Assistant Offensive Line Coach Ray Brown held the same position with the Bills from 2008-09. In both of his years in Buffalo, the offensive line blocked for 1,000 yard rushers (Marshawn Lynch in 2008, Fred Jackson in 2009)
-Panthers Assistant ST Coach Bruce DeHaven coached the Bills special teams unit from 1987-1999 and 2010-2012. The Bills ranked first in the NFL in 2011 by limiting opponents to 20.4 yards per return. From 1987-99, DeHaven was part of a Bills era that included four consecutive Super Bowl appearances and six AFC East championships.
4. Watkins watch
Rookie WR Sammy Watkins seeks his first catch in NFL game action on Friday in a matchup with the Panthers. He was targeted three times in the Bills' opener at the Hall of Fame game last week.
5. Home sweet home
Bills rookie CB Ross Cockrell is from Waxhaw, N.C. which is roughly 20 miles from Bank of America Stadium.  Bills Assistant to the Head Coach Stephen Brown is a native of
Charlotte, N.C. Brown graduated from Providence High School in 2005, which is 20 minutes away from the Panthers' home field, Bank of America Stadium.