It's a wide-open field for the playoffs. Twenty-six NFL teams are still in contention for a postseason berth, including the Bills opponents Sunday, the 5-8 Detroit Lions.
The Bills fell out of the race with their loss to the Jets last Sunday. But their agenda in the final three weeks includes continued development of their young players, including first round draft picks Josh Allen and Tremaine Edmunds.
Here are some of the things to watch for this weekend, as the Bills and the NFL comes down the homestretch:
1. CAN BILLS SUSTAIN OFFENSIVE UPTICK?
It's been a modest, but significant improvement in Buffalo's offensive production since they returned from the bye week. They've only won one of three games since then, but the Bills have improved.
They played the first six games of the year without producing more than 300 yards in a game. They've done that in each of the last four. They averaged 10.6 points scored per game in their first four games this year and averaged 26.3 points scored in the last four.
The reasons? Josh Allen's running ability, more contributions from Zay Jones, and a dynamic new receiving weapon in Robert Foster. They'll need all of that and more to continue this week.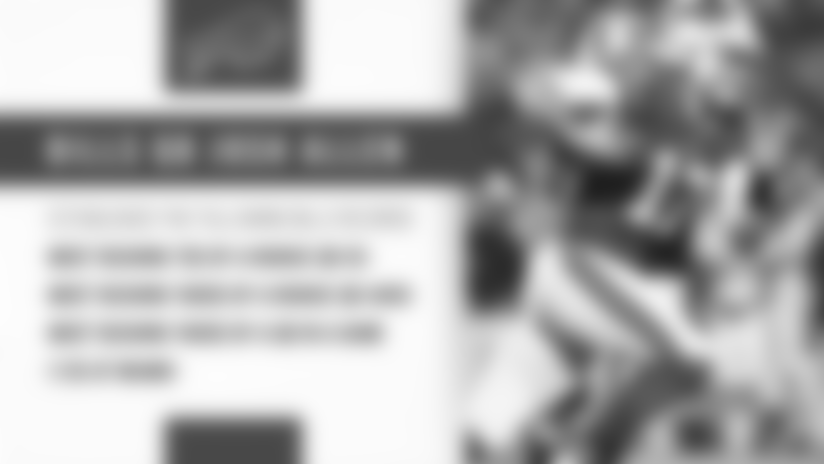 2. JOSH ALLEN – PRODUCING AND LEADING
Allen has become the Bills most important puzzle piece since his return from his elbow injury three weeks ago. And he's established his place as the Bills leader on offense, after only a half-season worth of NFL starts.
Head coach Sean McDermott was presented a question this week—Kyle Williams and Lorenzo Alexander are your obvious leaders on defense—who fills the leadership role on offense?
"Josh.  Josh is the leader," he replied instantly. "That's a little bit different for a rookie to be the leader, but the position he plays and the way that he's played and earned their respect, he's the leader on the offense."
Then McDermott was asked if there was a moment of time this season when he realized Allen was the unquestioned leader of the offense.
"I would say probably in the last couple of weeks, really, when he came off the injury and the way that he worked through the injury. You become the leader by earning the respect of your teammates. He was willing to do that early on; he didn't try to jump out in front when he hadn't earned it. I think if you polled the players, most would say that Josh--certainly LeSean does good things as well--but Josh, because of the quarterback position, has become the leader," McDermott said.
3. QB CLASS OF 2018 IMPRESSES
Josh Allen is one of the members of the five-man, first round quarterback class of 2018. All five are starting. All five have made enough positive impressions to earn the respect of seasoned football observers.
Peter King of NBC Sports and Football Morning in America told One Bills Live this week he was impressed by Allen and Jets rookie Sam Darnold in last Sunday's matchup in Orchard Park.
King says all five first rounders, Allen, Baker Mayfield, Darnold, Josh Rosen and Lamar Jackson, look like they will settle in with their teams and be starters for a while.
"I think all of these quarterbacks, the five first round quarterbacks, I see enough flashes to think they all might get second contracts with their teams," King told the show. "They're really good, I think they've all shown pretty good so far."
4. HAS THE TORCH BEEN PASSED?
Bills defensive coordinator Leslie Frazier related a story this week about veteran Kyle Williams asking rookie Tremaine Edmunds to lead the players-only defensive team meeting, instead of Williams. It was the first time anyone other than Williams conducted the meeting, and it was a sign of Edmunds emerging respect in the locker room.
Edmunds leads the team in tackles and passes defended. He got his first NFL interception last week against the Jets. He was asked on One Bills Live this week if he had a "a-ha" moment in his rookie season yet, when the light switch flicked on.
"Yea, I had a couple moments," he answered. "Just trusting my instincts, trusting what I see out there and not thinking as much and just reacting. And I'm still building each week trying to get to that point where I can just play free all around and as I continue to grow and develop it will come soon."
Edmunds says his rookie development has come along but it hasn't been a steady uphill climb.
"I think anybody that says their season went straight up would kind of be lying a little bit. But I've definitely had challenges along the way. I'm a rookie in this league, I'm a young guy so it's going to bring different things each week. I've just trying to get better each week and just focus on things that I can. I know it hasn't been perfect but my whole goal for myself is to improve each week."
5. MCCOY MILESTONES WITHIN REACH
If he plays, LeSean McCoy gets another shot to hit some significant NFL rushing milestones this week. Shady was limited to two carries against the Jets last Sunday, leaving the game with a hamstring strain. He's been limited in practice this week, but he says he wants to play against the Lions.
McCoy goes into the game needing 21 yards on the ground to move into 25th place all time in NFL history in rushing yardage. He would pass former Bears and Jets standout Thomas Jones, who has 10,591 career rushing yards.
McCoy needs 37 yards rushing to move into 24th place in league history, and 73 yards to move into 23rd place.
And he's climbing up the Bills franchise record book also. With 71 rushing yards, Shady would pass Travis Henry and become the fifth all-time rushing leader in franchise history, behind Thurman Thomas, O.J. Simpson, Fred Jackson, and Joe Cribbs.
6. NFL TAKES SATURDAY NIGHT SPOTLIGHT
There's an extra helping of NFL football this weekend, with two games on national TV Saturday. The Houston Texans can clinch the AFC South with a win at home Saturday against the Jets, a 4:30pm kickoff. Cleveland plays at Denver Saturday night.
Three other teams can clinch division titles on Sunday: the Bears with a win at home against the Packers, the Cowboys with a win at the Colts, and the Patriots with a win at Heinz Field against the Steelers. It would be New England's 10th consecutive AFC East Title, an NFL record.
7. BILLS HISTORY ON NFL NETWORK FRIDAY NIGHT
'The Season of Thurman' continues this weekend. Bills Hall of Famer Thurman Thomas had his Bills number 34 retired in an elaborate ceremony two months ago. Now, he'll be featured in the newest installment of NFL Network's popular 'A Football Life' series.
'A Football Life: Thurman Thomas' premieres Friday at 8 pm on NFL Network. The Emmy Award winning series, produced by NFL Films, chronicles Thomas' high school and college careers, and features his disappointment of waiting until the 2nd round until he was drafted by the Bills in 1988.
Paul Manusky, an award-winning producer at NFL Films, produced the show. And he says the project reminded him of just how productive and talented Thomas was during his career with the Bills.
"The biggest thing that surprised me, and I know that it will sound a little bit weird to the people in Buffalo, but just going back and really seeing how amazing those teams were," Manusky told One Bills Live this week. "How amazing his highlights were. You could put his highlights up against anybody who has ever played.  He is one of the best players that has ever played."