Thursday, August 14, 2014
7:46 a.m. After the first of two combined practices followed by defensive meetings the night before, Hughes checks in at breakfast for a quick meal. He sits quietly with teammates, among them S Jonathan Meeks.
8:04 a.m. Hughes leaves breakfast and heads toward the defensive meeting room. The meeting is scheduled to begin at 8:30 and run for one hour.
9:27 a.m. Positional meetings begin to let out and a steady stream of players in small groups make their way to shuttle buses.
9:46 a.m. Defensive line group leaves the hotel en masse. Damien Jacobs, Marcell Dareus, Mario Williams, and Corbin Bryant are among the first linemen aboard.
9:47 a.m. Hughes boards the fourth of six buses assigned to shuttle coaches and staff to the walk-through. Along the short walk from the hotel to the bus, Hughes chats with D-line coach Pepper Johnson.
10:04 a.m.Team buses arrive at the UPMC's Sports Performance Complex. On the walk into the facility, Bills coaches and staff mingle with their counterparts from Pitt, including head coaches Doug Marrone and Paul Chryst.
10:11 a.m. Hughes swaps t-shirt for jersey and sneakers for cleats, then steps on the grass for the first time with CB Ron Brooks. Brooks takes issue with the selection of photos on buffalobills.com, asking "Why is it always the offensive guys?"
10:25 a.m.Walk-through is well underway. Hughes mans the right defensive end position as defensive coordinator Jim Schwartz emphasizes fundamentals against the run, and demonstrates how players can work together to stop an offense.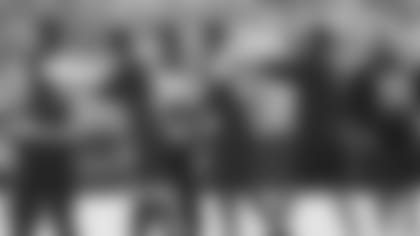 10:43 a.m. The focus of the walk-through changes somewhat from run defense to pass rush. Even in walk-through, Hughes tries not to be touched while rushing the passer - contorting his body and swatting away half-hearted blocks to work his way towards a stand-in quarterback.
11:15 a.m. An air horn sounds and walk-through ends exactly at the scheduled time. Marrone brings the team together to address minor changes to the day's schedule and remind everyone of the intense and important work ahead against the Steelers.
11:19 a.m. Offensive players stay at the UPMC Sports Performance Complex to lift weights. Hughes and his defensive teammates get back on the buses.
11:38 a.m. Buses arrive at the hotel.
11:54 a.m.Hughes grabs a quick snack and mentions that he's getting on the elliptical before lunch. He spends about 30 minutes on the machine in the hotel gym, sandwiched between an assistant coach and a member of the Bills front office. "It's just something – a little cardio – to keep the day moving," he says. "I just keep rolling."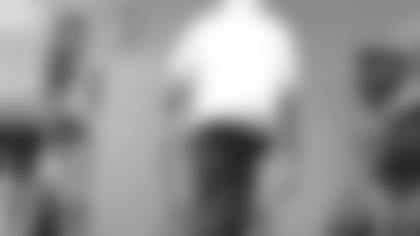 12:47 p.m. Time for a snack. Hughes grabs fruit and water to go.
1:15 p.m. Another round of offensive and defensive meetings begins. Scheduled for 45 minutes in a converted banquet room, football operations staffers outfit the rooms with projectors, chairs and other materials to help review practice film, etc.
2 p.m. Another meal. Among the offerings are baked chicken breasts and fish, meatball subs, pasta, steamed vegetables, and rice.
3:15 p.m. Buses depart for Latrobe. Hughes passes the time on an hour-plus bus ride by listening to music. "It's all oldies. Just relaxing and getting into that old football mode," he says. Among the songs on the playlist are "Candy" by Cameo, and the broad samplings of Al Green.
4:39 p.m. Hughes arrives at St. Vincent College and heads to the trainer's table to get taped up. While he's there he slides his thigh and knee pads into his football pants.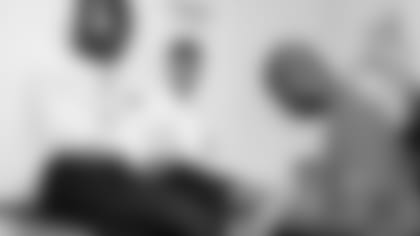 5:07 p.m. The locker room is a swarm of huge bodies in various states of readiness for practice. Brandon Spikes talks with Hughes for a few minutes. The mood in the room becomes more intense as practice nears.
5:13 p.m. As players trickle out of the locker room, loosely grouped by position, Hughes cuts the sleeves off of a pair of Nike undershirts to go beneath his pads during practice. Assistant coaches and trainers shout updates as to how much time remains before practice begins.
5:20 p.m. Hughes is among the last players to leave the locker room. Along the short walk to the field through a sea of Steelers fans, a trainer helps him adjust into his shoulder pads.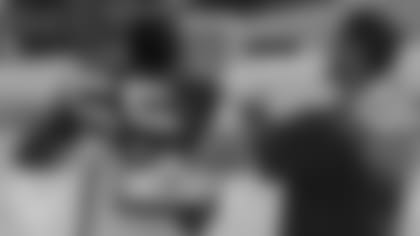 5:24 p.m. Offensive and defensive players split the field for a pre-practice walk-through. Between reps, Hughes steps out and cleans the visor on his helmet.
5:50 p.m. An air horn sounds. Practice begins.
6:20 p.m. The first head-to-head competitive portion of practice begins. While skill positions break off to other quadrants of the field, Hughes and the Bills defensive line work against the Steelers offensive line and tight ends in a run-blocking drill.
6:45 p.m. The teams break from their offensive and defensive work for a 20-minute special teams session. The tempo and intensity of practice are on a steady climb.
7:09 p.m. Some pushing and shoving occurs after the whistle, and players need to be separated from one another. Hughes seems to think that practice has reached the boiling point – his competitive juices are flowing.
7:12 p.m. Despite the heated competition, Bills and Steelers intermingle between their reps, flipping the proverbial switch outside the lines of the field. Steelers LB Lawrence Timmons stops by for some friendly small talk with Hughes.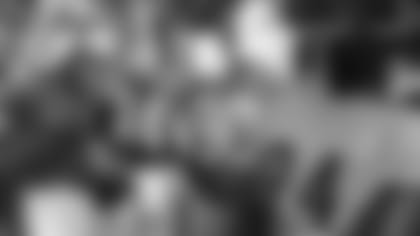 7:36 p.m. Steelers head coach Mike Tomlin checks in. He talks with Kyle Williams and Hughes about what sparked the extracurricular activity earlier in practice. Both coaches have been adamant in their support of an environment that fosters competition. Neither wants that competition to spill over, and Tomlin's visit confirms that all are in agreement.
7:39 p.m. Hughes has a trainer stretch him out.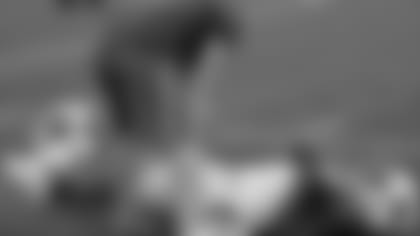 7:45 p.m. After an inside run play, Hughes jogs off the field. He is quick to remind those around him that he feels like he's had a good day.
7:55 p.m. The final air horn sounds and two days of combined work with Pittsburgh are complete. Players and coaches alike congratulate one another on the quality of work each provided to the other.
7:59 p.m. After a brief stretch with his teammates along the defensive line, Hughes signs an autograph for a Bills fan who wishes him a belated happy birthday.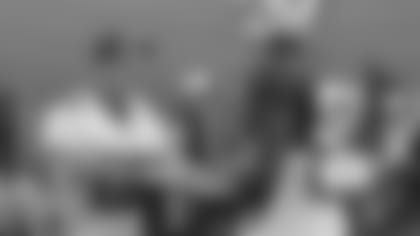 8:24 p.m. Players and staff board buses back to downtown Pittsburgh. More oldies for Hughes along the ride.
9:39 p.m. The team arrives at the hotel.
9:45 p.m. The itinerary lists "snack" availability, but the offerings are closer to a full meal: chicken, turkey, pasta, salads, fruit, mashed potatoes, recovery drinks and more.