Known as one of the most respected men ever to be associated with the National Football League Ralph C. Wilson Jr. was a patriarch, a humble philanthropist and the conscience of the league. An NFL owner for more than half a century, Wilson was all of those things and more, which is why his passing Tuesday at age 95 was so difficult for so many to bear.
Wilson, a World War II naval veteran, who brought pro football to Buffalo when he was named the new owner of the fledgling AFL's Buffalo Bills in October 1959, pledged allegiance to his adopted home and remained forever loyal to the Queen City.
"Mr. Wilson had a relentless passion, a deep love for his Buffalo Bills, the City of Buffalo and the National Football League," said Bills President and CEO Russ Brandon. "He also loved the Bills fans and all of the people of Western New York who embraced the Bills.
"This incredible man was the personification of the Buffalo Bills. His life was grit, determination and resolve. He was bigger than life in many ways and yet he was the everyday man, driving his Ford Taurus to the local store and greeting everyone as they called out "Hi Ralph!" He will be greatly missed by those in our community whose lives he touched."
Wilson passed away at his home with his wife Mary and daughters by his side in Gross Pointe Shores, Michigan Tuesday afternoon.
With more than 50 years of his life committed to the game he loved, Wilson had a major hand in shaping the National Football League into what it is today.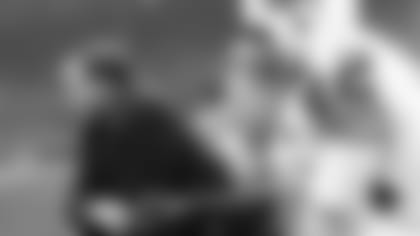 "Ralph Wilson was a driving force in developing pro football into America's most popular sport," added NFL commissioner Roger Goodell. "He loved the game and took a chance on a start-up league in 1960 as a founding owner of the American Football League. He brought his beloved Bills to western New York and his commitment to the team's role in the community set a standard for the NFL.
"As a trusted advisor to his fellow league owners and the commissioner, Ralph always brought a principled and common-sense approach to issues. We are grateful for his many contributions to the NFL and offer our heartfelt sympathy to the Wilson family."
"He's a man who came into the league for the love of the game, not for the rewards financially," said Bills Hall of Fame coach Marv Levy. "He contributed so much to the game, he's been on every committee and part of many of the most major changes and moves that the league has made."
Whether it was spearheading the negotiations that led to the AFL-NFL merger in 1970 or leading labor negotiations in mid-70's with the NFLPA as a member of the NFL Management Council, Wilson was always at the forefront of the push to move the league forward.
"Even if I was not a Buffalo Bill, it's hard not to (admire) what Mr. Wilson was able to do," said Hall of Fame quarterback Jim Kelly. "He's a guy that has meant not only a lot to this organization, but a lot to the NFL."
His achievements for the greater good of the game are what ultimately earned him enshrinement in the Pro Football Hall of Fame in 2009. Wilson's induction was an honor that touched him deeply.
"I am so appreciative of this recognition," said Wilson near the close of his Hall of Fame induction speech. "Luck prevails."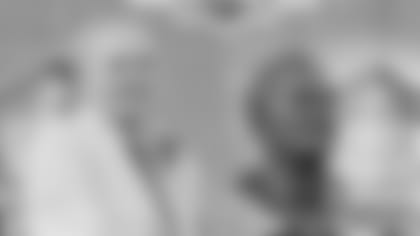 Wilson was also tremendously generous when it came to philanthropic efforts in Buffalo, oftentimes choosing to remain anonymous with his charitable financial donations. His most notable public contribution came in 2011 when he largely financed a new preservation wing of the Pro Football Hall of Fame, which was named in his honor.
"Ralph Wilson's outstanding contributions to pro football over many decades are legendary," said Steve Perry, then President and Executive Director of the Pro Football Hall of Fame. "His generous gift will greatly enhance our ability to preserve the Hall of Fame's rapidly growing collection of historic documents and artifacts."
And though Wilson's legacy is firmly intact it will not diminish the sense of loss being felt by all of those who knew him, be it as a father, a friend, a comrade or a boss.
"It's tough. It's very tough," said Brandon. "I worked for him for 18 years and talked to him every day for 18 years—sometimes multiple times a day (laughs). What he's meant to the entire organization. He's our leader, our mentor, our friend. How he loved his players and loved our community. Special guy. They don't make them like Ralph Wilson. They just don't."