All the eyes Tuesday in the Bills Healthy Zone Fieldhouse at the UB pro day were focused on top 10 draft prospect Khalil Mack. All 32 NFL teams were represented with scouts, coaches or personnel executives. Members of Buffalo's scouting department were also in attendance, but a couple of them were also entrusted with executing the pro day and making sure it functioned properly. Here now is an hour by hour account of Coordinator of College Scouting and National Scout Doug Majeski's Tuesday in running the UB pro day.
7 am – Pro day prep -Majeski arrives at One Bills Drive and is getting paperwork ready for the 20 some odd players who will be performing Tuesday.
"It was just an information sheet about address, closest airport, the information we need so if we draft them or sign them as a free agent we know how to get them here," said Majeski. "It's information that we'll need right away."
8 am – Tests -Players arrive and are situated in the Bills defensive team meeting room at One Bills Drive to fill out paperwork. Majeski also has a handful of prospects take the Wonderlic test.
When players finish their paperwork Majeski and Bills player personnel assistant Marcus Cooper begin recording hand size, arm length and wing span measurements on all the prospects before heading out to the fieldhouse.
"We wanted to get those out of the way," Majeski said. "That way when we got to the weight room and started at nine it goes smoother. All they get measured on there was height and weight and they get warmed up for the bench."
8:55 am – Heights & weights -Majeski is handling height measurements while a Titans scout handles weigh ins. Measurement are called aloud for all the scouts to record. Players then put their shoes back on and prep for the bench press.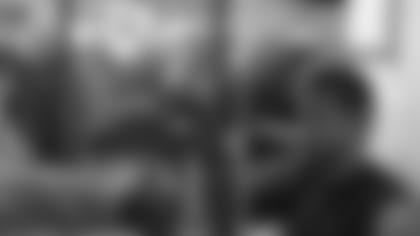 9 am – Bench press -After all the players are measured, Majeski and the rest of the scouting contingent head to the bench where players pump out reps one at a time. Majeski calls out the name of each successive prospect when it's their turn to bench. After about five players are done however, Majeski pops up and leaves the rest of the recordings to Cooper while he heads out to the Fieldhouse.
9:13 am –After the pro day there are University at Buffalo juniors who will run and test for any scouts who are interested in getting preliminary measurements. One of those juniors, OL Jake Silas, has a class in the afternoon and can't make it. Instead he's ready to run now. So Majeski times his two 40s. They're both identical at 5.4 seconds with a 1.77 10-second split.
9:20 am –Majeski makes sure the vertex is ready for the vertical leaps. The broad jump tape measure is already in place nearby on the sideline of the Fieldhouse turf field.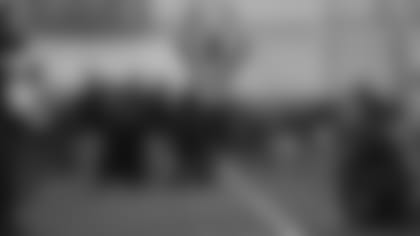 9:30 am – Vertical leap, broad jump -As players begin filing out of the weight room from their bench presses Majeski tells them to begin warming up for vertical leaps and broad jumps.
"With this big of a group with almost 20 players you almost have to break them up because if you do everybody through the same drill one at a time it'll take forever," said Maejski. "So we split the group in half for broad and vert."
9:33 am – Khalil Mack arrives – After doing everything at the NFL combine in Indianapolis a couple of weeks ago, it's unclear as to what Mack will do regarding testing and position drills. Majeski, who is measuring broad jumps, calls Mack over.
"What are you doing today," Majeski asks him.
"I'm going to run the 40 and do position drills," says Mack.
"Go warm up," says Majeski.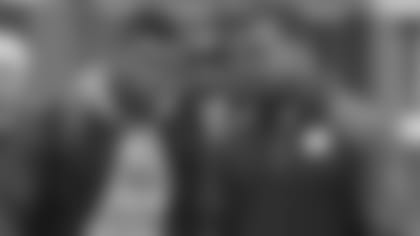 9:57 am – Doug Whaley meeting –Bills GM Doug Whaley walks over to Majeski and asks if he's going to need to have members of their coaching staff to help run positional drills after the testing.
"We may need some help with the running backs, receivers and DBs," says Majeski.
"So around 10:45 then," says Whaley.
"Yeah that'll be good," says Majeski.
10 am –Majeski calls up all the prospects following vertical leap and broad jumps and tells the players they have five minutes to warm up for the 40-yard dash. He brings the prospects over to the start line to show them where they can line up and how they have to hold their take-off stance for two seconds before taking off.
10:04 am –Approached by an Eagles scouts and Buccaneers scout, Majeski is asked if he's going to handle the starts for the 40. He confirms that he will.
10:05 am – 40s begin –The prospects begin running 40-yard dashes with about 50 scouts and personnel executives positioned at the end of the running lane. There's also a scout positioned at 10 yards and 20 yards to get split times. Each player will have the opportunity to run two. Majeski will call up players at the starting line and then call their names out to the multitude of scouts waiting to get the times 40 yards away.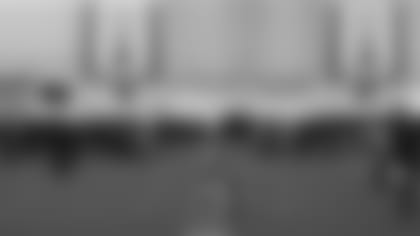 10:17 am – Oliver resets –Bulls RB Branden Oliver is setting up to run when Majeski resets him. Oliver has his hands at the back of the yard line where his 40 will start. Prospects are permitted to place their hands at the front of the line before they take off.
"Thanks, appreciate it," says Oliver.
Oliver runs a 4.62 on one scout's watch.
10:25 am – Mack runs –Khalil Mack is ready to participate after stretching out and getting loose. He looks a bit nervous after his 40 time at the combine did not meet his own expectations.  Majeski tries to break the tension.
"Listen your numbers were great at the combine just knock this run out," says Majeski.
"He did everything at the combine and his numbers were all good," said Majeski of Mack. "I could tell he was worried about his start so I wanted to take the pressure off him a little bit."
Mack times out at a 4.55 on one scout's watch, 4.58 on another. Though his start out of his stance isn't a whole lot better than at the combine the numbers are an improvement over his 4.65 in Indianapolis.
After he walks back to the starting area Mack tells Majeski he won't be running another 40.
"My hamstring is tight," says Mack. "I'm not going to run a second."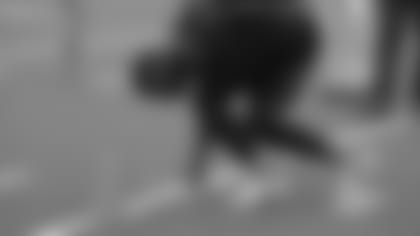 10:55 am – WR Alex Neutz runs a third –After his first two times were far apart in time Bulls WR Alex Neutz is asked by scouts to run a third 40. He's the last to run and completes a third 40, but pulls his hamstring in the process and sits out for the remainder of the workout. Neutz misses the three cone drill and the short shuttle, important drills for receivers and the positional drills.
11:09 am – Scouts huddle up –Majeski huddles all the scouts together as they go over times and measurements for all the testing. He calls out the prospect's name and various scouts that got measurements or times call them aloud to one another.
"Right after we're done with the short shuttles we call up all the scouts and coaches and we read the information gathered on every guy because not everybody can time everything at once," said Majeski. "So guys that need certain information can fill in some of the blanks they have. So that's what we huddled up for before the individual position drills."
11:25 am – Positional drills –Typically positional drills are done one position at a time to allow all scouts to watch each position one at a time, but UB's pro day is run with a couple of position groups working at the same time.
"We ran some simultaneously to reduce the time and get some things done," said Majeski. "Usually you would take the receivers, running backs and tight ends for when you're throwing the ball, but typically position groups are done individually."
11:35 am – Mack working –Most eyes are transfixed on Khalil Mack who is being put through the paces by Tampa Bay defensive line coach Joe Cullen. Cullen is getting on Mack to push himself harder through the edge pass rush and change of direction drills. Among the NFL clubs with strong representation is the Cleveland Browns. Head coach Mike Pettine and defensive coordinator Jim O'Neil are both in attendance and conversing while watching Mack.
11:45 am – Talking with prospects –While individual position drills are being conducted by Bills running backs coach Tyrone Wheatley, Bills receivers coach Rob Moore, Bills assistant defensive backs coach Samson Brown and Cullen, Majeski is pulling players aside for information.
"If there are questions I had about a player's background or an injury or just trying to get to know the kid that's what that is," said Majeski. "Just trying to match a face to a name and get a feel for him."
He's also looking for a prospect who might be a good fit for training camp as a college free agent that they could sign after the draft.
"With a 90-man roster you've got to fill that out with players whose work ethic is dependable," said Majeski. "Your team gets better in camp with players on the back half of your roster who are workers."
12:05 pm – Pro day concludes –The defensive line drills are the last to end as Mack and his three fellow prospects have been put through the paces. As Mack cools down he talks informally with a handful of scouts and coaches including Pittsburgh defensive assistant and former NFL OLB Joey Porter.
"I've been talking to Joey Porter for a while," said Mack. "He's been giving me great advice."
12:20 pm – Mack meets the media –While Mack answers questions from the media, Majeski is tying up loose ends with Bills player personnel assistant Marcus Cooper. He also tells a Denver scout that they will be getting all the information up on the ATP scouting database system for distribution.
"Most NFL teams are part of an association we call ATP," Majeski said. "UB is one of our schools. We have eight schools that we're assigned to and we have to attend their pro days and get all the information. Then we send it in and it goes out to all 32 teams. Now I would bet that most every team was here, so even though we still combine the numbers, it's designed to cover more of the small schools that not everyone attends."
12:30 pm – Pro day over –A day after traveling back from the Pitt pro day Monday, Majeski puts a wrap on the UB pro day. He'll get a one day break before hitting the road Thursday to drive to Columbus, Ohio for the Ohio State pro day on Friday.