It just wasn't adding up.
Time and time again USC cornerback Kevon Seymour was in position to make an interception. Whether his elite speed and explosiveness had put him in position to jump a route, or he had leverage on a receiver, Seymour was often in the right spot to make plays on the ball. The problem was instead of interceptions he was just knocking passes away.
Seymour was recruited to USC as both a receiver and a cornerback, so he had good hands. He was a good-sized corner at six-foot and he could outleap most wideouts with his 35-inch vertical. His elite skill set said NFL prospect, but his lack of production earned him a seat on the bench as a rotational defensive back despite being an upperclassman.
It just wasn't adding up.
That's when Bills Director of College Scouting Kelvin Fisher got to work.
Due diligence"Fish did extensive work on this guy," said Bills GM Doug Whaley. "We were just so perplexed because when you looked at his height, weight, speed and movement skills they all screamed corner with a chance to play at the NFL level."
Fisher poured over film and talked to coaches trying to figure out why a player as physically gifted as Seymour wasn't making the plays he was putting himself in position to make.
"For him to be at USC and play a lot early only to see it reduced later, we knew there had to be a reason," said Whaley. "Even when Fish talked to the coaching staff they said they loved him, but they just needed more production. So Kelvin Fisher did a lot of digging to uncover why Seymour wasn't what his talent said he should be."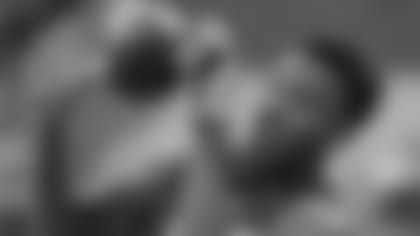 Trying to find reasons why he could not come up with interceptions was just as vexing to Seymour. He'd review game film and practice film and could not understand why he was misjudging the ball so frequently.
"In college I'd make plays and get to the ball and get a pass breakup, but I'd always think, 'Man I could've picked that,'" Seymour said. "In practice just a lot of pass breakups and I'd be running and get two hands on the ball. My coaches would be saying, 'Look, you're fast you were right there and you could've intercepted it.'"
As early as his sophomore season, he was scratching his head over his inability to complete a game-changing play when he had done everything to put himself in position to do so.
"We were playing Arizona State in Tempe and I've got Jaelen Strong and I'm on him playing great 'D'," said Seymour. "I know the back shoulder fade is coming and I turn and it's a night game. Making things worse when they score they set off fireworks so there's smoke in the lights now too. So when I turned I could see the ball and I jumped to make a play and the ball went right across my hands."
Seymour found night games particularly difficult. When he'd turn his head to track a ball headed his way while racing with a receiver down the field, the lights would create problems for him.
"Night games would bother me and the lights would get in my eyes when I looked up and it would blur everything and create halos," said Seymour. "So I'd always wear a sports visor and that would help."
After losing his starting job as a senior, Seymour mentioned to the medical staff that his eyes were bothering him. He had a small infection in one eye, which was identified as the problem. It wasn't until he finished his college career and began pre-draft training that the real reason for his struggles on the field were uncovered.
"I went to EXOS performance training in Carson, California," he said. "They did the vision test and they said, 'Hold up. Your eye sight is horrible!' And I'm thinking, 'No, something is wrong. I'm standing too far back. Let me scoot up a bit.' But they said, 'No, we've got to get you somewhere to get this checked out.' So they sent me to the eye doctor and I had like 20/60 vision."
That qualifies as moderate visual impairment. Even worse the vision in his right eye was poorer than the vision in his left eye. The optometrist told Seymour that with impaired vision of differing degrees in both eyes that his depth perception would be severely off.
"The doctor told me my vision was bad," Seymour said. "He said, 'I don't know how you were playing and competing on this level. You've either got to be super athletic or super fast.' Fortunately those are parts of my playing style."
But now Seymour had the answer to all the problems he was experiencing on the field.
Why in film review he'd see he was much closer to the ball than he thought when he was going through the play live on the field. Why the ball would seemingly arrive at his hands later than he anticipated, throwing off his timing in squeezing his fingers on a pass for an interception.
Why he was more comfortable playing left cornerback where he would track passes over his left shoulder with his less impaired left eye, than at right cornerback where his right eye was completely unreliable. Why he couldn't find the ball in the lights during night games.
"I never knew that I needed contacts," Seymour said. "I didn't know the difference."
Seymour was nearsighted, so as a kid his vision problems were never detected because his vision was good enough to read an eye chart from 10 feet away. Tracking a ball while covering a go route from 30-40 yards away however, was almost impossible. Playing with that condition his entire career he adjusted as best he could.
A promising outlookHis vision problem revealed, Seymour got a prescription for contact lenses in early February. The first time he was able to do football-related activity while wearing them was on a pretty big stage.
"My first time catching the ball and doing drills with corrective lenses was the NFL combine," he said. "It was a whole different world. Everything was sharp and I was still getting used to it. Right at the end of the season right before our bowl game I messed up my ankle so I wasn't able to do any position drill work during my training. So at the NFL combine I was still getting adjusted to seeing things completely different."
Despite the revelation of his poor eyesight, NFL teams still saw a senior corner who could not get back into the starting lineup and had just one interception and no pass breakups in his final season.
The Bills however, saw encouraging potential and minimal risk in making the USC product a sixth-round pick. Blessed with the physical measurables and movement skills of an NFL cornerback, as long as Seymour can capably adjust with fully corrected vision, those plays that went for pass breakups could turn into takeaways.
"We believe that fixing his vision will contribute to him hopefully producing on the ball instead of just making a tackle after a catch," said Whaley. "That's the epitome of due diligence in scouting a player."
Seymour wore his new contact lenses during Bills rookie minicamp. He enjoyed his clear view of the entire field.
"It's a whole new world out there," he said. "I can definitely judge the ball better and locate the ball better. Now with the contacts I can't believe how far I can see clearly now."
The contacts do tend to dry out Seymour's eyes quickly, so he and the Bills are looking into laser vision correction as an option. Either way his new visual acuity has given the cornerback a whole new outlook as he begins his NFL career.
"I feel more confident," Seymour said. "Now I'm going to find the ball sooner and track it from a further distance. When I'm running with a receiver I'm telling the quarterback, 'Yeah throw that ball.'"