After Bills GM Doug Whaley described Kiko Alonso's non-football knee injury as "significant" in a team statement, the worst was already feared. On Wednesday those worst fears were confirmed by the club as the team announced that the linebacker's knee injury was in fact a torn ACL.
"We have updated information regarding Kiko Alonso," said Whaley in a team statement. "Unfortunately he suffered a torn ACL in his left knee and will most likely miss the 2014 season. He will be scheduled for surgery in the near future and begin a rehabilitation program at the appropriate time. We feel badly for Kiko because he has worked very hard this offseason in preparation for the upcoming season, but we look forward to his return with his style of play that made him one of the league's outstanding rookies in 2013."
The injury, sustained by Alonso during a personal workout in Oregon, leaves a sizable hole in Buffalo's front seven on defense. Alonso, the team's leading tackler, had more takedowns (159) than the second and third leading tacklers combined (155: Aaron Williams 82, Manny Lawson 73). He also tied for the team lead in interceptions (4) and led the club in fumble recoveries with a pair last season. Buffalobills.com takes a look at some of the more likely candidates to fill the void.
Through the spring practices defensive coordinator Jim Schwartz often lined up Keith Rivers, Brandon Spikes and Alonso in their starting base defense sets. Rivers also lined up at times on the weak side in the team portions of practice when Alonso was limited coming off of offseason hip surgery. Still capable of covering a lot of ground the veteran linebacker could very well be the favorite to line up in Alonso's position.
KEITH RIVERS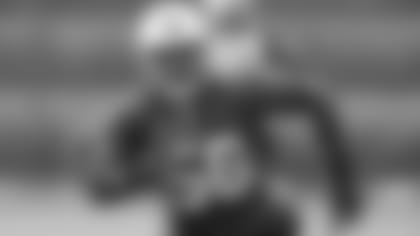 Rivers spent the past two seasons with the Giants. In 2012 he played on both the strong and weak side before lining up mainly on the strong side for New York last year.
"Since my days at USC I've always been a sideline to sideline kind of player," Rivers said. "I've kind of always been a WILL (weak side linebacker), but this past season I played a lot more SAM (strong side linebacker). Being in previous situations some of the stuff we're playing here I've played in the past. It's great to have familiarity with the calls."
NIGEL BRADHAM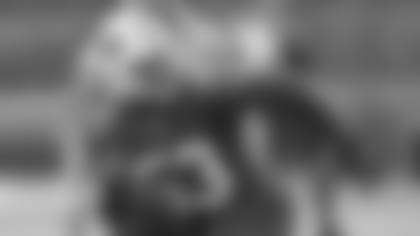 Bills third-year linebacker Nigel Bradham is another athletic linebacker capable of playing on the open side of the defense at the second level. The former fourth-round pick can run and hit and has the range needed for that position as well, but saw a good deal of time on the strong side in the spring.
In the nickel package when there are just two linebackers on the field Bradham or Rivers are likely to be paired with rookie Preston Brown or veteran Brandon Spikes. Brown had been getting reps as a first team nickel linebacker in OTAs and minicamp. The coverage ability of Bradham or Rivers will be a welcome asset in those packages in the absence of Alonso in 2014.