What TV shows are you watching right now?
"The Office" is always in my rotation. Love it. And also on Hulu, I like to watch a lot of "Bob's Burgers," "Family Guy." Also, another show I forget the name of - it was like "Love Country" or something like that. I don't know. But mainly "The Office" and funny animated cartoon shows like that. "Community." Those kind of goofy shows.
How many times have you watched "The Office" in full?
I might be on number 12. Actually, I just watched the finale yesterday so now it's back to season one.
Which Bills teammate would be Michael Scott?
Our assistant special teams coach, (Matthew) Smiley, he is 100-percent Michael Scott. He is never serious. Even when he's serious, he's joking. It's just hilarious. You can never pin him. He's a very funny guy.
But teammate? Oh, man it's a lot of them, it's a lot of good ones. You know what? Tre White is a pretty unserious guy. He's actually a really big jokester, more than I thought he was. So, yeah, you catch Tre White doing some off-the-wall stuff sometimes so I've got to go with Tre White.
What are you reading currently?
I'm reading "The Color of Law," so a little deeper book. I also read Ray Lewis' autobiography.
What'd you take from that?
Really just perseverance. I didn't know a lot about how he grew up. I didn't know that he was abused as a child by his stepfather. And so just to find that out, finding out why he went so hard. And also that little card deck workout, I stole that from his book too. He talked about that. But really just effort and how hard he went and how adversity struck and he fought through it, even with the elbow (injury) he had the Super Bowl year, I think his last year. Just a lot of lessons like that, adversity, learning about him and why he's wired the way he's wired.
What music are you listening to?
Definitely a lot of hip-hop, rap, even some R&B every now and then. Reggae is not bad. I would say since I'm from Florida, it's this artist that came out, Rod Wave. He had an album called "Pray for Love" that came out, maybe this summer. It's real good, so I've kind of been listening to that on repeat.
PlayStation. If you have an Xbox, do not talk to me. And I hate that they do the cross-gaming now, because every time I play "Apex" I'm with an Xboxer and we just end up dying. It's never good.
You know how you do online gaming? So, if you're playing "Call of Duty: War Zone," instead of it just being all PS4 players they pull from Xbox systems and everything. It's all the same game, just different systems. And PC as well. PC is also in that mix, too.
What is your go-to snack?
I'm a little bit of a health geek. I like acai bowls a lot. And it's this really good popcorn, BOOMCHICKAPOP. A little sweet and salty. Oh, man. That does it for me.
Best recipe you know how to make?
I'd have to say cereal. You know, put it in the bowl. Add milk. Milk after the cereal. Some people may do it before – that's weird. You do it after. No, I'm not really a good cook so I don't have any recipes for you.
Frosted Flakes. It's just the original, the G.O.A.T. It's just the OG. Might not be the best like Cinnamon Toast Crunch, but it's not the worst like the regular Cornflakes or something. It's a nice balance.
They make it with marshmallows now.
That's the new stuff. I don't do that. Stick to what I know.
Favorite item in your closet?
Shoes. I definitely have some nice shoes. I would say my UNC (Air Jordan) 3s, just because the custom player edition and it's UNC, that's my school. So, I would say my UNC Player Edition 3s.
Have you collected memorabilia during your career, and if so what's your favorite item?
I always like collecting jerseys from other players. So, even in college, some of my close friends. One played at Stanford, he gave me his jersey. We did the whole jersey exchange. And then also, you know, throughout the league just people I know whether they're from the same city or same state, we train together, we're college teammates or high-school teammates, for that matter. I kind of cherish that because those are really rare moments that you can be competing against someone you grew up with or anything along those lines. It's really beautiful and it's something that you should cherish, so that's something I really look forward to is getting those jerseys and hanging them up.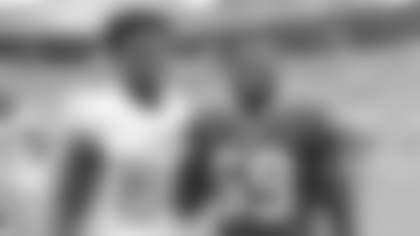 On a Buffalo winter day, how are you passing the time at home?
Oh, man. I have two dogs. So, usually probably fussing at them. I'd probably say watching "The Office," playing "Apex" – which is better than "Fortnite" – and "Call of Duty." And, let's see – probably watching film or writing notes. I try to be on point with those types of things. But really, nothing much outside of that. my dogs really kind of consume everything else.
I have two pits. One is Ace, he's a little bit over a year. And I have Rose, she's about to be six. Those are my babies.
If NFL teams had show and tell and you had to bring one item from your house in to show your team, what would it be?
OK, well, I don't have this item – and once I say it you'll be like, of course you don't have it. But in middle school, I went to an art school. My mom told me, 'There's more to life than football' - this, that, and the third. So, I had to pick up an instrument. It was weird, I really liked it, but I played the tuba. Sit down, not marching band or anything. But I would probably just show them a picture, because I don't have my tuba. Just a picture of me in six, seventh, eighth grade playing the tuba. A lot of people probably don't know that about me