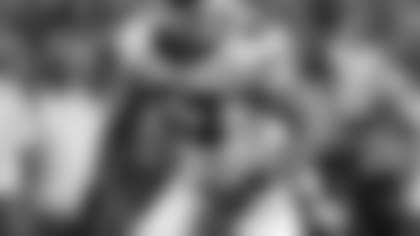 He long expressed a preference to re-sign with the Bills after he put together a renaissance season that landed him in the Pro Bowl. On Saturday Lorenzo Alexander and the club made it happen. Buffalo re-signed the veteran linebacker ensuring that Alexander will continue to serve the Bills on defense and special teams.
Alexander, who turns 34 at the end of May, led the Bills in sacks with a career-high 12.5 and was second on the team in tackles for loss with 10 last season. He also tied for the team lead in special teams tackles (12) with Ramon Humber, who also re-signed with Buffalo last month.
His exploits earned him his first Pro Bowl nod as a linebacker. Even better Alexander was named Defensive MVP in the Pro Bowl after he made a key interception late in the game to preserve the win for the AFC.
After playing for three teams in the last three seasons, including Buffalo, it was clear that Alexander wanted to make the Bills the last stop of his career.
"I've been kind of a journeyman in a sense because the last couple of years I've bounced around, but I really love the fan base there," said Alexander of Buffalo. "It's historic. They really have a passion for the game up there. It's a great community. They're blue collar."
"I wanted to be back and finish my career in one place and stop jumping around because I know the kids love the area and it'd be nice to finish my career up there."