The weather outside was frightful, but as brothers Jaylen and Jahan stepped into the Jim Kelly Club at Ralph Wilson Stadium on Tuesday, any chill from the wind and snow quickly fell away. They'd never been to the home of the Bills before, and the Club-turned-indoor winter wonderland made for an impressive entrance to the annual Bills Children's Holiday Party.
"I'm feeling great," said Jahan, 10, with a smile. "I haven't been here a minute and I love it."
Impressive though it was, as Jahan and his brother soon found out, the décor was trumped by more than 20 Bills players waiting to hang out with the young partygoers. The boys quickly and quietly went to work getting their team photographs signed.
"On Monday we're having show-and-tell and I'm going to bring this to show them and say that I went to this event and all the Bills players were there and signed it," said 9-year-old Jaylen proudly.
Jaylen and Jahan were brought to the party by Big Brothers Big Sisters (BBBS) of Erie County, one of 10 local organizations that invited almost 100 children to the event. The pair are waiting to be matched up with official 'big brothers' through the program as new mentors and role models, but when they sat down to eat, one role model sought them out. Bills RB C.J. Spiller took a seat at the table and asked the brothers about school, telling them how important it is to 'stick with the learning.'
"I think that's an amazing thing," said Maryam Ghazanfari, BBBS Assistant Director of Programs. "They get to meet them 1-on-1 and it's kind of almost like having a big brother for the day to hang out with, to get advice from, ride the train with. I think that's a really unique and awesome experience that they would never normally get to do."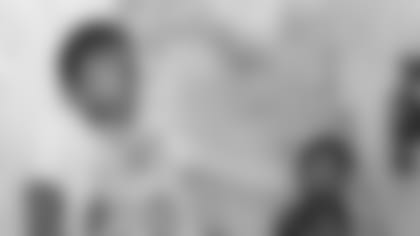 "He will never forget this," said Tami Tobias, BBBS Child Enrollment Coordinator. "We take them to a baseball game over the summer and the kids who have been before still talk about this event. It's incredible."
After mingling with Jaylen, Jahan and the rest of the kids, Spiller and his teammates – including Rookie Club members EJ Manuel, Marquise Goodwin, and Duke Williams as well as veterans Fred Jackson, Eric Wood and Marcell Dareus – transitioned into their arguably most popular roles that night as they passed out bags of gifts to each of the kids at the party.
Jaylen and Jahan went right to work opening the items they'd put on their wish list but didn't think they'd be receiving from the NFL players they look up to.
"I got a Camaro," said Jahan. "A yellow Camaro. Well, remote controlled."
"It's cool, amazing," said Jaylen. "A lot of kids don't get to do this. I don't know what I would say, because I'm so happy."
The brothers agreed that though they're still waiting for an official 'big brother,' having 22 Bills to hang out with on Tuesday night was something they'll talk about for years to come.
To learn more about BBBS of Erie County and becoming a big brother or big sister to kids like Jaylen and Jahan, click here.