The Buffalo Bills and the New York National Guard have expanded their weekly High School Coach of the Week program in order to recognize those coaches with outstanding performances throughout Section V.
The Coach of the Week program has been a weekly staple of the high school football season on buffalobills.com, recognizing local high school coaches worthy of the honor with a video interview each Monday. In addition to the recognition online, winning coaches receive a $1,000 grant for their football programs from the Bills and the New York National Guard, a certificate signed by Bills President and CEO Russ Brandon, General Manager Doug Whaley, and Head Coach Doug Marrone recognizing their accomplishment, a Bills hat, and an invitation to join the Bills on-field December 14th for pregame ceremonies prior to kickoff against the Green Bay Packers. At that point, a High School Coach of the Year will be selected for sections V and VI, with each winner receiving an additional $1,000 grant for their football program.
To date, four coaches throughout Section V have been recognized for their accomplishments as Coach of the Week winners.
Week 1: Joe Montesano, Rush-Henrietta High School
Joe Montesano won the inaugural Buffalo Bills New York National Guard High School Coach of the Week award following a 34-7 victory over Fairport. The win was thoroughly convincing for Rush-Henrietta, dominating on the defensive side of the ball forcing three fumbles while gathering four sacks and an interception. Rush-Henrietta's offense rolled en route to 34 points and the first-ever Section V Coach of the Week award for Montesano.
Week 2: John Walther, Caledonia-Mumford
A major 4th quarter comeback netted Coach of the Week honors for John Walther (pictured above) of Caledonia-Mumford in Week 2. Down 40-20 at the start of the final frame, Cal-Mum stormed back throughout the quarter, narrowly defeating York 41-40 and scoring their final touchdown with less than three minutes to play.
Week 3: David Marean, Wayne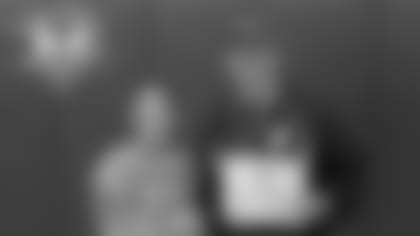 David Marean of Wayne Central School took home Coach of the Week honors in Week 3. Wayne played its way to a convincing victory, 31-21, over Newark and established the Eagles as a leader in the Central Division of the Finger Lakes League.
Week 4: Sheldon Gibson, Dundee
The most recent recipient of the Coach of the Week award is Sheldon Gibson of Dundee. Gibson earned this week's victory after his team took down Clyde-Savannah in an exciting 23-20 overtime win. The overtime field goal allowed the Scotsmen to remain unbeaten in the Finger Lakes West League and secured the honor for Gibson.
Congratulations to all of the recipients of the 2014 Section V High School Coach of the Week Award. Future winners in Section VI will continue to be announced weekly on Monday evenings on buffalobills.com, with a blog post for our Section V recipients following later in the week.