Ralph Wilson Stadium was all Heads Up Football Saturday, as the Bills hosted a day of USA Football FUNdamentals.

The Bills and USA Football provided area coaches with the opportunity to learn about player safety, as dozens of area coaches met for a full day Player Safety Coach Training in the Bills Healthy Zone Fieldhouse.
Heads Up Football is a comprehensive approach to a better and safer game, encompassing USA Football's accredited Level 1 Coach Certification Course; Heads Up Tackling techniques; Centers for Disease Control and Prevention (CDC) concussion recognition and response protocols; and instruction on proper helmet and shoulder pad fitting- all things area Western New York Coaches learned today at the clinic.
"It's an important time for player safety, which is the priority of our organization," said Nick Inzerello, Senior Director of Football Development for USA Football. "We've come up with a program with Heads Up that now we are requiring that coaches are certified to teach proper fundamentals. The earlier we can teach these players fundamentals, it will become habit."
While the player safety coach training was taking place in the Bills Healthy Zone Fieldhouse, hundreds of kids were on-field at Ralph Wilson Stadium learning from the professionals. Bills linebacker Bryan Scott took the reins on getting involved with the Heads Up program,  and teamed up with the Bills and USA Football to present the Team B-Scott FUNdamentals camp.
Bryan invited over 100 kids as well as a handful of Bills players to participate in the camp. The turnout was overwhelming.
"Today is a huge day, as we were able to team up and bring the USA Football program to Buffalo," said Bryan Scott. "My foundation Team B-Scott was able to partner with them and put on this football camp. The kids came out today, learning the basics of football but the safe way to do it- the safe way to tackle, the safe way to be fitted for equipment and learning about concussions. It's great to be out here to get a workout in and learn the fundamentals of football."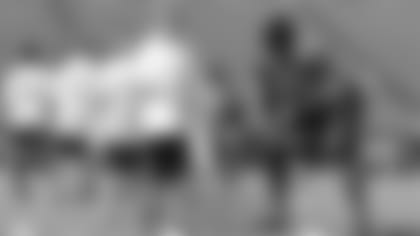 ](http://www.buffalobills.com/media-center/photo-gallery/Team-B-Scott-FUNdamentals-Football-Camp/9717d50b-a919-42aa-b68d-1fa02787fb9d)
Scott's FUNdamentals camp taught the young athletes a variety of important football techniques such as the proper way to tackle keeping your head up.
"A lot of times kids think they need to keep their head down to spear into offensive players and that's not the way to go, that's the worst cause of concussions and spinal injuries," Scott told buffalobills.com. "We teach them to really keep their head up and to see what you hit. It's so important because we can't have young kids hurting themselves at this age- football is fun so we're trying to keep it safe."
"You see all the kids t-shirts they say FUNdamentals on it. Number one, we're out here to have fun but to also teach them how to play football and the number one thing that we can teach them is how to tackle properly, making  sure everyone is out here playing safe," said Bills running back Fred Jackson who was on-hand for the camp. "Anytime you have the opportunity to come out and teach kids skills that you know is always a lot of fun."
"It's nice to be out here and help the kids with fundamentals of football and it's great to be out here to support B-Scott," said Bills rookie safety Duke Williams. "I didn't have this when I was younger so it's great for the kids to learn the fundamentals of the game while they're young so when they grow up and play football it's natural to them."
The children had the opportunity to go through various drills, each manned by a Bills player encouraging the kids and helping them learn the proper football techniques.
"If you know how to hit with proper technique, there's less chance of injury, so learning at a young age is good for the kids to move forward," said Bills defensive back Jordan Dangerfield.
Also on-hand speaking to the area coaches and camp participants was Buffalo Bills Head Coach Doug Marrone, who supports the USA Football program.
"I think I can speak from experience. I have a 10 year old son. Obviously there's a lot of pressure for him to play contact football. One of the issues has been that their father, who's played football his entire life and coaches football has concerns. I can relate to a lot of the parents out there today with the concerns of obviously making a safer game, the certification of the coaches and the teaching, concussion awareness, proper fitting etc. My wife and I have been researching what type of program we want to put our son in, and I'm excited about USA Football and our organization being part of Heads Up Football."
Buffalo Bills President and CEO Russ Brandon was also in attendance, happy to bring the Heads Up Football initiative to Buffalo.
"Anytime you have an opportunity to have a hands-on environment and promote player safety with everything we're doing today with the Heads Up Football program is an exciting opportunity for our organization," said Brandon. "Through the Ralph C. Wilson Foundation we've been able to provide a $25,000 grant to the Western New York Amateur Football Alliance to promote the Heads Up Program to promote proper technique, proper equipment fitting and awareness of concussion symptom in the future."
We'll have more from Coach Marrone and Bills President Russ Brandon on the importance of the Heads Up initiative later in the week.