Bills give back for the holidays
Buffalo Bills players know that the season is more about giving than it is about receiving. To show appreciation for all their fans throughout Buffalo, many spent their day off on Tuesday, Dec. 19, giving gifts to those that need it most. From the offensive line to special teams, everyone seemed to get into the holiday spirt.
Below are a few of the many ways Bills players are giving back this holiday season.
Taylor's TD kicks off week of giving
All Bills fan Alea Williams, wanted for Christmas was the chance to see her favorite football player quarterback Tyrod Taylor. When she arrived at New Era Field on Sunday, Dec. 17, wearing her number five jersey and sat down beside her dad just behind the end zone, she had no idea the game she was about to witness. Not only did her favorite quarterback score right before her eyes, he also celebrated by presenting the football to her.
"She lit up with excitement," stated her father Chad Williams to the Buffalo News. "She was physically shaking because she couldn't believe it happened to her."
Presenting Williams with a game ball was just the first of many things quarterback Tyrod Taylor has done to give back this season. On Tuesday, Taylor presented a family with their holiday wish list items and much more.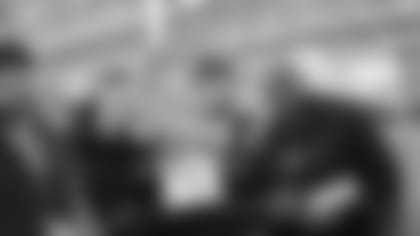 The Eric Wood Fund's Annual Operation Big Santa
The Bills O-line paired up with The Eric Wood Fund to provide 50 children with dinner and a shopping spree for his annual Operation Big Santa event. Center Eric Wood, guard Richie Incognito, guard Ryan Groy, tackle Jordan Mills, tackle Dion Dawkins, tackle Conor McDermott and center Adam Redmond, assisted young kids with their holiday shopping.
"It's a really cool opportunity for us to get around these families," stated Wood. "[To] get around these kids and gain some perspective. A lot of these families are dealing with a lot of stress and this is just a fun night that they deserve and a fun way for us to interact with them."
Shades of Greatness: Holiday Edition
Like many of his teammates, running back LeSean McCoy wanted to do something special for kids this holiday season. McCoy's foundation paired up with the YMCA of Buffalo to provide over 300 kids with food and gifts. The children had the opportunity to meet Santa and have a dance off with their peers and McCoy. ![](http://bufbills.co/WL9fRz)
Preston Brown helps future educators
After hearing of the Urban Learning Academy at McKinley High School on TV, Bills linebacker Preston Brown, knew he wanted to do something special for them. Brown majored in education in college and has always been drawn toward helping students become educators. When he heard of the McKinley high school program that did just that, he knew he needed to get involved.
On Tuesday, Brown presented each of the 20 children in the program with a brand-new tablet. The students, who were unaware that all their hard work and dedication had been recognized by a Buffalo Bill, were overwhelmed not only to meet Brown but also by his generous gift.
"It was definitely exciting to see their reactions," stated Brown. "When they got the tablets, everyone was going crazy. It's really great to make their day."
Zo makes a special delivery
it's no surprise that linebacker Lorenzo Alexander had some plans up his sleeve to give back this season. The community guru and Bills Walter Payton Man of the Year, provided several different families with gifts and even hand delivered some of them himself.
As always it takes a team to get the job done and it seemed like everyone wanted to take part in giving back. Center Adam Redmond, wide receiver Deonte Thompson, and fullback Patrick DiMarco joined the fun by taking 20 children on a shopping spree for gifts.
"It's the season," stated DiMarco. "It's the time of year where you just give back, whether it be time or whatever it is. This is a huge night for them [the 20 kids]. Just taking them shopping and watching them buy their moms, dads, brothers [and] cousins [gifts]. All spending money on other people not themselves when they easily could just buy stuff for themselves. It's a special event."
Special teamers make special memories with P.U.N.T. Foundation families
It wouldn't be a Buffalo Bills day in the community without a little help from special teams.  Long snapper Reid Ferguson and punter Colton Schmidt spent the night with families from the Brian Moorman P.U.N.T. Foundation. As the families were gifted with items from local businesses and groups that adopted them this holiday, they had the opportunity to spend time with Santa and Bills players.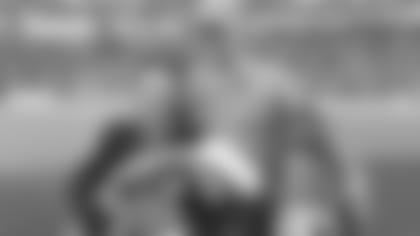 Buffalo Bills Military Appreciation: Technical Sergeant Cody Baker
The Buffalo Bills honored Technical Sergeant Cody Baker during the third quarter break of their Week 15 home game against the Miami Dolphins. Technical Sergeant Baker joined the air force in 2003 and has served three complete tours in Korea. Throughout his nine years of service, Technical Sergeant Baker earned two Air Force Commendation medals and three Air Force Achievement medals. Following active duty, he joined the Air National Guard in Niagara Falls and is currently with the 107th Attack Wing as an Emergency Management Craftsman.
When Technical Sergeant Baker stood before the crowd chanting "U.S.A" at New Era Field with his wife and two children, he was overwhelmed and honored by the response.
![](http://bufbills.co/VORVNg)