New Buffalo Bills RB Latavius Murray is already finding ways to give back — and his first act as a Bill in his hometown of Nedrow, New York.
On Saturday evening, Murray hosted the Inaugural Jon Diaz Community Center Foundation Gala in Syracuse, NY to raise funds to build a community center in Nedrow, which is just over two hours away from Buffalo. The RB grew up going to local Boys and Girls Clubs and YMCAs which inspired him to influence the younger generation back home.
"It's definitely kind of like a dream come true when you talk about right now just the timing of everything and what I've been doing the past year or so with my foundation, and then to be right up the road playing," Murray said on One Bills Live. "It's been a dream of mine to bring resources, opportunities, and a facility that kids and community members can go to and benefit from."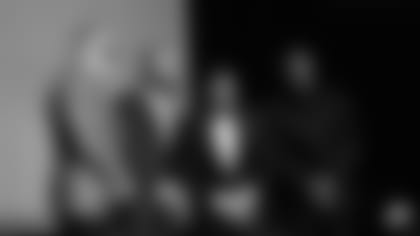 The Jon Diaz Community Center (JDCC) will be a safe and accessible place for people to connect, collaborate, and create change. The name of the community center honors the life and legacy of Murray's late best friend, Jon Diaz, who tragically passed away when Murray was playing for the Las Vegas Raiders in 2016.
"Just somebody that you wake up every day and you talk to. Talking truly a best friend. A part of my life every single day," Murray said. "Never forget that day. Truly changed my life, but I definitely think I found a better side of myself and the true meaning of life since that. It's motivated me in every way. Just grateful to be able to remember him in this way. Keep his name alive, keep his legacy alive because he truly deserves it. Any room he walked in, he lit up. He was a special person."
Bills WR Gabe Davis, Denver Broncos QB Russell Wilson, Broncos OT Garett Bolles, and other former teammates joined Murray at the event to help promote the important cause.
"Kudos to those guys, really," Murray. "They have no ties to my hometown, Syracuse, whatsoever. But they are friends of mine, teammates of mine. It means a lot for them guys, especially in the offseason, to come back to little old Syracuse and help me make this event a special night."
The Gala was just a step in the right direction to getting the center up and running. Murray can't wait for the center to officially open and be filled with members of the Nedrow community.
"Still got some ways to go," Murray said. "We're making progress, still work to be done. This Gala will definitely create a lot of momentum for us to try and get us over that hump."