Dean Timmerman, a Bills Season Ticket Member since 2002, can't imagine his Sundays without Bills football.
A fan as long as he can remember, Timmerman has been faithfully following along with his favorite team. Growing up in Sheridan, New York, just 30 miles south from the Bills' home field, he grew very fond of the Bills. His brother, who is also a diehard fan, has had season tickets for over 30 years, reinforcing Timmerman's love for the nearby team.
Over the years, Timmerman has witnessed many unforgettable Bills moments unfold at New Era Field. Two of his favorites include attending the 1991 AFC Championship game, when the Bills defeated the Raiders 51-3 and advanced to the franchise's first Super Bowl, and the 2017 game against the Colts known as the "Snow Game."
A football fan through and through, there's not much that Timmerman enjoys more than the game day atmosphere at New Era Field. In fact, that's what he favors most about being a Bills Season Ticket Member.
"The atmosphere of the game [is the best part of my membership]," he said. "I'm a big-time football fan…I go to the game(s) because I love football. The atmosphere and excitement when we're playing is great. It's so much better being there, than being at home. You just don't get that pressure from the cheering and everything at home that you do there."
Rooting for the players is also something that Timmerman has cherished throughout his tenure as a fan. After years of watching his all-time favorite player Andre Reed take the field, he was thrilled to recently get an opportunity to meet him while on vacation in Hawaii.
"We were…in Oahu in Waikiki," he said. "We just happened to be walking between the pools… We've been there multiple times…We went through and I heard someone talk about the Buffalo Bills. I turned around to look and… [I go], 'Man, that sure looks like Andre Reed. We walked by and didn't say much. And then after it bugged me for about another 10 minutes, I'm like, 'I'm going to go back and see if that's him.'"
Talking shop for a few minutes was exciting for Timmerman who also took a photo with the Bills great.
Currently, when he attends games with either his wife or friends, he likes rooting for Bills wide receiver Zay Jones.
In addition to having a guaranteed seat each Bills home game, Timmerman has come to appreciate other perks of his membership such as being easily able to manage his account through Account Manager.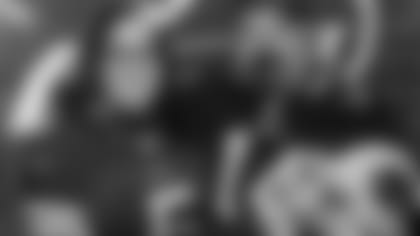 The Buffalo Bills would like to thank Dean for his many years of being a loyal Bills Season Ticket Member and our Season Ticket Member of the Month. In addition to Dean being selected as a Season Ticket Member of the Month, he will receive a club seat upgrade an autographed item and select Bills merchandise.
The Bills are now accepting nominations for Season Ticket Member of the Game. If you would like to submit a nomination for a Bills Season Ticket Member of the Game, please fill out the form located here.