1 - Bills name captains for 2018 season
The Bills announced their captains for the 2018 season via their official Twitter account on Tuesday. Patrick DiMarco, LeSean McCoy, Kyle Williams, Lorenzo Alexander, Stephen Hauschka, and Taiwan Jones will all have "Cs" on their chest in the upcoming season.
All three units are represented in the team's captaincy selections. DiMarco and McCoy represent the offense while Williams and Alexander represent the defense. Hauschka and Jones represent the special teams.
For the first time under head coach Sean McDermott, the Bills will have six captains, the maximum number of captains that a team can have per league rules. In the 2017 season, the Bills had five captains. Williams, Alexander and Hauschka are the only returning captains from last season.
McDermott and general manager Brandon Beane often reference character when talking about the types of players they want to build their team around. By being named team captains, these six players will serve as leaders, players that McDermott and Beane will look at to help establish a winning culture.
After being revealed as a captain after the players voted, DiMarco took to Twitter to express his excitement.
2 - Logan Thomas excited to play in a Peterman, Daboll-led offense
In seeing the comments from Nathan Peterman's teammates, it's clear they all believe that the second-year QB earned the starting job. During an appearance on 'One Bills Live,' tight end Logan Thomas praised the team's new starting quarterback.
"Nate showed his true colors all the way through this race," Thomas said. "After last year, the way he bounced back, the guy didn't blink. Not one time. He just kept on going, kept on going, and to us guys who have been around and seen it, anybody can go in the tank at that point. But this dude, it just made him better, made him stronger. Came out firing, kept on going, and you know what, everybody's in his corner. I know everybody in our room, everybody on the offense is in his corner, and I know the defense is too. We're very thankful to have a guy like him, how level-headed he is."
Thomas feels as though Peterman has bounced-back strongly from his debut outing against the Los Angeles Chargers last season, a game in which Peterman threw five first-half interceptions. Thomas knows that Peterman will not let this initial mishap define his career.
"That day in LA, that's what, one day," Thomas said. "One half. He's had a lot of work before then, between then, and now after that. That was his first blip on the radar, but you know what, that radar is still there, and he can put as many blips on there and make them how he wants them to look."
Peterman and Thomas will play under new offensive coordinator Brian Daboll in the 2018 season. Thomas is excited about the role that the tight end group will play in Daboll's scheme.
"[Daboll] does a great job at seeing the field, seeing matchups," said Thomas. "He's going to get us good matchups all across the field, how he thinks we can win, personnel against other people, how he thinks we can win.
"My body type is kind of a stretch down the field type guy that can match up well in the seams. We have full faith in [Daboll], I know he has a role for all of us. We just have to be 100-percent into our role."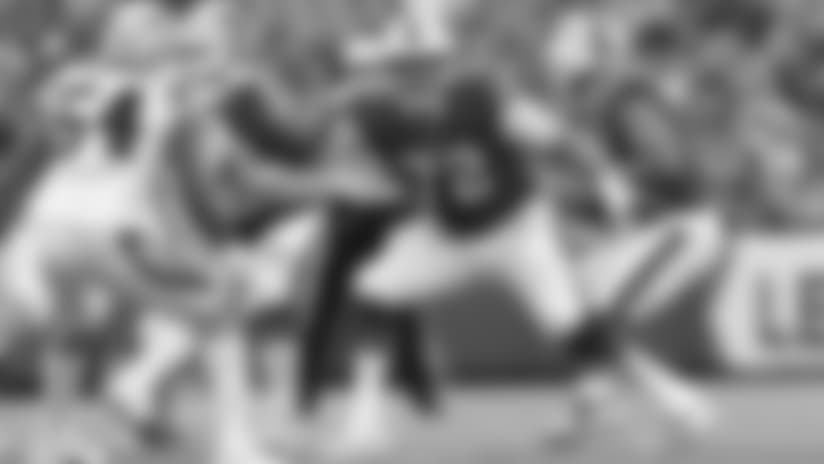 3 - Ryan Groy 'prepared' to serve as Bills' starting center
A massive hole opened up in the middle of the Bills' offensive line when long-time starting center Eric Wood was forced to retire after the conclusion of the 2017 season due to the discovery of a neck injury in his exit physical.
A battle to replace Wood as the team's starting center took place throughout offseason workouts. Former Cincinnati Bengals' lineman Russell Bodine competed with fourth-year Bill, Ryan Groy, for the role. On Monday, September 3, head coach Sean McDermott announced that Groy had won the competition.
A strong camp and preseason allowed Groy to win the Bills' starting job. Now officially the first center on the team's depth chart, Groy isn't going to alter his mindset.
"It feels good," Groy said. "[I] worked really hard to get to this point, not going to treat it any differently than before. You know, you're always preparing, whether you're a starter or whether you're a backup, you're always preparing as a starter. You know, going in, preparing, and getting ready for Baltimore."
Groy was perhaps a bit of a dark horse to win the competition at first, as he saw time at both guard and center at the start of camp. The team eventually decided to keep him at center, a move that was beneficial to Groy's game.
"It was nice to be able to stay at center and not go back and forth to different spots," Groy said. "I think that helped at the end of the day."
The Bills' offensive line is coming off a preseason that was full of peaks and valleys. The unit was often able to effectively create lanes for running backs, but protecting the quarterback was something that the line struggled with from time to time. In the Bills' preseason loss to the Bengals, rookie quarterback Josh Allen was sacked five times in the first half.
Now a leader on the offensive line, Groy feels as though he and his teammates can learn from the preseason.
"There's always room for improvement," Groy said. "I think that was a big wake up call for us. I think we're going in, preparing, we really took that game as, saw what we needed to do individually to improve, and I think we're better because of it."
SOCIAL MEDIA POST OF THE DAY