1 - Buffalo's newest safety eager to play with Hyde and Poyer
The Bills wasted no time adding depth at the safety position, as they signed Rafael Bush on the first day of the 2018 free agency period. He joins one of the best safety duos in the NFL from a season ago.
Bush mentioned that he's antsy to play with Micah Hyde and Jordan Poyer. In 2017, that tandem combined for 10 interceptions, more than any pair of safeties in the league.
"Well, I'm just looking forward to working with those two guys. As a tandem last year, I think they had maybe, what, 10 interceptions?" said Bush. "As a unit last year, the secondary was pretty good. I'm just here to kind of just bring my skill set to the team and help in whatever way I can."
Bush has made plays in a variety of ways at safety throughout his seven-year career. In 76 career games (18 starts), he's tallied 190 tackles, 13 passes defended, three interceptions, three fumble recoveries, two sacks, one forced fumble, and one defensive touchdown.
As a fellow safety, it's come natural for Bush tracking the success of Hyde and Poyer.
"I think just being a safety, you look at other safeties around the league, so that's kind of natural for guys, myself included," he said. "Watching those guys play together, I've been watching Micah Hyde in Green Bay for some years, and I always thought he was a great player.
"Poyer was one of those guys that was a special teams player at first. I kind of can relate to that, being that myself, and then kind of getting the opportunity to play and making the most of his opportunities. I respect that, so like I said, I'm excited to work with those guys and can't wait to get to work."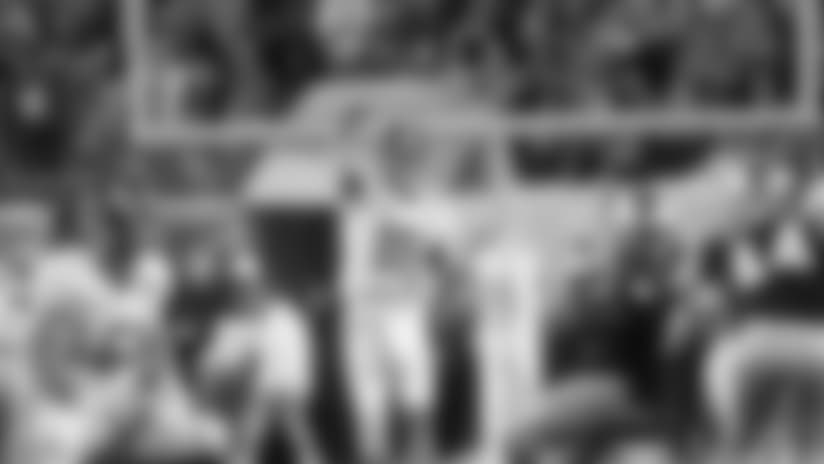 Photo credit: John Bazemore/Associated Press
2 - Looking back at AJ McCarron's magnificent college career
The Bills undoubtedly inherited a winner with their latest quarterback signing. Former Alabama Crimson Tide signal-caller, AJ McCarron, has three BCS National Championship rings to his name.
So, what does the newest Bills QB do with those championship rings?
"Mine, I give them to my family. My uncle has one, my dad has one and my grandpa has one," said McCarron. "I don't ever wear one. I play just because I love playing the game. I let them enjoy all that."
In McCarron's four seasons at Alabama, he posted some absurd numbers. In 53 games, he threw for 9,019 yards, 77 touchdowns, and only 15 interceptions.
McCarron got his first national championship ring in 2009 when he was redshirting as a true freshman and the Crimson Tide went 14-0. The quarterback had a much more significant role in earning his last two championship rings. He was named the Offensive Player of the Game in 'Bama's 2011 national title-winning performance in a 21-0 win over LSU.
He then followed that up with another national title the following season as Alabama routed Notre Dame 42-14 for the 2012 national championship.
3 - Tate enjoyed his two seasons in Buffalo **He spent the past two seasons with the Buffalo Bills, but as of Wednesday afternoon Brandon Tate is a free agent. Where do things stand now that he's on the open market?
"I'm in Cincinnati right now," he said. "Right now, I'm working out and I've got a couple of teams interested, but nothing is official yet. I'm just working out and hanging with my wife and my kids."
Tate, a nine-year veteran in the NFL, has played with three different teams in his career. His first two years (2009-2010) were with the New England Patriots. After his time with the Pats, he went on to play five seasons (2011-2015) for the Cincinnati Bengals. After his five-year stint in Cincy, Tate came to Buffalo where he's spent the past two seasons (2016-2017).
With free agency a few days old, Tate was asked if he's heard from the Bills.
"No, I haven't heard from the Bills yet, but it's still early," he said. "Anything can change from hour to hour so I'm patiently waiting."
In his two seasons with the Bills, Tate mainly served as a return man. He returned 46 punts in Buffalo, averaging 10.7 yards per return. As a kick returner, he took back 57 kicks and averaged 21.2 yards per return.
It's uncertain whether Tate will return to Buffalo or not. One thing's for certain, he enjoyed the past two years here.
"I felt like it went pretty good. We went to the playoffs, which was good for the organization," he said. "I have no complaints about Buffalo. I love it up there."
SOCIAL MEDIA POST OF THE DAY