When TE Dawson Knox unexpectedly lost his younger brother Luke Knox back in August, Bills Mafia and all of the Western New York Community were quick to create social media movement to provide support for the Knox Family through donations to P.U.N.T Pediatric Cancer Collaborative in honor of Luke.
"As you can expect, it's just an absolute blessing," Knox said. "My parents, their jaws dropped when they heard the figure that had been raised, and even just the #LukesLegacy. It means so much to my family too because we know how incredible of a person Luke was. Now, so many people have rallied behind him and our family. It just means so much to us, and we couldn't be more thankful for everybody."
By the weeks' end, nearly $230,000 was raised from 9,050 donations — mostly in the amount of $16.88 for Luke and Dawson's football numbers. And on Tuesday morning, Knox and the P.U.N.T. Pediatric Cancer Collaborative announced plans for stewardship of these resources that were raised in Luke's honor.
"We are here today because, in the wake of that sorrow, Bills Mafia galvanized for good to let Dawson know that he was being held and his brother's memory was being lifted," Gwen Mysiak, Executive Director of P.U.N.T. Pediatric Collaborative, said. "Unprecedented support for the small but mighty nonprofit actually took down our website."
So as a tribute to Luke's giving spirit, 15% of the proceeds raised will be used to insect a counterpart to Dawson's Locker program to run in the pediatric oncology unit at Monroe Carell Jr. Children's Hospital at Vanderbilt in Knox's hometown of Nashville, TN. The establishment of Luke's Locker will provide vital support for childhood cancer patients and their families while also honoring Luke's legacy of kindness and compassion.
"There's a lot of emotions, but gratitude is one of the biggest just to see that his life has gone on past everything that's happened and it's going to continue to live on through the legacy that he left," Knox said. "And how incredible he was as a human, as a brother, and as a person. Now that we got Luke's Locker going, it's just going to keep going and going."
Part of the proceeds will also be used to establish P.U.N.T.'s first-ever "Helping Hands" Endowment, which is a financial safety net for families who are dealing with the ripple effects of pediatric cancer. Assistance can be provided for housing payments, utilities, medical expenses, and more.
Additionally, the "Last Responder Fund" will be created to ensure that support throughout the bereavement process remains a priority for families who have lost a child to cancer. This fund, along with the "Ultimate Compassion" program, will assist families with funeral expenses and will coordinate year-round therapeutic support that will bring families who have suffered a loss of a loved one together.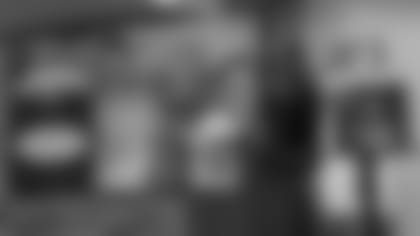 The tight end got involved with P.U.N.T just two weeks after taking the field for the first time as a Bills rookie in 2019 and has since spent a handful of his days off from the football field meeting with children at Oishei Children's Hospital.
"Anyone that wears a Bills Jersey in this community is going to have a pretty awesome platform to spread some love, spread some smiles to people going through hard things," Knox said. "So, it was pretty amazing just to see those kids light up when you walk through the door."
Now seeing how generous the WNY community is towards a foundation that has grown so close to his heart is living proof of why Knox fell in love with this community and considers it a second home. He credited the genuine kindness of the people of WNY for making it easy to come to Buffalo – a city he didn't know much about at the time - just over three years ago.
"They're just so ready to pour their time and money and support into something just because of the incredible cause and something that's so big in this community like the P.U.N.T Foundation," Knox said. "I think they have a great feel for this incredible charity that does so much work in Western New York so that awareness of the P.U.N.T. Foundation is starting to grow."
Knox shared that he and his brother were close their whole lives, and the two were always there to support one another in their football careers. And in light of the recent tragedy, the TE has received nothing short of support from the WNY community which is the backbone of the new initiative that will forever remember Luke.
"My number one supporter," Knox said. "His legacy is going to live on through his locker, but we couldn't have been closer as brothers."