1 - DT Adolphus Washington increases his production along the D-Line
The Bills depth at defensive tackle slimmed down a bit when Marcell Dareus was dealt to the Jacksonville Jaguars. Buffalo's mantra all season has been next man up. In this case second-year player, Adolphus Washington, is the man stepping into the starting role on the line's interior.  ![](http://bufbills.co/COVsQ1)
The 24-year-old got the start in Week Eight against the Oakland Raiders. He got the nod again in Week Nine and backed it up with a solid showing. Bills defensive coordinator, Leslie Frazier, has seen growth out of Washington each week.
"He's improving, he's a young player," he said. "He's gotten a couple of starts as you mentioned, and [in] each one of those starts we've seen him get a little bit better, on each occasion. We're going to need that to continue throughout the season."
Washington played 58-percent of Buffalo's defensive snaps in Week Eight, the second-most among defensive tackles. In his first start since Dareus' departure he made some solid plays. He recorded three tackles and a pass defended in the 34-14 win.
The 2016 third-round pick had his best game of the season last Thursday. Washington's snap count remained at 58-percent again in Week Nine. He recorded a career-high five tackles, a career-high two tackles for a loss, and a pass defended.
Washington's numbers have only increased since he took on the starting role. Frazier believes he'll be a big factor in the Bills playing stout defense.
"He'll be a big part of the reason we're able to play a good defense, if our nose tackle can really hold it down on the inside," he said. "We need him to really come along, both in the run game, as well as giving us some type of inside pass-rush as well. From what we've seen, he's more than capable of getting it done."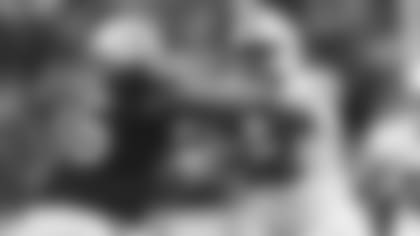 2 - Offense looking for rhythm in the first quarter
Putting up points hasn't been a huge issue for the Bills offense this season. They respectively rank 16th in the NFL in points per game (21.8). Although they're putting up points, it's taking them a while to do it. Buffalo has struggled score in the first quarter all season.
Through eight games, the Bills have only squeaked out six points in the first quarter, which ranks last in the league. They've yet to score a touchdown in the first fifteen minutes. The only scores have come from the foot of Stephen Hauschka on two occasions.
Head coach, Sean McDermott, mentioned the slow starts as an area they can improve.
"Yeah, just getting into a rhythm… sometimes it's what the defense has done," he said. "Sometimes it's really what we've done to ourselves and we've just got to get into a rhythm a little bit sooner in the game and then after half as well, I would say too. Something I know Rick [Dennison] and his staff have looked at, just areas that we can improve among others."
The Bills have outscored opponents in every quarter this season besides the first. They've been outscored 33-6 in the first quarter of play. In the final forty-five minutes it has been all Buffalo. They're ahead 62-35 in the second quarter, 37-30 in the third, and 69-51 in the fourth. The offense is the most productive in the final quarter.
Offensive coordinator, Rick Dennison, addressed the issue on Monday and gave a possible solution.
"Just me looking at more film I guess, I have to go through it. I told the players I feel bad about the way we've started [in] some of the games," Dennison said. "I have to watch it four times, as opposed to two. [I'll] just keep watching, coming up, and getting all the input I can from all the staff, and getting in a routine, a rhythm early in the games." 
3 - Where Buffalo sits in the Week 10 Power Rankings
The Bills uncharacteristic performance on Thursday pushed them back a bit in the Week 10 Power Rankings. They're just out of the top-ten and currently sit in 12th in Bleacher Report's rankings.
Chris Simms of B/R believes it was a fluke performance for Buffalo against the New York Jets.
The Bills didn't play like themselves at all in Week Nine and, really, for the first time all season. Usually, Buffalo is tough to beat because it doesn't beat itself with mistakes and because the defense makes you earn every yard against it. Against the Jets, though, the Bills made frequent mistakes and gave up way too many big plays. Three lost fumbles and a number of big surrendered plays sunk the Bills against a team they should have beaten.
Buffalo's opponent on Sunday, the New Orleans Saints, were placed at third in this week's rankings. They sit at 6-2 and will present a great challenge for the Bills.
Simms remains optimistic about the team moving forward. Aside from Thursday's slip up, he's confident the Buffalo Bills will be making noise as the playoffs approach.
I still believe in Buffalo, though. I like this defense, and I like how Sean McDermott has the team playing on both sides of the ball. Buffalo is still just a game behind the Patriots in the AFC East, and the Bills are going to remain relevant all year.
SOCIAL MEDIA POST OF THE DAY