1. ESPN's Mel Kiper Jr. and Todd McShay like Buffalo's chances in the AFC East
Are the Bills the new favorite in the AFC East? On ESPN's First Draft podcast with Mel Kiper Jr. and Todd McShay, the two believe that the Bills are the favorite to overtake the Patriots for the AFC East crown.
"They are, and they're a team that is not going away as long as Allen can play," Kiper said. "The players love him. They'll go through a wall for this guy on offense and defense. I've never seen a team go to bat for their quarterback as much as these guys have."
But Allen can't do it alone. Sprow said that the Bills seem "allergic" to not having a good defense with the current coaching staff. Not to mention having a cornerstone player on defense with Tremaine Edmunds and a top cornerback in the league with Tre'Davious White.
The only thing holding the Bills back right now is a bigger target for Allen to throw to and that is something that can be addressed in the 2020 NFL Draft said Kiper.
"He needs a bigger target, you got Cole Beasley and Jon Brown who are really good players, but you got to get a guy who's going to create a mismatch," Kiper said. "Dawson Knox has a chance to be a good tight end, they hit with Devin Singletary and was a great pick for Brandon Beane in the third round."
2. ESPN analyst predicts Ed Oliver to make the biggest jump in year two among 2019 rookies
Ed Oliver, DT, Bills. Five sacks as a rookie defensive tackle wasn't enough to garner national attention, but Oliver displayed the kind of quickness and upfield speed that could make him a major force in 2020.
His five-sack total led all rookie interior defensive lineman and he was named to the Pro Football Writers of America All-Rookie team. He and Darryl Talley are the only rookies in Bills history to record a three-game sack streak.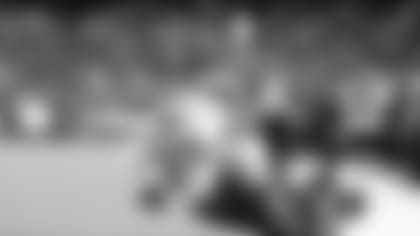 3. NFL.com picked this Bills photo as one of the 10 best from 2019
NFL.com released its list of the top 10 photos from the 2019 season earlier this week. The Bills and Josh Allen are featured in the gallery with a photo from Buffalo's Wild Card round matchup against the Houston Texans.
In the photo, Allen dives for a touchdown after nearly being flipped over by a Houston Texans defender. On the play, Allen fakes a handoff to Devin Singletary before pitching it back to John Brown coming on an end around. Allen then leaks out of the backfield where Brown finds him along the sideline for the touchdown.