1 - Four Bills named to PFF's top 101 players
A handful of Bills players were standout performers throughout this past season. As a result, some were named to Pro Football Focus' top 101 players from the 2017 NFL season.
Four members of the Buffalo Bills were a part of PFF's top 101. Those players were: Tre'Davious White (21), Jordan Poyer (95), Micah Hyde (97), and LeSean McCoy (99).
Here's what Sam Monson of PFF had to say about the Bills player who was listed the highest.
The Bills' rookie had an incredible debut season in the NFL and was named PFF's rookie of the year. White allowed just 50.6 percent of passes thrown his way to be caught in the regular season and allowed no receptions at all from three targets in his one playoff appearance. He had four picks and 12 pass breakups over the full season counting that playoff game and did all this while being thrust into the No. 1 cornerback role for the Bills from day one after the team traded away Ronald Darby.
Buffalo had four members make the list, but how'd the rest of the AFC East fare in the top 101?
The New England Patriots led the way with five players being named. Those Pats players included: Tom Brady (2), Rob Gronkowski (8), Stephon Gilmore (73), Trey Flowers (75), and Dion Lewis (76).
The Dolphins had the third-most in the division right after the Bills. Their lone player named to the list was Ndamukong Suh. He was ranked the 36th-best player in 2017.
The Jets had the least amount of players named from the division. In fact, they didn't have a single member of their team named to PFF's top 101 from 2017.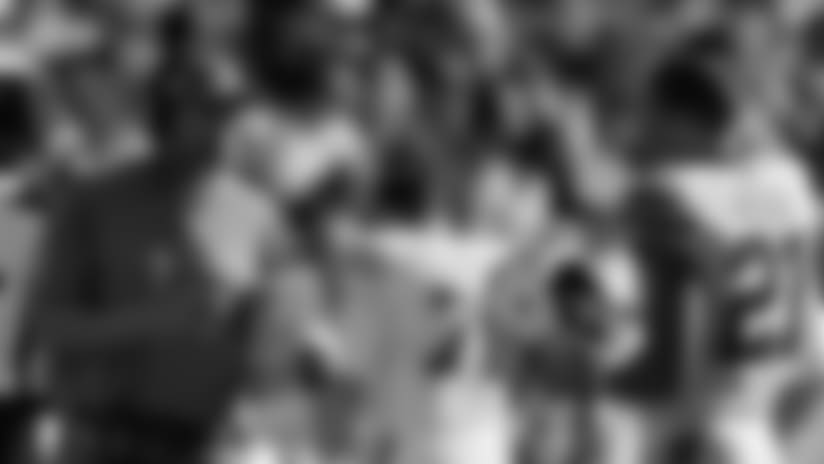 2 - Buffalo's DC discusses interviewing for Indy's HC job
Bills defensive coordinator Leslie Frazier gauged enough interest from the Indianapolis Colts to be brought in for an interview to fill their head coaching position. Ultimately, the Colts opted to hire former Bills quarterback Frank Reich, meaning Frazier will return as the team's DC in 2018.
Frazier joined the John Murphy Show on Tuesday and talked about interviewing with the Colts on Saturday.
"Oh boy, it's been a while," said Frazier. "It was good to get that experience and go through it again to a degree. It was good in a lot of ways."
Frazier's coaching career in the NFL kicked off in 1999. His first stint was for four seasons (1999-2002) as the Eagles defensive backs coach. He then went to the Bengals for two seasons (2003-2004) as their DC. After that he went back to being a DB coach for two years (2005-2006) with the Colts. Frazier then had a seven-year stint in Minnesota, the longest of his career. He was the Vikings DC for one season (2007), their assistant HC/DC for three seasons (2008-2010), and their HC for four years (2010-2013).
After Frazier's lone HC job in the league, he became the Buccaneers DC for two seasons (2014-2015). After his time in Tampa, he went to Baltimore for one season (2016) as their secondary coach. And in 2017, he came to Buffalo and did an admirable job as the team's DC. He'll retain that title for the 2018 season.
Frazier's résumé speaks for itself. That's why a lot of Bills fans were wary when they heard the Colts requested to interview him for the head coaching post. However, just because he was interviewed, that doesn't necessarily mean he would've accepted the offer.
"At this stage in my career, there are some situations I would potentially say no to. Some situations are better than others. All 32 teams are not the same," he said. "At this point in my life, in my career, I would have to be careful to saying, 'Yes,' to this. Versus another situation where you might say, 'No.' You need to do your homework now. Maybe in your six or seventh year in the league you'll say yes to everything. But every job is not a good job."
There's no saying how everything would've shaped out if Frazier were to have been offered the Colts HC job. But one thing is for sure, he's glad to be in Buffalo.
"I like the job that I have," said Frazier. "That's what's most important. That I do a good job where I am and everything will take care of itself."
3 - Tyrod ranked 10th-best tight-window QB
For being a smaller quarterback, Tyrod Taylor has an extremely powerful arm. That's lifted him to being one of the NFL's best at throwing into tight windows.
Taylor was listed among the top 10 tight-window QBs in the league. Next Gen Stats defines a, "tight-window throw," as a throw where the intended receiver had less than a yard of separation from the defender.
The top-10 QBs included: Dak Prescott (1), Matthew Stafford (2), Case Keenum (3), Alex Smith (4), Ben Roethlisberger (5), Deshaun Watson (6), Russell Wilson (7), Carson Wentz (8), Carson Palmer (9), and Taylor (10).
This is NFL.com's input on Taylor making tight-window passes.
There's no denying Taylor is capable of making difficult throws. His 5.7 adjusted yards per attempt on tight-window passes ranked sixth among qualifying quarterbacks and showed how efficient he can be when fitting the ball in to well-covered receivers.
The QBs were ranked in the following three categories: completion rate on tight-window throws, passer rating on tight-window throws, and adjusted yards per attempt on tight-window throws.
Here's how Taylor ranked in those categories: 34.9 completion percentage (17th), 62.9 passer rating (10th), and 5.7 adjusted YPA (sixth).
SOCIAL MEDIA POST OF THE DAY