1 - GM Brandon Beane's thoughts on the revamped front seven
Buffalo Bills' general manager Brandon Beane focused on improving his team's defensive front seven in the offseason, and thus far, he's happy with the results of his work.
Beane used the free agency period and the draft to craft the defense to his liking, signing Trent Murphy and Star Lotulelei as free agents before selecting Tremaine Edmunds and Harrison Phillips in the 2018 draft. During an appearance on 'One Bills Live,' Beane expressed excitement about his remodeled front seven.
"We're still building this thing, and I'll always say this, you're never satisfied," Beane said. "I would say this year, when healthy, I like where we're at on the defensive front. Unfortunately, Trent did not get to play in the preseason due to the groin setback, then Kyle [Williams] got banged up in the Cleveland game. I wish there was more jelling that this group could have done, but that's the way it goes."
With Murphy and Williams back at practice, Beane is excited to see how the fully-healthy defensive front will prepare for the team's Week 1 matchup with the Baltimore Ravens.
"On paper, I really like [the front seven]," Beane said. "Every year is a new year, and you want to see it jell, and the test will be as we start this week, the real live bullets with all of them together. We haven't had everybody out there at once. We like where we're at on the practice field, the guys are working hard, and we had some run fits a couple of times, but overall, our run defense was pretty good.
"We've got to clean up some things in the pass defense. Obviously, the defense, the way we build it, is predicated on getting pressure on the quarterback, so that will be big, getting after Joe Flacco this week."
Strong character is something that Beane searches for when looking at potential additions to the roster. He feels the new players in the front seven have strong leadership qualities, something that will benefit the entire defense.
"That's why we're excited," Beane said. "We do have some new faces, obviously Tremaine has been a big subject since we drafted him, leading the middle, the so-called quarterback of the defense. Really like what he's brought and the maturity you see from even a young guy who's 20 years old. Lorenzo Alexander is a vet back there he's kind of really been his wing man, so to speak, helping him with all of the things that go on. Obviously, Kyle up front helps us, Micah [Hyde] and Jordan [Poyer] were such big-time leaders back there.
"We've got leadership at every level. Now we just gotta see how it jells."
2 - McDermott notes Lamar Jackson in planning for Ravens
Doing something for the first time is never easy.
On Sunday, the Buffalo Bills will be the first NFL team to go up against rookie quarterback Lamar Jackson in a regular season game. Jackson, whom the Ravens selected with the 32nd pick in the 2018 draft, is a dynamic player who is perhaps even more dangerous with his legs than he is with his arm.
The 2016 Heisman Trophy winner, who threw for 408 yards and ran for 136 more in the preseason, will not start at quarterback for Baltimore on Sunday. The Ravens, however, will likely look to get Jackson involved in the game in some capacity, getting the most out of his unique skillset.
Head coach Sean McDermott kept Jackson in mind while crafting his game plan for the Bills' Week 1 matchup.
"We have a lot of respect for what [the Ravens] do and how they do it," McDermott said. "We work hard on fitting the run and then we've also got to be ready for Lamar Jackson when he comes on the field. We've worked hard on that this week, so there's different elements to the run game. Greg Roman being there, he was here in a different run game that he utilized here. We've researched that and it's a tough challenge."
In addition to Jackson, McDermott thought about Baltimore defensive coordinator Don Martindale while planning for the Ravens. A 14-year NFL veteran, Martindale became Baltimore's defensive coordinator in the offseason after serving as their linebackers coach for the past seven seasons.
"He's a good football coach, and I have a lot of respect for what he does," McDermott said. "Again, their personnel on defense, they've got some guys that can really affect a game plan if you don't do your homework.
"They were a 5-0 team during the preseason. They just missed the playoffs last year and they're coached by a very good coach who I've worked with and have a lot of respect for. It'll be a big challenge for us in Baltimore."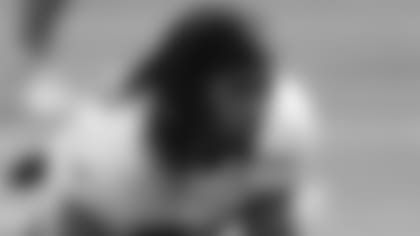 3 - New Bills CB Ryan Lewis 'trying to eat all the information' he can
Over 1,000 NFL players lost their jobs on Saturday, September 1. Fortunately for cornerback Ryan Lewis, he was able to secure another one quite quickly.
Lewis, a second-year man who spent his rookie season with the New England Patriots as a member of their practice squad, was waived by the defending AFC Champions on Saturday afternoon. He would not be without a team for long, however, as the Bills claimed him before he could clear waivers.
"It was crazy," Lewis said when asked about being claimed off of waivers. "I didn't even find out. I just started getting a whole bunch of texts and calls and, you know, they were saying, 'Congrats, congrats.' I didn't know what was happening, and they said, 'The Bills claimed you.' You know, I was shocked, but [I'm] grateful for another opportunity on the active roster. I'm just trying to make the best out of it."
Still in his first week with the Bills, Lewis isn't sure what his role with the team will be quite yet. However, he's eager to learn.
"No, I haven't talked about anything right now," Lewis said. "Right now, I'm just in the learning phase right now, so I'm just trying to eat all the information I can."
A former Pittsburgh Panther, Lewis played college football with fellow Bills cornerback Lafayette Pitts. While at Pitt, Lewis looked to the older Pitts for guidance.
"He's always been a teacher," Lewis said. "Really good role model to me. He's a smart guy, he works hard, so I just try to copy his traits and learn all I can from him."
While Lewis feels as though he has learned a lot from Pitts, the feeling is mutual.
"Back in Pitt, I was always the older guy, so, I mean, guys used to look up to me being that, my senior year, I was a captain as well," Pitts said. "I learned from him too, as well. I mean, if I see him doing something that I can learn from, and vice versa."
Pitts also praised his teammate's game, describing Lewis as a gritty player who is beloved on and off of the field.
"[Lewis is a] physical guy, fast guy, smart guy," Pitts said. "I mean, I was at Pitt with him for three years, so, I mean, intelligent guy, good guy, team guy. He's going to bring energy."
SOCIAL MEDIA POST OF THE DAY