1 - How Harrison Phillips is supporting Buffalo area youth
Harrison Phillips has only been back in Western New York for a few weeks but is already making a big difference.
On Thursday, April 11, the second-year defensive tackle spent his afternoon giving back to young Bills fans when he visited Rachel's Mediterranean Grill and John R. Oishei Children's Hospital.
In support of "Rachel's Round Up," a month-long campaign which gives guests an opportunity to round up their order total for a good cause, Phillips ate lunch at the restaurant's Hamburg location. While on the scene, Phillips also got a chance to interact with fans and sign autographs.
With each round up benefiting John R. Oishei Children's Hospital, it was only fitting for the hospital to be Phillips's next stop. Going room to room, he and veteran linebacker Lorenzo Alexander delivered Bills-themed goodies and smiles in the process.
"I just have a big love for the youth and obviously [an] understanding [for] all the things they're going through," said Phillips. "We went to the 12th floor which was pediatric cancer as well as epilepsy. So, knowing that those kids have lifelong struggles and…very big things to overcome, just to go in and be a little bit of a ray of sunlight… [is great]. Just to get their mind off what they're going through for the 15-20 minutes that we could have with each kid [was my goal]. I'm sure I got more out of it than they did too."
With one year of experience under his belt, Phillips is hopeful that he can continue to strengthen his bond with the community during the upcoming 2019 season.
"That's one of the things I was looking the most forward to [in year two]," said Phillips about his community involvement. "[I'm] very optimistic about the future of Buffalo as a football team and myself as a Bill…But the thing I was also extremely looking forward to was having…more time on my hands to actually get out into the community, [to] see what Buffalo's all about and the more I go out, [the more] I realize this is such a beautiful city and has so much to offer…"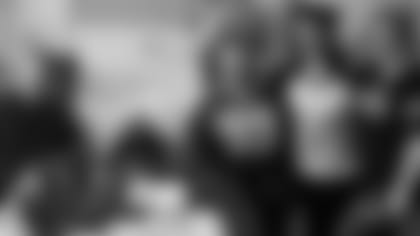 2 - McCoy to serve as honorary coach
Running back LeSean McCoy will serve as an honorary coach at the University of Pittsburgh's annual spring football Blue-Gold Game on Saturday at 1 p.m.
McCoy will be joined on the sideline by another former Pitt great, the Los Angeles Rams' Aaron Donald. Together the two have combined for 11 NFL Pro Bowls.
"When you think about NFL players who have set the standard at their positions over the last decade, Aaron Donald and LeSean McCoy are definitely high on that list," Pitt head coach Pat Narduzzi said. "Our current players walk past their images every day in our facility. They performed at the highest levels while at Pitt and continue to do it in the pros. We are thrilled Aaron and LeSean will be with us on Saturday. It's going to be a lot of fun seeing them on our sideline again decked out in Blue and Gold."
McCoy spent two seasons at Pitt before declaring for the 2009 NFL draft. He racked up 2,816 yards and 36 touchdowns. His yards and 35 rushing touchdowns are the most by any freshman or sophomore in Pitt history.
Since joining the NFL, McCoy has 10,606 rushing yards and is the only player in NFL history with 10,000+ rushing yards, 400+ receptions, 80+ touchdowns and a 4.5 yard per carry average. He's been named to six Pro Bowls and was the NFL rushing champion in 2013.
3 - Who made the most stops on defense this year?
The Bills defense was good this year there's no denying that. Just how good were they? Buffalo held opponents to 294.1 yards per game this year. Only two teams, Arizona and Miami, averaged less yards per game on offense. The Bills also held teams to a league low 179.2 yards through the year.
But it wasn't the secondary that made the most defensive stops this season.
According to Pro Football Focus, four of the top five spots for defensive spots are occupied by members of the front seven. In order, Tremaine Edmunds, Matt Milano, Lorenzo Alexander, Jerry Hughes and Jordan Poyer lead the way.
The Bills youth movement of Edmunds and Milano had the two most with 38 and 37 spots respectively. While the seasoned vet in Alexander was third with 32. Hughes had 26 and Poyer had 23.