1 - How RB Travaris Cadet made a good first impression
The Bills signed Travaris Cadet on Nov. 4, in lieu of Taiwan Jones' season-ending injury. Fifteen days after the signing, Cadet flashed his skills in his debut with the team. ![](https://goo.gl/qiMD1M)
Cadet's predominantly been a pass-catching running back in his six seasons in the NFL. He recorded 105 receptions for 866 yards and seven touchdowns prior to coming to Buffalo. The 6-1, 210-pound running back displayed that ability in his first game with the Bills on Sunday.
"Certainly 39's [Cadet] skill set is closer to 25 [LeSean McCoy]," said offensive coordinator Rick Dennison. "He catches the ball real well. I think he did a fine job."
Cadet tallied the most receptions for Buffalo in the loss to the Los Angeles Chargers. He was targeted six times and finished the game with six receptions for 39 yards. He also added three carries for 17 yards, averaging over five yards per carry.
Through the first nine games this season Buffalo's backup running back was Mike Tolbert. He missed practice all last week with a hamstring injury and was inactive against the Chargers. It's unclear when Tolbert will return, but it'll be interesting how he's utilized with the addition of Cadet.
"As I stated a couple weeks ago, he [Cadet] seems bright and caught on really fast," Dennison said. "Mike has value to our team and we trust Mike. Obviously, it helps us to have another one."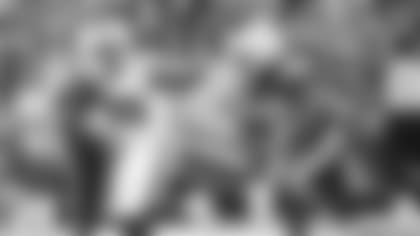 2 - The background on Dennison's decision to call plays from booth
Bills offensive coordinator, Rick Dennison, elected to coach from upstairs on Sunday against the Chargers. He was on the field for the first nine games this season, but decided to take a different approach in Week 11.
Head coach, Sean McDermott, explained the reasoning behind the decision during Monday's press conference.
"Rick's used to being upstairs," McDermott said. "We had some staff issues earlier with some guys that had some injuries that couldn't be on the sidelines, so we had to switch some things around. Now we're back to really where we wanted to start from day one."
Dennison spent 2015-2016 as the offensive coordinator of the Denver Broncos. Recently coaching against the AFC West, he has some familiarity with the Kansas City Chiefs, Buffalo's next opponent.
Sunday's experiment from upstairs didn't go 100-percent to plan. There were some hiccups along the way and ultimately the Bills lost their third-straight game. Whether he'll be back in the coach's booth this weekend remains to be seen.
"Had a couple of issues with the headset for whatever reason. That's a bit of a panic because you're two stories high. You can't just yell or signal to the quarterback. We had to call one timeout on the first first down because my headset went out," he said. "Something I'm looking into and seeing if we want to continue that or go back on the field. I'll work with my coaches and see what we think is best."
3 - Frazier ready to move on to Kansas City**
The Bills have allowed an absurd amount of points (135) during their past three games. Defensive coordinator, Leslie Frazier, is ready to put that in the rearview mirror and move on to the Kansas City Chiefs.
"If we can focus on this ballgame, don't get caught up in the statistics, just this team, this offense and figure out how we can play better on defense. If we can get every guy on defense thinking that way and we can stay focused throughout the week, then we'll have a chance to improve," he said. "But that has to be the focus, you really can't get caught up in anything other than that. Still a lot of football left to be played. If we can get some things corrected we have a chance to help our team down the stretch."
Similar to the Bills, the Chiefs had an exceptional start to the season but have slipped as of late. They've lost four of their past five games. While the Bills are sporting a three-game skid themselves.
On Monday, the Bills reviewed the film from their 54-24 loss to the Chargers. On Wednesday, they'll take to the practice field and prepare for a pivotal AFC matchup with the Chiefs.
"The biggest thing for us is coming back on Wednesday, when they're in the building, is focusing on the Kansas City Chiefs. This is the most important game of our season," Frazier said. "What happened previously, or whatever can possibly happen in the future is irrelevant. What's most relevant is the Kansas City Chiefs."
SOCIAL MEDIA POSTS OF THE DAY