1 - Josh Allen poised for breakout season
Pete Prisco released his list of 10 players who are poised for big things this season. These are players who flashed as rookies late in the season or a player who just needs to be healthy to show his star ability.
This year's list includes a quarterback, two running backs, one wide receivers, two edge rushers, one interior lineman, two corners and a safety.
There were five quarterbacks taken in the first-round of the 2018 NFL Draft. Josh Allen excelled toward the end of last year and thus makes Prisco's list.
What he did last year with a horrible supporting cast was impressive. Yes, I know the completion percentage was bad, but he had poor play from his receivers with a ton of drops. Allen's athletic ability surprised a lot of people, and we know he has the big arm.
With the improvements this team made on offense in the spring in free agency and in the draft, Allen's play will get better. For all those out there who considered him a draft reach, this is the year they will begin to regret those feelings.
Allen will be a big-time player in the league for a long time, and it will start this season.
Allen played in 12 games last season. He missed game 7-10 with an injury but when he came back he improved in nearly every stat.
From game 11-16 Allen threw for 1,242 yards and eight touchdowns while amassing 476 yards on the ground. From Weeks 1-6, Allen had 832 yards and two touchdowns with 155 yards rushing.
2 - Tre' White on verge of becoming NFL superstar
Bleacher Report looked at players who are 25 years or younger with at least one NFL season under their belts to determine who will be the next line of NFL superstars. Players like Odell Beckham Jr., Patrick Mahomes, J.J. Watt, are ones that even non-NFL fans know the name of. For Buffalo, it seems like it's No. 1 cornerback is about to become a household name.
The football world always seems to have a fascination with the top cornerbacks. From Darrelle Revis and Richard Sherman to Patrick Peterson and Josh Norman, players capable of providing legitimate shutdown pass coverage tend to become stars.
Tre'Davious White of the Buffalo Bills is a corner in this mold. Playing in a small market has kept him away from the spotlight a bit, but the 24-year-old is on the verge of breaking out in a big way.
White has yet to earn a Pro Bowl nod in his two seasons but has racked up 123 total tackles, 26 passes defended, six interceptions and a forced fumble. White is described as sticky in coverage, he's physical when chasing down ball-carriers and doesn't shy away from matching up with No. 1 receivers.
White is the best player in a secondary that allowed an NFL-low 179.2 passing yards per game last season. If Buffalo takes another positive step in 2019 and returns to playoff contention, White is going to emerge as one of its biggest and brightest stars.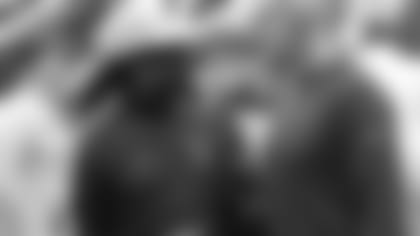 3 - McDermott hosts local high school football coaches at OTA session
For over 30 Western New York high school football coaches, Thursday's OTA session at One Bills Drive was special.Coaches from both Section VI and the Monsignor Martin Athletic Association were treated by Head Coach Sean McDermott to a behind-the-scenes look at how the team is preparing for the upcoming football season.
After receiving an official invite from McDermott, the coaches got a chance to stand on the sidelines and watch Buffalo's sideline boss, his staff and the players in action.
"It was a great experience," said Ken Stoldt, Section VI Chairman. "We really appreciate Coach McDermott reaching out and allowing us to do this. It's a great opportunity for the high school coaches to come in and first-hand see how a practice can be run efficiently...It's a lot different than what we normally see. We all go to clinics and we all hear speakers and we all see stuff done. But to see it in live action, it's different. And to see how efficiently they do it [is beneficial]."
Before the day was over, McDermott took the time to say hello to each of his guests and thank them for making the trip to Orchard Park.
Click through to see the best photos from the first week of Buffalo Bills 2019 OTAs.