1 - Josh Allen throwing in team drills
Though he's been listed as a limited participant on the team's injury report, Buffalo quarterback Josh Allen has returned to team drills in practice this week, according to head coach Sean McDermott.
"Yeah, he's made some throws during team drills," McDermott said. "[Wednesday] and a little bit [Thursday] as well."
Allen has been sidelined with an elbow injury throughout the past several weeks, spraining the elbow in his throwing arm midway through the Bills' Week 6 contest with the Texans. After some rest and recovery, the rookie returned to practice last Friday in a limited capacity.
Allen, who has completed 54 percent of his passes for 832 yards this season, has continued to progress in his rehabilitation, throwing roughly 100 passes on Monday. Returning to team drills is an important step on the road to his return.
McDermott has yet to rule Allen out for the Bills' Week 10 matchup with the Jets. Buffalo's sideline boss will wait to see how Allen finishes out this week's stretch of practices before deciding on his status.
"I think he's making progress," McDermott said. "We'll continue to take it one step at a time here."
2 - What Teller has learned from Dawkins
Life isn't always easy for a rookie in the NFL.
A player's entire life is altered when they hear their name called in the NFL draft. A rookie must adjust to NFL life both on and off the field, learning professional schemes, concepts, and plays while also familiarizing himself with a brand new city. Though the process can be intense at times, it's made a bit easier when a rookie finds a teammate to confide in, a mentor that knows just how difficult the adjustment can be.
A mentor is exactly what Wyatt Teller has found in Dion Dawkins.
Teller, a guard whom the Bills selected in the fifth round of the 2018 draft, got his first taste of NFL action in Week 9. The former Virginia Tech Hokie was flanked by Dawkins, Buffalo's starting left tackle, on every single one of his 17 snaps last week. Teller views Dawkins, a second-year man who started 11 games as a rookie, as an inspiration both on the field and in the locker room, an incredible player who has helped him adjust to NFL life.
"With Dion, Dion's one of the most athletic guys who's that size I think I've ever seen," Teller said. "You're in college, and you're like, 'Oh my gosh, that's the fastest guy, or that's the biggest guy.' Then you get here, and I'm the slowest guy, not even the strongest guy. It's weird.
"But iron sharpens iron. I feel like working with him, it's only going to make me better and I'm only going to make him better."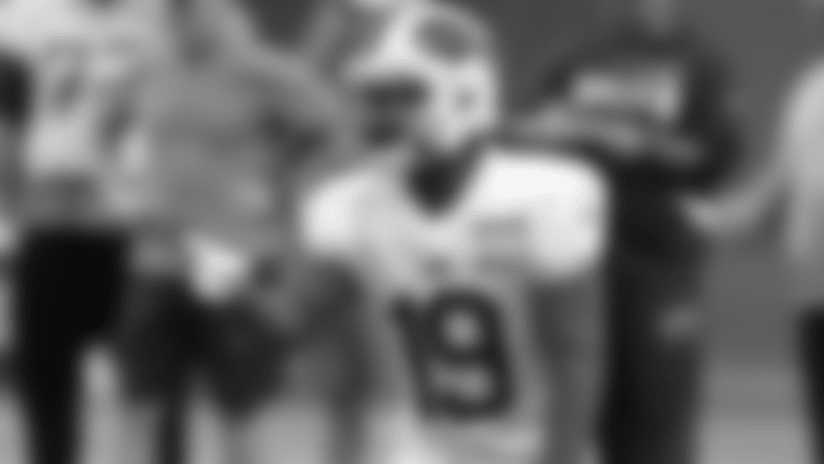 3 - Isaiah McKenzie adds 'speed' to return game
The importance of the punt returner in the NFL is often understated.
It's a heavily-scrutinized position in which players typically don't receive praise unless they break off a highlight-reel worthy run. Expecting returners to 'take it to the house' every time they touch the ball, however, is simply unrealistic. Instead, teams look for consistency in their returners, players who are frequently able to pick up solid yardage on their returns and flip not only the field, but momentum, as well.
Through the first nine weeks of the 2018 season, however, consistency isn't something that Buffalo received from its punt returners.
Marcus Murphy, Ray-Ray McCloud, and Micah Hyde have returned punts for the Bills this season, all to varying levels of success. All three of the players are averaging less than eight yards per return this season, a stat that has left head coach Sean McDermott wanting more.
"Yeah, that's big," McDermott said. "We talk about, with respect to special teams, field position and creating big plays on that side of the ball, that phase of the ball. We haven't done consistently a good enough job of that to this point.
Wanting more of an impact player at the position, Buffalo claimed wide receiver Isaiah McKenzie off waivers this week. McKenzie, whom the Broncos selected in the fifth round of the 2017 draft, returned 21 punts for Denver last season, totaling 183 yards. His average punt return went for 8.7 yards.
While McDermott is intrigued by McKenzie's skill set, he has yet to make a decision on his Week 10 game status.
"With respect to Isaiah, he's got some return ability, he's played wide receiver and the speed he plays, he plays fast," McDermott said. "He brings some speed to the table, which is a good addition.
"He just got here [Tuesday], so we'll evaluate that as well. It's almost like a day-to-day situation as if he was injured. He's not injured, but we just have to take it one day at a time right now."