1 - Legendary LSU DB has respect for Tre's game
For years, LSU has been described as Defensive Backs University. Former LSU Tiger and current Arizona Cardinal, Patrick Peterson, claims to have started DBU. He talked about the top-notch talent they produce down in the bayou.
"We just find them right guys. We find them dogs," said Peterson. "I don't know what it is about what draws great defensive backs to LSU, but I'm happy I'm a part of it." 
One of the latest DBs to come out of LSU and have a remarkable rookie season was Bills cornerback Tre'Davious White. He was drafted 27th overall in 2017 after a four-year college career. His fellow LSU alumni, Peterson, was drafted fifth overall in 2011 after a three-year career in college. "Man, I know a ton about Tre'Davious. Obviously, he went to LSU, the best institution in the land. He played well. Him and [Marshon] Lattimore probably had some of the best coming out parties as rookies that I've ever seen," said Peterson. "For those guys to come into a system and be impactful, out of the gate, it's pretty special. I'm definitely looking forward to seeing him continue to grow in his young career, and hopefully he continues doing the things he needs to do to be that next wave of great DBs."
White's ridiculously-productive rookie year was a prime example of what talent DBU produces. He tallied 69 tackles, 18 passes defended, four interceptions, two fumble recoveries, and one forced fumble. He had the third-best coverage grade among CBs in 2017, according to Pro Football Focus. Also, White was graded PFF's second-highest CB on the season with a 92.0 overall grade.
For Peterson, his stats didn't jump off of the page this season. The three-time All-Pro believes that's because he's rarely targeted. He had a total of 34 tackles, eight PDs, one interception, and one fumble recovery on the year. He was graded the 49th-best CB in 2017 with a 79.6 overall grade, according to PFF.
However, he still earned his seventh Pro Bowl selection this season. That's impressive because Peterson's only a seven-year veteran, meaning he's been picked to the Pro Bowl each year of his career.
White may have fallen short of a Pro Bowl bid this season, but his numbers were right there with Peterson's. The legend from LSU wasn't shocked by White's remarkable rookie campaign.
"Not at all. History shows, everybody who has come from LSU as a rookie they came in and were very impactful out of the gate. I'm not surprised at all," Peterson said. "Tyrann [Mathieu], Odell [Beckham Jr.], Jarvis [Landry], myself, Jamal [Adams], Eric Reid, Leonard [Fournette], the list goes on. I wasn't surprised at all to see the success he had."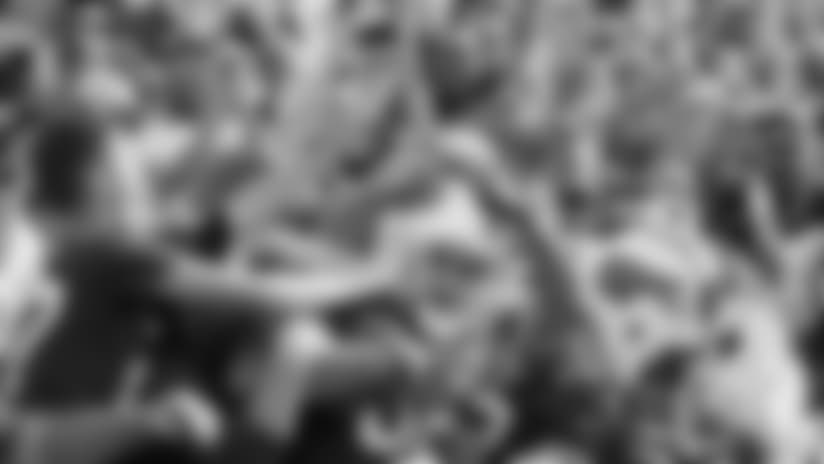 2 - How many people filled New Era Field in 2017?
Even though the Buffalo Bills play in one of the smallest markets in the NFL, their passionate fan base never fails to pack New Era Field. Their attendance for their eight home games this season ranked a good deal higher than a lot of teams in the league.
On average, 66,775 people piled into New Era Field in 2017 to watch the Bills on Sundays. That was the 17th-best among the 32 teams in the league, according to ESPN's NFL attendance.
In total, 534,200 fans made their way to Orchard Park to watch their beloved Buffalo Bills this season.
The Bills were tremendous in their eight games at home this year. They started 4-0 and finished with a record of 6-2 in front of their home crowd. The Bills six wins came against: the Jets, Broncos, Buccaneers, Raiders, Colts, and Dolphins. While their two losses came at the hands of the Saints and Patriots.
The team's slogan "Defend our Dirt," clearly paid dividends. It resulted in Buffalo's best home record since 1999. 
3 - Fitz's funny story about Eric Wood**
Former Bills quarterback, Ryan Fitzpatrick, said he was honored to be invited to Eric Wood's press conference on Monday. Though, the QB couldn't help but try to embarrass his center of four years while in attendance.
Fitzpatrick's story flashes back to 2011. Buffalo traveled to Cincinnati, Wood's hometown, for a matchup with the Bengals. The Bills entered that game 3-0 and were looking to stay perfect on the year.
Here's Fitzpatrick's detailed description of Wood's most embarrassing moment during their four years together.
"When we played in Cincinnati in 2011, we're running out of the tunnel, and Cincinnati is Eric's hometown. So he's jacked," Fitzpatrick said. "It's his first time he gets to play in front of the home crowd and everything. We're coming out of the tunnel and he leads the team out onto the field, and he runs to the Cincinnati sideline and goes straight instead of going diagonal to our sideline. We're getting booed and I can't get him to stop, you know? He's not a small guy, and he gets about 35-yards out and then he finally realizes it and has to take an immediate left and jog over to our sideline and we're already going over that way.
"That was a good one trying to think of some of the funny stuff we had been through. Probably one of the more embarrassing moments for him."
SOCIAL MEDIA POST OF THE DAY