1- Lorenzo Alexander wants to retire as a Bill
Rarely do you see an NFL player performing at an extremely high level well into their 30s.
Lorenzo Alexander isn't like most NFL players.
The Buffalo linebacker has aged like a fine wine, actually improving as his career has progressed. Prior to joining the Bills in 2016, Alexander had been a career special teamer, a reliable player who had appeared in the Pro Bowl thanks to his excellence in that phase of the game.
Once Alexander finally received the opportunity to consistently start, he seized it, totaling 12.5 sacks in the 2016 season. The veteran feels as though his lack of starting experience actually helped him, as his accumulated football knowledge was complemented by a full tank of gas.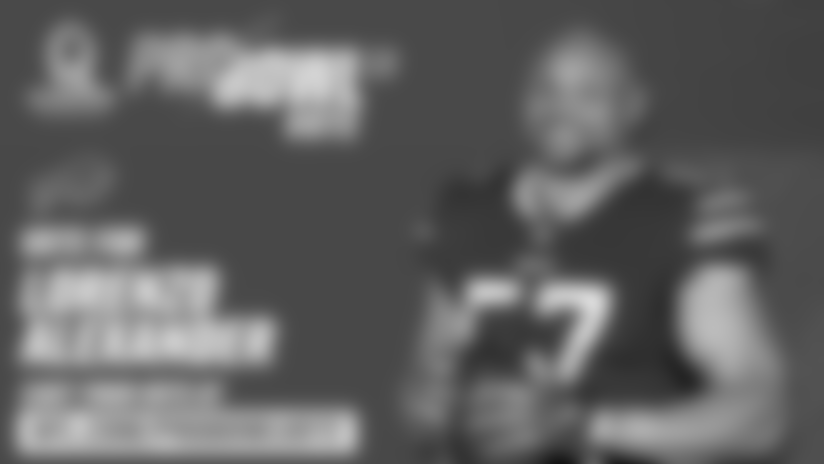 "Obviously, early in my career, I was a predominantly special teams player." Alexander shared on WGR 550's The Howard and Jeremy Show. "I think that saved me later in my career because I don't have the same mileage as your average 35-year-old because I wasn't a starter, I played only maybe 15 plays on defense and then all the special teams plays."
Alexander has proven that he wasn't a one-year wonder, as he followed up his breakout 2016 campaign with a solid season in 2017. Through 12 games this season, the 35-year-old has recorded 46 tackles, 6.5 sacks, and seven pass deflections.
Now in his 12th professional season, Alexander is undoubtedly in the twilight of his career. While he has yet to make a decision on his future, there's only one team that he would want to play for should he decide to come back for another year.
"We'll see what happens," Alexander said. "I've definitely thought about, 'Do I want to play or not?' Obviously, I've expressed that I would like to retire a Bill. I think the team would like me to be here as well. But I'll make that make that decision as far as playing or not after the season.
"I definitely think I have another year in the tank for me. I'll talk to my wife and we'll make a decision, then hopefully me and the Bills can come to an agreement, and I'll be able to retire here as a Buffalo Bill."
2 - Why McCoy could be in for big Week 14 outing
Nightmares of LeSean McCoy juking left and right likely woke Jets' defenders up in the middle of the night following their Week 10 loss to the Bills.
Shady constructed his best outing of the 2018 season in Buffalo's 41-10 win, rushing for 113 yards and two scores.
It looks as though the nightmares may resurface for New York, as McCoy may be primed to replicate this success when the two teams face off again this Sunday.
The Jets have struggled to defend the run all season, as they're currently allowing an average of 128.3 rushing yards per game, the seventh largest average in the league. They've allowed 19 runs of 20 or more yards, the most of any team in the NFL.
New York's inability to stop the run has only been magnified in recent weeks. They've given up at least 100 total rushing yards in four out of their last five games, all of them losses. The Jets have allowed over 200 net rushing yards in two out of their last four contests.
As if matters couldn't get any worse for the Jets, linebacker Darron Lee has been suspended for the remainder of the 2018 season. Lee had been experiencing a breakout third-season in New York, recording 74 tackles and three interceptions through 12 games.
McCoy and the Bills' offense will look to take advantage of Lee's absence and attack the Jets' weak run defense on Sunday. Don't be surprised if Buffalo leans on McCoy early and often.
3- Bills 50-year Team Member shares moment with McDermott & Beane
If you would have told Buffalo native Jack Birner 50 years ago that in 2018, he would still be working as a Team Member on Bills game days, a job that he started when he was just 17 years old, he probably wouldn't have believed you.
"I didn't think I'd be there more than a couple of years, but I've…made some lasting friendships [during my time]," explained Birner who is celebrating his 50th year on the job. "People that attend the games, the fans [and] the guys I work with. We've been friends for 45 years."
A dedicated worker, Birner has pretty much done it all during his time with the Bills and enjoyed it every step of the way. 
"I started as an usher, then a ticket taker, then for 30 years I was the gate supervisor of the takers…I still get to see everybody," he said. "I'm just not leaving because I really think we're going to win that thing one of these years and I'm going to be here when they do."
To recognize Birner for reaching the incredible milestone, the Buffalo Bills treated him to an unforgettable afternoon. On Friday leading up to the team's Week 14 game against the Jets, Birner was invited to the ADPRO Sports Training Center where he would get to meet both Head Coach Sean McDermott and General Manager Brandon Beane. As they walked off the practice field, McDermott and Beane greeted Birner with smiles and congratulated him on the accomplishment. 
The celebration continued for Birner when he was presented with a custom Bills jersey with his last name on it and the number 50.
"To some people it might be a little thing, but it means a lot to our guys to be recognized," said Birner. "They always tell you that, but you can actually see it now and it's something they don't have to do."
The Bills will also honor Birner, for his unwavering commitment to the organization, on the scoreboard this Sunday.
"The Bills are so very appreciative of our game day team members that work all of our home games, and we are lucky to have had Jack on our team for 50 years. His unbelievable dedication, loyalty, positive attitude, and passion for the Bills that he shares with his fellow staff and our great fans truly makes a difference to all those that have been lucky enough to know him. We thank Jack for being such an important part of our team!"