1 - McCoy looking to build off solid Week 11 performance
Bills running back, LeSean McCoy, was extremely productive on Sunday against the Chargers. He averaged over eight yards per carry, his highest mark of the season. He'll look to build off that performance and have another strong showing against the Kansas City Chiefs in Week 12. ![](https://goo.gl/qiMD1M)
On only 13 carries McCoy recorded 114 yards and one touchdown. He also had a 12-yard receiving touchdown. According to Pro Football Focus, McCoy was graded the third-highest running back in Week 11. The top-four included: Marshawn Lynch (92.0), Alex Collins (86.6), McCoy (84.5), and Mark Ingram (84.3).
"Yeah, we did some good things on Sunday," McCoy said. "Guys blocked well, the running backs read the holes well. We prepared hard and knew we could get some lanes in there. It was the ability to make guys miss on the perimeter. That's kind of how we run the ball."
Per usual, McCoy's had a productive year on the ground. He's on pace to reach the 1,000 yard mark, but has struggled to string together solid games back-to-back. He has rushed for 100 yards on three occasions this season. Those games came in Weeks One, Eight, and 11. The Bills premier back will look to record his second-straight 100-yard game on Sunday against the Chiefs.
"We just have to continue to be consistent," McCoy said. "Just getting back-to-back games together in the running game."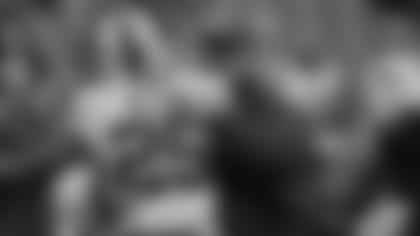 2 - Bills-Chiefs coaching connections run deep
Buffalo will make their way to Arrowhead Stadium this Sunday to face the Kansas City Chiefs. Head coaches, Andy Reid and Sean McDermott, will be manning both of the sidelines. Much of the Bills staff has worked under Reid, making the matchup that more intriguing.
McDermott worked on Reid's coaching staff in Philadelphia from 1999-2010. He worked his way up from being a scouting administrative coordinator in his first season to defensive coordinator in his final two seasons. Now, McDermott's the main man in Buffalo, and that's been his goal since the late 90's.
"That was my vision, honestly. Just like I'm trying to lead this organization towards a goal and a vision," said McDermott. "When I first met Andy years ago, he was the first one that kind of established, 'Hey, you can do this if you do things the right way. Anybody can do it if you do things the right way and you're willing to pay the price.' I learned a great deal from the man. He's a great football coach. He's even better off the field in terms of a person."
McDermott's just one of Buffalo's coaches to work on Reid's staff in Philadelphia. The others include: defensive coordinator Leslie Frazier (1999-2002), offensive line coach Juan Castillo (1995-2013), and quarterbacks coach David Culley (1999-2012).
Running back, LeSean McCoy, is also very familiar with Reid. They spent four seasons together with the Eagles. He compared his former and current coach after Wednesday's practice.
"Their terminology is very similar. They're both very smart. They're different though," McCoy said. "Sean is a lot younger. He's a lot more hip to my generation. Compared to Andy, he's more old-school. He sits in the back and lets the veterans control the team. Where Sean is more hands on. That's probably the biggest difference."
The Week 12 contest between the Bills and Chiefs will be McDermott's and Reid's first time facing off as head coaches. They'll be enemies for roughly three hours, but Reid's proud of McDermott for making it this far.
"Great person. Tough, tough guy," said Reid. "He's an extremely hard worker. I have a lot of respect for him. I watched him climb up through the ranks. Never took the easy way and worked his tail off to get where he is now. Very proud of him for that."
3 - Peterman's perspective after Taylor named starting QB
On Wednesday Bills head coach, Sean McDermott, officially announced that Tyrod Taylor would be the starting quarterback against the Chiefs. For Nathan Peterman, that means he's back to his role as the team's second-string QB.
Peterman didn't get too much help on Sunday against the Chargers in his debut. Regardless, he was pulled after his five first-half interceptions. Despite being benched Peterman credited Taylor for offering support throughout the game.
"Tyrod's always been there to help me," Peterman said. "Even on the sideline I think the biggest thing was, 'Hey, trust in god.' That was some of his advice to me and I thought that was great advice."
Sunday's game didn't go as scripted for Peterman. The outcome wasn't there, but he learned a bunch as his young career progresses.
"A lot. I think little details, fundamental things. Stepping up in the pocket, slowing things down a little bit. Had some miscommunication errors out there that I could've prevented," he said. "But then, when one thing goes wrong don't let it snowball. I've kind of learned that in the past too, but for some reason it happened Sunday. I'll be working and getting it right so it won't ever happen again."
SOCIAL MEDIA POST OF THE DAY