1 - McDermott confident in Kerley
For the most part, the Bills wide receiver group is young and relatively inexperienced. However, Jeremy Kerley was brought in to be a stable presence in the wide receiver room. Kerley is entering his eighth NFL season, after spending six seasons with the New York Jets, and the 2016 season with the San Francisco 49ers. In his last full season, Kerley was effective, bringing in 64 catches for 667 yards in a down offensive year for San Francisco. Head coach Sean McDermott recently spoke about what Kerley brings to the table in Buffalo.
"He's a veteran guy that has played a lot of snaps in the NFL [and] he has return ability, too," he said. "I like what we've seen out of him."
The presence of an eight-year veteran in a young group must not be understated. As a fifth-round pick in 2011, Kerley understands what it takes to carve out your own role in an NFL offense. He has had to fight for every rep throughout his career, and McDermott knows how valuable he can be as a role model.
"I like his veteran presence and energy," said McDermott. "He comes to work every day and we certainly appreciate that in terms of how he approaches his job and the game."
Kerley figures to be a part of the equation on offense and in the return game in 2018, and Bills fans can expect a great deal of consistency from him.
2 - Redmond carving out a role
Entering training camp, not much was said about second-year center Adam Redmond. Redmond spent 2017 with the Indianapolis Colts, however, he only appeared in four games. What's most intriguing about Redmond is his mental capacity for understanding his responsibility on each play. Redmond played his college football at Harvard, and it is no secret that he has a bright football mind. His intelligence combined with his above-average size at the center position, makes him valuable to the 2018 Bills.
Although Ryan Groy and Russell Bodine are battling for the starting role at center, Redmond's versatility could allow for him to step in if Groy is needed at guard. Redmond spoke recently about what it is like to be around both Groy and Bodine.
"I have a very small taste of what it is like to play on Sundays," said Redmond. "Those guys [Groy and Bodine] have been doing it for a while. Russ [Bodine] started every game in Cincinnati for four years, and Ryan [Groy] has been playing for multiple years."
Redmond also noted that he understands how important experience is in the NFL.
"It is a big thing," he said. "Experience is very valuable, it really matters in this league. To see how they prepare, how they get ready for practice, how they finish practice, and just how they compete is very valuable. I am just trying to soak up whatever they can say."
Redmond currently sits as somebody who has a chance of breaking into the 53-man roster, especially if he continues to display his willingness to learn, drive to compete, and his versatility.
Head coach Sean McDermott recently talked about how he has been impressed with Redmond's work ethic to this point in camp.
"Quite honestly he's one of the first guys in the building in the morning and it's not to work out, it's to get his body ready to go for pads," he said. "When I say it's not to work out, I'm saying [that] in a good way. It's not a mandatory lift that he's coming to do here, it's to get his mind and body ready to go for a full practice of pads and everything that that entails."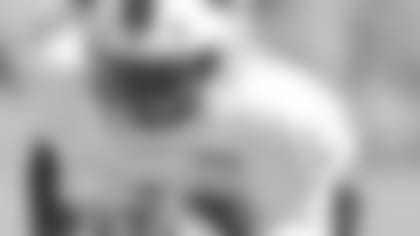 3 - Robinson excited to be in Buffalo
Linebacker Keenan Robinson was signed just as training camp opened in 2018, but he is already impressed with the way things are done within the Bills organization. After being a college teammate of Aaron Williams' at Texas, Robinson was a fourth-round pick of the Redskins in 2012. After three seasons with Washington, Robinson spent the last two seasons with the Giants. He spoke recently about playing with Bills linebacker Lorenzo Alexander in his rookie season.
"Lorenzo is a great guy," said Robinson. "He is one of the guys that took me under their wing. He is a great team player."
Robinson also spoke about the mentality in Buffalo and how the organization now expects greatness on every single play.
"I think after getting to the playoffs last year, guys are expecting more," he said. "Going into this year, everybody has a chip on their shoulder and they are expecting to excel."
Robinson has compiled 181 career tackles in 58 career games, playing mostly as a weakside linebacker. He excels in the coverage game, and he is able to keep up with tight ends and receivers at the NFL level; which is something that is rarely found in linebackers.
"In this defense, I am considered an outside linebacker, but I can and will play anywhere that they need me to," said Robinson.
SOCIAL MEDIA POST OF THE DAY