1 - Schein makes his forecast for Bills' draft plansBetween free agency and the 2018 NFL Draft, there's a ton of quarterbacks for teams throughout the league to add to their roster. Until then, we'll enjoy the speculation surrounding this year's available QBs.
NFL.com columnist, Adam Schein, came out with his QB forecaster. He predicted where nine big-name QBs (in both free agency and the draft) will wind up this offseason. His ninth and final projection was which QB will end up playing in Western New York.
Schein's nine predictions were: Kirk Cousins to the Vikings, Case Keenum to the Broncos, AJ McCarron to the Browns, Teddy Bridgewater to the Jets, Sam Darnold to the Browns, Josh Allen to the Cardinals, Josh Rosen to the Jets, Baker Mayfield to the Dolphins, and Lamar Jackson to the Bills.
Here's what Schein had to say about Jackson joining the Buffalo Bills.
*Jackson is a quarterback worth drafting in the first round. No more words need to be added to that sentence. I don't want to hear about the former Heisman Trophy winner switching positions. It's offensive. *
Even if the Bills are unable to trade up for one of the top four quarterback prospects in the draft, they still have two first-round picks (Nos. 21 and 22), meaning they'll be able to get their signal-caller of the future in Jackson. And Jackson will get his chance to stick it to everyone who ever questioned him coming out of Louisville.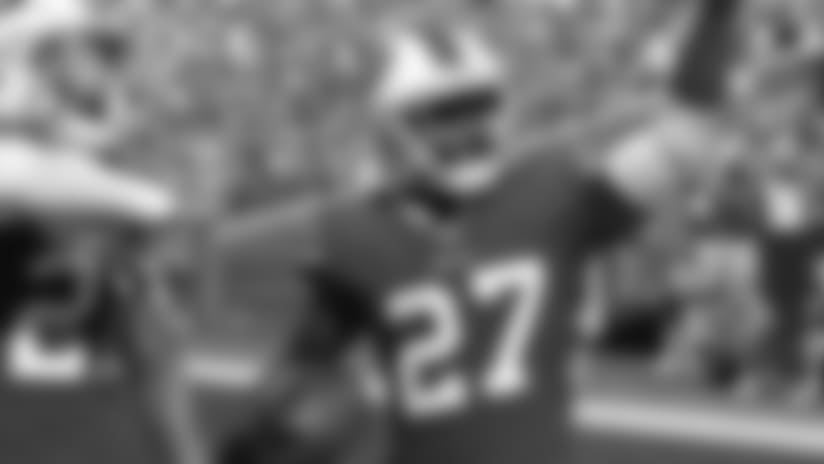 2 - Areas where Tre' White won in 2017After an admirable first season in the NFL, it's no secret how special Tre'Davious White is. When you crunch the numbers, it shows just how dominant he is at cornerback.
Here's how White fared in those categories, courtesy of PFF's William Moy.
White tied for 10th among all cornerbacks last season with 11 pass breakups and he tied for fifth among his positional peers with four interceptions. When looking at his ability to make plays on the ball at a rate level, White finished his rookie season ranked 10th among cornerbacks with a 19.5 playmaker index and there wasn't a game all season where he had at least five targets into his coverage and didn't register at least one pass breakup or interception.
Where he especially shined was when he had the opportunity to lock on in man coverage. White was targeted 28 times in man coverage and he surrendered just 10 catches for a total of 118 yards, holding opposing quarterbacks to just a 58.3 passer rating when targeting White's man coverage. PFF's Rookie of the Year had a 25.0 PMI on targets into his coverage when playing man, he had a 19.1 PMI when targeted in zone.
Covering out-breaking routes
White held opposing quarterbacks to just a 22.6 passer rating on out-breaking throws in 2017 and in 2016 - his final season at LSU - he held opposing quarterbacks to just a 20.3 passer rating on such throws; over the past two seasons quarterbacks would have been better off just tossing the ball straight into the dirt instead of challenging White on a route breaking toward the boundary.
*White led all cornerbacks this season with 1,093 defensive snaps and he was one of just 16 cornerbacks to hit four-digits in terms of snap count. White was a workhorse for the Bills and his performance was also incredibly consistent: White finished 14 of 17 games in 2017 with an overall grade of at least 70.0 and he surpassed the 80.0 mark nine times. He didn't wear down as the season went on either, he finished four of Buffalo's final seven games with a grade of at least 80.0.
3 - Frank Reich on Jim Kelly: The guy who can fight through anythingIn the beginning of March, the NFL community was stunned by the saddening news that Jim Kelly's oral cancer had returned. Since the news, Kelly's former Buffalo Bills teammate Frank Reich has been keeping in touch.
"Yeah, we've gone back and forth via text and talked a little bit," said Reich on the John Murphy Show. "I talked to Jim on the phone a couple weeks ago, before he was going in for some of his tests."
Kelly and Reich were both on the Bills from 1986 to 1994. In those years, the two quarterbacks experienced a ton together. They were crowned AFC Champions in four-straight seasons (1990-1993), but were never able to earn a Super Bowl ring.
Reich knows how tough Kelly is from their nearly decade of experience playing together in Buffalo. If anybody can beat cancer for a third time, it's Kelly. 
"Jim's the guy who can fight through anything," said Reich. "We're just believing the best and thinking the best. And know, there will be challenges to fight back through this, but if there's anyone that I have confidence and faith in of doing it it's him. That guy is incredible.
"He's the toughest football player I've ever played with at any position, anytime, anywhere. Everybody else is a distant second. That guy is one-of-a-kind." SOCIAL MEDIA POST OF THE DAY