1 - Who's Buffalo's perfect prospect at the NFL Combine?
The 2018 NFL Scouting Combine is officially here. That said, which one of the 300-plus prospects is the perfect fit for the Buffalo Bills?
Here's why Gary Davenport of B/R believes Jewell will fit in splendidly with the Bills defense.
After a season in which middle linebacker Preston Brown tied for the NFL lead with 144 tackles, the 25-year-old is slated to hit the open market. Even if the Bills re-up Brown, depth behind him and/or an upgrade on the weak side would both be welcome. Iowa's Josey Jewell has the ability to fill both of those needs. Jewell was wildly productive for the Hawkeyes in 2017, and Lance Zierlein of NFL.com compared the 6-1, 235-pounder to Sean Lee of the Dallas Cowboys. One AFC scouting director told Zierlein he sees value written all over Jewell.
There's good reason why there's so much hype surrounding Jewell. He had an impeccable four-year career (2014-2017) at Iowa. With the Hawkeyes, he had 433 total tackles, 28 tackles for a loss, 26 passes defended, 10 sacks, six interceptions, three forced fumbles, and two fumble recovers.
Jewell was all over the stat sheet in his college career, but his tackling ability is perhaps the most intriguing part of his game. In 2017, his 132 total tackles led the entire Big Ten Conference. Additionally, he posted 120-plus tackles in three-straight seasons to conclude his college career.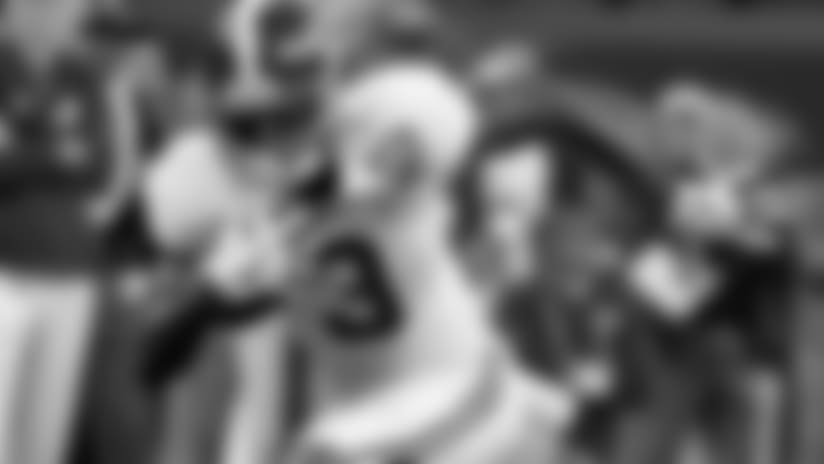 2 – Mike Mayock breaks down the top pass catchersA couple weeks before the Combine, NFL Media draft analyst Mike Mayock unveiled his position-by-position rankings for the 2018 draft. On Monday, during a national conference call, Mayock honed in on his top wide receiver prospects from that list.
Mayock's top WRs were: Calvin Ridley (1), Christian Kirk (2), Courtland Sutton (3), James Washington (4), Dante Pettis (T-5), DJ Moore (T-5), and Anthony Miller (T-5).
Mayock was asked about the strengths and weaknesses of his top-three WRs (Ridley, Kirk, and Sutton).
"Ridley and Kirk are somewhat similar. I like them both in the slot, although I think Ridley might be a little bit faster. I'm anxious to see them both at the combine speed wise," said Mayock. "I think Ridley can play outside, but he will become predominantly a slot receiver in the NFL. Same with Kirk. They both run tremendous routes. They both have really good hands. They're both tough catching the football with good run after catch. Christian Kirk adds some value in the return game."
Kirk and Ridley may be destined to play in the slot once they enter the league, but that's not the case for Sutton. At 6-4, he stands three inches taller than Ridley (6-1) and five inches taller than Kirk (5-11).
"Courtland Sutton is a completely different animal. 6-4, 215-220 [pounds]. High-level production. A lot of it is outside the numbers," said Mayock. "Keep in mind, there's a lot of ways to separate in today's NFL. We used to talk about speed, quickness, and route running. There's another way to separate now and that's with size. Back shoulder fades, the outside the number throws. He's mostly kind of a fade, pitch, and slant type of player right now. There's not much of a route tree."
"I'm anxious to see how fast he is. Can he be a Mike Evans type player? Mike Evans ran a 4.53 at the Combine at 230-pounds. Or is he more of a 4.58 type of guy? I think Courtland Sutton is going to be an intriguing guy to watch at the Combine."
3 – Who're the NFL's top 101 free agents in 2018?The list of players set to become free agents on Mar. 14, is lengthy. At each position, there are highly-talented players who can bolster a team's roster.
On Monday, NFL.com posted their top 101 NFL free agents of 2018. Here's the top player from a majority of the positions, along with some insight from Greg Rosenthal and Chris Wesseling.
Quarterback, Kirk Cousins (#1 FA)Due in part to an obsessive work ethic, Cousins has improved every year in the league. His numbers over 48 games since taking over for Robert Griffin III three years ago rival those of Aaron Rodgers during that time span. Quarterbacks of his caliber, durability and commitment level simply don't reach the open market.
Running Back, Le'Veon Bell (#3 FA)
The NFL's premier all-around back of the past four years will likely draw the franchise tag for the second consecutive offseason if he doesn't reach a long-term deal with the Steelers.
Defensive End, Demarcus Lawrence (#4 FA)
Among the leaders in sacks and tackles for loss in a breakout season, Lawrence will enter the 2018 campaign as a 26-year-old building block. The Cowboys have made it clear that he will be tagged if no agreement is reached by the deadline.
Wide Receiver, Allen Robinson (#6 FA)
One of the league's most dangerous deep threats in 2015, Robinson followed a disappointing 2016 season with a torn ACL in 2017. Suddenly standing in a Super Bowl window, Jacksonville will consider applying the tag to retain Robinson if necessary.
Defensive Tackle, Sheldon Richardson (#7 FA)
Richardson's Pro Bowl talent may be undeniable, but he's totaled just 2.5 sacks in his past 30 games and will be viewed by many teams as a character risk. He's expected to reach the open market.
Guard, Andrew Norwell (#9 FA)
Norwell has developed into a Pro Bowl-caliber performer in a league that finds it increasingly difficult to find a quality offensive line. With so much capital tied up in Matt Kalil and Trai Turner, the Panthers might have their hands tied with Norwell.
Cornerback, Kyle Fuller (#10 FA)
We might be higher on Fuller than most after watching him lead the league in passes defended last year, per Pro Football Focus. Could he be the next Casey Hayward, making his former team look silly for allowing him to fly the nest after his rookie contract?
Tight End, Jimmy Graham (#23 FA)
Graham is still earning Pro Bowl nods to his red-zone prowess and name recognition, but it's been four years since he's played at that consistent level.
SOCIAL MEDIA POST OF THE DAY