1 – Young Bills players who made the most of their preseason opportunities
As cut-down day is upon the football world, Bills general manager Brandon Beane shared some thoughts on some of the youngest competitors on the roster. Second-year tight end Jason Croom and rookie cornerback Taron Johnson have surprised many throughout training camp, and Beane noted that he has been pleased by the progress both have made. Johnson has been battling for the starting nickel cornerback position, and Beane said recently that the Bills expect a lot out of him early.
"Taron [Johnson] has done a great job for us," said Beane during Thursday's Bills-Bears broadcast. "With the way he has played, we expect a lot of time out of him at the nickel."
Of course, the nickel cornerback job was between Johnson and veteran cornerback Phillip Gaines, but Gaines has recently rotated in as the right cornerback on the outside. If Gaines plays a prominent role outside, Johnson could see plenty of time from the first game on.
Croom switched from wide receiver to tight end in his senior year at Tennessee, but Beane says that his work ethic has allowed him to transition quite nicely.
"Jason Croom is one of the hardest working guys we have," Beane said.
Some may think that the switch from receiver to tight end is simple, but Beane noted that learning the nuances of a different position is anything but easy.
"It is harder than it seems," he said. "Putting your hand in the dirt and trying to block a six-technique defensive end is extremely difficult."
Both Croom and Johnson seem to have come a long way and their progress has been noticed by the Bills' staff.
2 – These former Bills are making their mark as coaches
Bills fans love, perhaps more than any other fanbase, keeping in touch with the men who represented their city on Sundays. There have been a few rookie, and many veteran coaches in both the NFL and the NCAA that once played in Buffalo.
In 2018, famed Bills quarterback Frank Reich was hired as the head coach of the Indianapolis Colts after helping the Eagles to a Super Bowl victory. Former Bills first round pick J.P. Losman is now an offensive analyst under Dabo Swinney at Clemson, the school from which the Bills drafted rookie wide receiver Ray-Ray McCloud; and for more seasoned Bills fans, Bills linebacker from 1979-1985 Jim Haslett, is a linebackers coach with the Cincinnati Bengals. For those who are forever endeared to somewhat obscure former Bills, Michael Jasper and Levi Brown are also coaching at the college level in 2018.
Also coaching in 2018 are LS Bradford Banta, DB Jeff Burris, G Mike Devlin and Tom Myslinski, QB Alex Van Pelt, DB JD Williams, RB Tashard Choice, OL Howard Ballard, CB Derrick Burroughs, QB Brian Brohm, DE Keith Willis, DT Odell Haggins, DB Kiwaukee Thomas, DB Deon Broomfield, and WR David Clowney. The Bills would like to wish the best of luck to all of the former Bills players beginning or continuing their coaching journeys in 2018.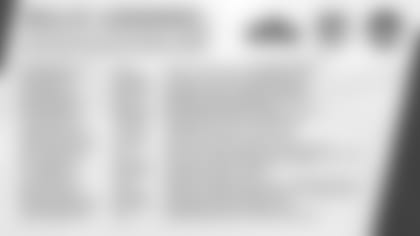 3 – ESPN reveals Bills "sneaky strengths"
The business of evaluating NFL teams can be tricky at times. Teams intentionally devise strategies to outwit their opponents, and they build their game plans to complement the strengths of the players in the system. However, some team's strengths are hidden behind star players, fan favorites, and a litany of other things. Recently, ESPN Aaron Schatz broke down some of the lesser known strengths of each NFL team.
In 2017, the Bills were the number one team at converting third downs into first downs and moving the chains when necessary. Despite this, the Bills were ranked just 19th in rushing DVOA, or Defense-adjusted Value Over Average. DVOA is designed to calculate a team's success rate in different down-and-distance situations relative to the performance of the other NFL teams. According to Schatz, although the Bills ranked 19th in overall rushing DVOA, they ranked fifth out all 32 teams in rushing DVOA on third and fourth down attempts.
Schatz went on to breakdown why the Bills secondary was so successful in 2017, and despite some departures from that unit, why the team might repeat that success in 2018.
Buffalo ranked third in DVOA against opposing No. 2 receivers and first in DVOA against opponents' No. 3 and No. 4 wide receivers. The Bills' second, third and fourth cornerbacks left this offseason, but safety Micah Hyde, who often covers receivers in the slot, is still in Buffalo.
Buffalo's run game, with LeSean McCoy still performing at a high level and the additions of Marcus Murphy and Chris Ivory, should continue to convert past first and second-down opportunities. Also, the return of Jordan Poyer, Micah Hyde, and Tre'Davious White should provide some necessary stability in the defensive backfield.