Almost 12 percent of residents in the Buffalo Niagara have extreme difficulties reaching supermarkets because of proximity and a lack of access to a vehicle, according to the University at Buffalo.
Nationally, nearly a quarter of American adults experience food insecurity according to a study from Urban Institute, which also found that Hispanic/Latinx and Black adults were consistently at greater risk of food insecurity than white adults, reflecting longstanding disparities in food access.
The Double Up Food Bucks NY program aims to combat the health crisis that is food insecurity by providing families and individuals with SNAP/EBT benefits of up to $20 per day to purchase local fresh produce. The nutrition incentive program matches SNAP purchases $1 for $1, helping communities strive to eat healthier while also providing incentives to support local farmers and co-ops.
On Monday, the Buffalo Bills Foundation hosted three organizations committed to battling food insecurity as well as families from Buffalo and Rochester at training camp. The organizations were: Field & Fork Network, which runs the Double Up Food Bucks NY program, Foodlink, which rescues and redistributes food from manufacturers and retailers and to human-service organizations and Buffalo Go Green, an organization that fights against food injustice and provides fresh produce, food and meals to underserved populations.
Nichole Borchard, the partnerships director at the Field & Fork Network shed light on how the Double Up Food Bucks program helps residents make healthy choices.
"Healthy food is more expensive. … When you're on a fixed income and trying to make a decision between that pasta and those strawberries, I feel like you might go with the pasta," Borchard said. "This program takes that out of it."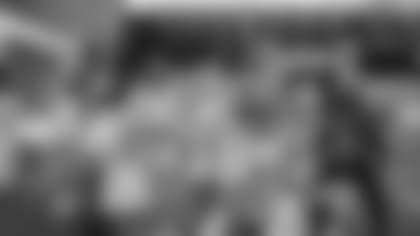 The Bills Foundation and Field & Fork Network have partnered for the last three years, and are celebrating Double Up Awareness Week, as the program is completely free but requires eligible participants to opt-in to earn the benefits.
"The Bills have played a critical role in just elevating the profile of the program," Borchard said. "So we're super thankful for the partnership with them and just being able to bring out the kids and have a fun day at camp."
The families received fake money which they could cash in for cherries, peaches, corn and many other healthy options. Jemir, a child from Buffalo, said that while he liked to eat "regular food, which is meat," eating healthy was important because "you have to eat [healthy food] to get strong."
Jemir plays quarterback and had a chance to get an autograph from Stefon Diggs after practice.
Florence Clemmons, the community-based strategies director at Foodlink, is committed to bringing fresh, healthy produce to those in Rochester with limited access. Foodlink's Curbside Market brings healthy food directly to these communities.
"It's very important because of the fact that with the diet-related illnesses right now going on, people want to eat healthy but they just can't afford to or just don't have access to it," Clemmons said. "So that's the solution that we came up with, to help get the market to those who want to see a lifestyle change.
All three organizations accept online donations, and Foodlink has options for individuals or groups to volunteer.
Scroll to see the best photos from Day 10 of Training Camp at St. John Fisher University.