The Buffalo Bills are excited to announce that former TE Butch Rolle has been selected as the 2022 Bills' Legend of the Year.
The Bills Legend selected for this honor demonstrates exceptional commitment to community service and philanthropic efforts in their respective communities.
Rolle, who was drafted by the Bills in 1986, played in Buffalo for six seasons and with the Phoenix Cardinals for his final two seasons in the NFL. During his time with the Bills, the tight end tallied 10 touchdowns which sparked his nickname, "Mr. Touchdown," for the franchise record that still stands after he hauled 10 consecutive receptions for 10 touchdowns.
The Legend of the Year Community Grant was created to highlight and support Buffalo Bills Legends who continue to demonstrate exceptional commitment to community service and philanthropic efforts in their respective location and communities. On Monday evening at the Bills Community Honors Dinner, Rolle received a five-thousand-dollar grant which will benefit the efforts of the Butch Rolle Foundation.
"Playing here as a former player, you want to come back and do things to help the community and to show the community that you're still involved," Rolle said. "This community is like a second home, and it's important for me to give back and do things to help the kids out. I'm honored, I love it, and being recognized by the Buffalo Bills and everybody for all that we're doing in helping kids is a great feeling."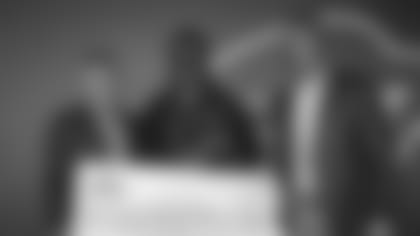 The Miami native established the Butch Rolle Foundation in 2013. The Foundation strives to help students around the country touch down on college campuses by providing grants and scholarships. The organization's charitable efforts are aimed to provide assistance for low-income family students. In addition to mentoring and educational efforts for underserved youth, the foundation supports annual toy drives and meals for students.
Rolle grew up in a big family and was always surrounded by kids, which ultimately inspired him to use his platform to influence and motivate kids beyond what he did on the football field. Prior to the foundation's inception, Rolle served as a youth football coach for many years, facilitating annual drives around South Florida to secure shoes and cleats for children and young athletes.
"I show these kids that you're never too old to continue with school and they see that, and they're motivated," Rolle said. "That's a big deal to me because nowadays these kids are a little different than when I was growing up and they need the guidance of everybody, not just the parents or close-knit family close but they need the guidance from everybody. It's a platform that I embrace, and that I will continue to grow with. My mission is to help as many kids as possible."
Rolle continues to touch the lives of many from his hometown Miami, FL all the way to his second home, Buffalo. And in giving back to the community where he started his NFL career, he engages in Bills Backers events and he performs annually at Jim Kelly's Kelly For Kids Foundation Golf Tournament & Gala.
"It's just the big open-hearted community that I love about Buffalo," Rolle said.
For more information on Rolle's foundation, click here.