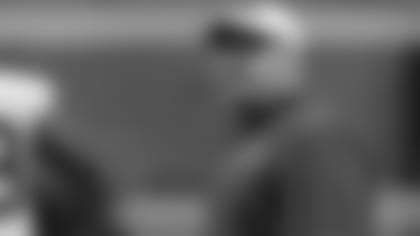 ](http://bufbills.co/campcountdownarticle)

Camp Countdown presented by M&T Bank will examine some of the more pressing issues facing the team on the field as they make their final preparations for the regular season. We also focus on a few different areas that impact the team off the field. We'll address these subjects one at a time until training camp begins. Here now is the latest daily installment as we carefully probe for some of the answers the Buffalo Bills have to come up with between July 30 and the Sept. 13 opener at Ralph Wilson Stadium against Indianapolis.
Offensive coordinators have not lasted long in Buffalo over the last 15 years. In fact, since 2000 the Bills have had 11 different offensive play callers and just one served for more than two seasons (Chan Gailey - 2010-2012).
New offensive coordinator Greg Roman probably won't last more than two years in Buffalo either, but it will be likely due to his success rather than the alternative. Here's how Roman's scheme and play calling expertise will help Buffalo's offense the most in 2015.
Ground game track record
To call Roman a successful run game designer would be a gross understatement. Over the four seasons in which Roman was in charge of San Francisco's offense the 49ers attack ranked second in total rushing yards (8,912), second in rushing yards per game (139.3), third in rushing attempts (1,965) and third in rushes of 10 yards or more (267). They also ranked sixth in yards per carry average (4.54).
This past season San Francisco had the fourth-best running game in the league. The key to Roman's success has been his ability to modernize the tried and true run game concepts of the past. His whole approach on run plays is to obtain a numerical advantage in the box to open up what he likes to call "cavernous holes" for his running backs.
He succeeds in creating outnumbered situations for an opposing defense through a myriad of pre-snap motion and formation changes. It could be an unbalanced line. It could be seven offensive linemen on the field. It could be deception where a pass look is given, but a run play is the call. Whatever Roman chooses it's typically the right call to keep defenses guessing.
"One play you might have a tight end lead blocking and one play you might have a fullback lead blocking, one play you might be pulling a guard," said G Richie Incognito. "The schemes are the same, you have a skeleton of a play, but there are so many moving parts whether it's receiver motion or tight end motion, there's a lot of window dressing to get back to downhill running."
"You see how much they accomplished in San Francisco when he was out there running the ball," said Fred Jackson. "He has some tremendous schemes, some stuff that even though this being 10 years in the league for me I had never seen until he got here. He's a guy that can draw up some things and put guys in the right situation to make key blocks and give the running back a great lane to run through."
That would be a welcome sight for an offense that slipped from second in the league in rushing in 2013 all the way to 25th just a year later. Now armed with proven all-purpose back LeSean McCoy, Roman's cavernous holes might not only move the sticks, but put points on the board as well.
"He's very intelligent," said LeSean McCoy. "He finds ways to get his running back the ball in space to make different plays. I'm very close with Frank Gore and Frank couldn't stop saying positive things about coach. So it sounds like Greg and I are going to have the same vision and the same goals. The main thing is to run the ball hard and get some guys up front to make some things happen."
Multiplicity
As much as Roman's offense might be rooted in a physical run game, there are a lot more pages in the offensive coordinator's playbook. The volume comes largely from the number of pre-snap motions and formations. It's all there to provide a measure of unpredictability to just what his offense is planning from one play to the next.
"It's certainly not a one-dimensional type of offense," said Roman. "You'll probably find we try to create a lot of issues for the teams that we play against and present a lot of different problems. So I think you have to be able to hang your hat on something as an offense where everything starts and make people respect that before they'll respect anything."
At the same time Roman is wise enough to know that balance is the key to any offense. So he not only has wide variety in his run game, but throughout every aspect of his offense.
"We show a lot of different personalities," he said. "How do we do that? I can't come out and tell you that or else you might take my job. It's something where we want to be multi-dimensional, but we want to be physical. We want to be a balanced problem for people.
"We don't want them to say, 'Hey, all we have to do is stop this guy, or double this guy, or overload this side of the line.' We want 11 men out there that could impact that game. So, we want to really start with balance."
Coming off a season in which their offense was very narrow in scope, diversity represents welcome change for Buffalo's offensive linemen.
"I love the variety of it," said Eric Wood. "Just referencing San Francisco's offense from the past watching them on film, on one play they're pitching the ball outside, the next play is a trap inside and then they might run a power play, which keeps the defense on their heels."
That variety is carried through to the passing game as well with formation changes, multiple personnel groupings and shifts. One player who figures to embody all that pre-snap shifting is TE Charles Clay, who has quickly learned that he could be lining up anywhere.
"Whether it's running routes or catching as receivers out of the backfield, he does a good job of moving guys around," said Clay. "I can't think of any position where I'm lined up at more than another. The receivers will tell you the same thing. They're moving around as much as I am."
Confidence
Most NFL observers would contend that any coach at the pro level has to have a good deal of confidence to have any kind of success in this league. Roman's success at Stanford and with San Francisco has only bolstered his confidence in his schemes. He also has a great sense of timing for certain play calls. That confidence has quickly spread through Buffalo's offensive meeting room.
Roman doesn't hesitate to change the focal point of their attack plan from one week to the next if he believes it will be more effective against the opponent on that particular Sunday.
"You want to maximize peoples' strengths and minimize their weaknesses, while at the same time attacking the opponents' weaknesses and minimizing their strengths," said Roman. "You want to build a system that's comprehensive enough that you can change personalities week to week if need be and that's certainly something we're going to do."
Roman also doesn't panic when the deck is stacked against him. If he's down 10-0 in the second quarter he doesn't blink.
"That's the first thing I noticed about him," said Matt Cassel of Roman's play calling demeanor. "He's got a calmness about him. He doesn't get too high or too low and I like that consistency when it comes to a play caller."
Roman's inherent confidence has helped him to convince his deep pool of skill position talent to buy into the fact that they're not going to lead the team in receptions, carries or touchdowns every week.
"Here the hero of the team is going to be the team," Roman said. "It's going to be every offensive lineman, receiver, tight end, quarterback, running back in the game doing their job and being a force multiplier for the guys around them.
"It's going to come down to execution. What can we execute effectively? There are a lot of teams with talent, but not all of them win. We've got to find our formula for winning and everybody has got to grab a shovel and start digging."
"We've just got to be unselfish and with the group we've got," said Sammy Watkins. "We've just got to go out and play and win games. That's what the focus is."
Knowing he was one of Buffalo's head coaching candidates himself before Rex Ryan was hired gives indication that Roman's time as the Bills offensive play caller could be short lived if the team performs up to expectations. All Ryan cares about right now is seeing Roman make the most of the offensive talent they have at their disposal this season.
"I think his resume speaks for itself," Ryan said of Roman. "You go to three conference championship games in a row and a Super Bowl as well, that's not a bad run there. I think he's as good as there is in this league. How long will we have him here in Buffalo? I don't know. But we're going to enjoy having him here as long as we have him. I think he's going to be a head coach in this league real soon. We're going to take him and his expertise and ride him."