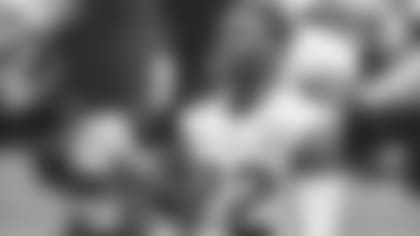 ](http://bufbills.co/campcountdownarticle)

Camp Countdown presented by M&T Bank will examine some of the more pressing issues facing the team on the field as they make their final preparations for the regular season. We also focus on a few different areas that impact the team off the field. We'll address these subjects one at a time until training camp begins. Here now is the latest daily installment as we carefully probe for some of the answers the Buffalo Bills have to come up with between July 30 and the Sept. 13 opener at Ralph Wilson Stadium against Indianapolis.*
It's hard to be "ground and pound" when you can't count on the ground. ![](http://bufbills.co/ccarticle300)

The Buffalo Bills found that out last year. And as they approach training camp in 2015, the Bills are determined to regain their strong running game. It's the foundation of what they want to do offensively.
Rebuilding the ground attack would figure to be job one for new Bills Offensive Coordinator Greg Roman. The Bills effectiveness in the run game dropped dramatically last season.
In 2013, Buffalo averaged 144 rushing yards per game, good enough for 2nd in the NFL. Last year, the Bills rushing attack dropped to 25th in the league, with an average of 93-yards per game.
In Roman, the Bills appear to have just the right coach to resuscitate Buffalo's rushing attack. He spent four seasons as Offensive Coordinator in San Francisco, and Roman's Niners teams were never ranked below 8th in the league when it came to yards on the ground. The last three seasons, San Francisco was ranked 4th, 3rd, and 4th in rushing yards per game.
The Bills believe that's where they need to be to have success in 2015. And after two months of workouts and minicamps, Bills players believe they're headed in the right direction.
""I'm very confident moving forward," veteran Center Eric Wood said when minicamps wrapped up. "You're right we weren't extremely effective at all times last year, but we're working technique each day trying to get better and learn this new scheme and I'm confident we're going to have a very good year."
Wood is the anchor of a Buffalo offensive line that will likely have some new pieces in place when training camp opens. Rookie John Miller is penciled in at right guard and veteran Richie Incognito is slated to start at left guard. While Cordy Glenn seems solid at left tackle, the Bills could use either Cyrus Kouandjio or last year's starter, Seantrel Henderson, at right tackle.
But the biggest factor in a rejuvenated Buffalo rushing attack is RB LeSean McCoy. He's run for more than 1,000 yards in four of his six NFL seasons. The three-time Pro Bowl performer is the Philadelphia Eagles all-time leading rusher. McCoy figures to be the focal point of Buffalo's offense in 2015, with backup help from Fred Jackson, Karlos Williams and others.
Roman says he has not set a target for the number of carries McCoy will get this season and he won't force the ball to their "bell-cow" back.
"I do believe it's how we decide to play as a team and how games are going sometimes, which might force the ball into his hands more or less than other times. But make no mistake about it-- he is one of the premier running backs on planet Earth and I saw that first hand this spring."
The other offensive additions the Bills have made will also benefit the run game. Veteran Fred Jackson says the more playmakers the team has downfield, the more room there is for the backs to maneuver.
"You bring in a guy like Percy (Harvin) and you have other guys like Sammy (Watkins) and Marquise (Goodwin) who can blow the roof off a defense-- I think teams have to respect that," Jackson says. "That keeps the safeties out of the box."
Add to that the addition of veteran fullback Jerome Felton, with FB competition from John Conner, and the Bills are clearly poised to establish the run early and often this season. And according to Fred Jackson, the biggest piece of the puzzle is the guy calling the shots-Greg Roman.
"You see how much they accomplished in San Francisco when he was out there running the ball," Jackson says. "He has some tremendous schemes, some stuff that even though this being 10 years in the league for me I had never seen until he got here. He's a guy that can draw up some things and put guys in the right situation to make key blocks and give the running back a great lane to run through. Anytime you've got an offensive-minded coach it does great things for you." ![](http://bufbills.co/ccarticle588)