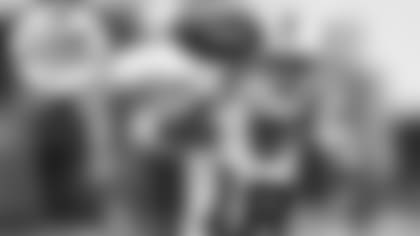 ](http://bufbills.co/campcountdownarticle)

Camp Countdown presented by M&T Bank will examine some of the more pressing issues facing the team on the field as they make their final preparations for the regular season. We also focus on a few different areas that impact the team off the field. We'll address these subjects one at a time until training camp begins. Here now is the latest daily installment as we carefully probe for some of the answers the Buffalo Bills have to come up with between July 30 and the Sept. 13 opener at Ralph Wilson Stadium against Indianapolis.
Most Bills fans may have already forgotten that the team's lead kick returner in the 2014 season was now departed running back C.J. Spiller. A broken clavicle played a large role in Spiller seeing less time on kickoffs than anticipated, but he averaged a solid 30.6 yards per kick return last season, the sixth-highest average in the NFL amongst players with at least 10 returns. Buffalo certainly has a strong group of returners on the roster, but who will step forward and seize the role for 2015?
Despite a strong overall performance by Buffalo's special teams last season, the Bills have some work to do on kick return. The Bills have finished in the bottom half of the NFL in kick return yards in three of the past four seasons.
Here's a look at the three top candidates for the primary kick return job:
Goodwin's most notable asset is his blinding speed. His 4.27 second 40-yard dash time was the fastest of any player at the 2013 NFL Combine.
On the football field, Goodwin is no stranger to special teams. In 2013, he was the Bills' primary kick returner with 16 returns for 351 yards. Those numbers dropped to just four returns for 84 yards last season. Injuries were a major factor in that drop-off—Goodwin was on the Bills' injury report seven times last season, appearing in only 10 games.
Being inactive for six games last season compromised Goodwin's ability to man to primary kick return role in 2014. That's only motivated him all the more to land the job despite the presence of other proven returners on the roster in 2015.
"It was a great deal of competition as is and then we added Percy [Harvin]," he explained. "I think it is great for our room, it is great for the camaraderie in the room and it is great for the team."
Harvin is the most experienced returner on Buffalo's roster. In 68 career games, Harvin has 147 kick returns and five touchdowns, good enough for third best among active players. This should give him an early leg-up heading into training camp. Like Goodwin, Harvin is fast—he ran a 4.41 second 40-yard dash in the 2009 NFL Combine.
Harvin was one of the biggest signings of the offseason for the Bills. He's known around the league for his abilities both as a receiver and as a special teams weapon.
"I feel very fortunate [adding] a guy like Percy Harvin, who has been to the Pro Bowl and been a highly productive player," Crossman said. "I know playing against him he's a scary individual to kick the football to."
Like Goodwin, Harvin has been plagued by the injury bug. He hasn't played a full 16-game season since 2011 and played in just one game in 2013 due to a torn labrum in his hip. The 27-year-old has already suffered a torn Achilles tendon and a complete ligament tear in his ankle—both on his right side.
Although he wants to be known as more than a "gadget player," Harvin says that he'll "definitely be on special teams."
"That was one of my biggest reasons coming here," he said. "Being a return guy, that has you licking your chops knowing these guys can block and cover. So the sky is the limit for this team."
Thigpen is the dark horse of this group. After coming to Buffalo in the middle of last season, Thigpen logged six kick returns with a long of 49 yards. More notably, he returned a punt for 75 yards against the Green Bay Packers last season, giving the Bills a 7-3 lead en route to a 21-13 victory.
During his career with the Miami Dolphins, Thigpen was the primary kick returner. He returned 77 kicks over two full seasons and returned a kick for a touchdown during his 2012 rookie season.
Thigpen's biggest advantage over Goodwin and Harvin is that he has not missed any games due to injury while in the NFL. His biggest accomplishments, however, come from his time in the Canadian Football League as a member of the Hamilton Tiger-Cats.
During the 2010 CFL season, Thigpen had the second most total return yards in the league and returned the first kickoff of the season for a touchdown. He was also the first player in league history to score a touchdown in five different ways: a kickoff return, punt return, missed field goal return, a running play and a reception.
Thigpen is the biggest unknown amongst the kick returners going into training camp. He'll be looking to prove that he deserves a spot on the roster as a strong special teams asset.
Even though the Bills have plenty of experience in the return department this season special teams coordinator Danny Crossman isn't handing anyone the job based on past success. He's only looking forward to the training camp competition, with a thought that the holder of the job has the potential to change as the season wears on.
"The best guy will show his wares and we'll know who that is," he said. "My job is to get the best guy and it could change because each week you never know what's going to happen."