Looking at the sheer size and mass of Bills rookie offensive lineman Cyril Richardson, it's hard to think that anything or anyone could move him. At 6-foot-4 and 343 pounds, Richardson is the one who usually decides who will go where and when. But as a 13-year old living in New Orleans as it was ravaged by Hurricane Katrina, Richardson would begin a series of moves that almost left his budding football career behind.
Uprooted by disaster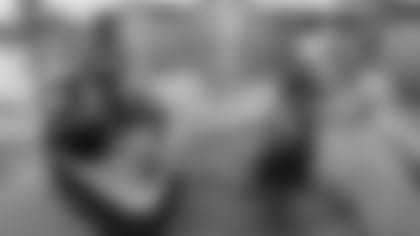 He was about to begin his freshman year of high school at L.B. Landry in New Orleans in August of 2005. He had worked hard all summer and ultimately made the JV squad. The season opener was just days away. Hurricane Katrina had other plans.
"About 4 o'clock that morning on the news they said how bad it was going to be," said Cyril's mother Anita Richardson. "Our mayor said that he could not take care of everybody in the city. So I knew we needed to get out of there. So I grabbed my mom, my sister and her husband. We had my husband, Cyril and he has a set of triplet sisters (age 5) and we hit the highway."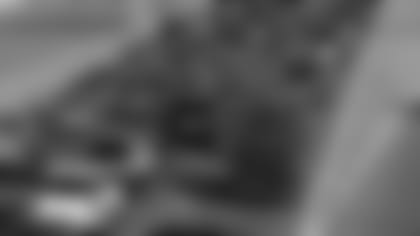 The Richardsons joined the mass exodus on I-10 west with their destination being Baker, Louisiana just outside of Baton Rouge. The 90-mile trip took 17 hours.
"That drive was tough," Richardson said. "It's only 80 miles away, but just about everybody was trying to get out of New Orleans at that time. It was a mess."
Richardson's older brother Jeremy was already at Grambling prepping for football season more than 200 miles north. His older sister Patricia made the fateful decision to stay in New Orleans and ride out the storm with her husband and two-year old daughter. After the power went out in the Crescent City the family lost contact with her.
"We didn't know where she was for about a week. She thought she could stay there and she was in the worst part of it because she was where the flooding was the worst," said Richardson of his older sister. "She actually had to take my niece and had to put her in an ice cooler because they float and got her to safety."
"They walked through the water," said Mrs. Richardson. "The water was waist high and they just pushed her through. Unfortunately she came across drowned bodies on her way through the water. She found a baby, she also told me about a man and a lady. Just horrible things. We really don't talk about it much."
Getting a ride out of New Orleans cost Cyril's sister Patricia and her husband $400, but they didn't ask to be dropped off until they reached Fort Worth, where they eventually reconnected with the rest of the family by phone.
Making the best of it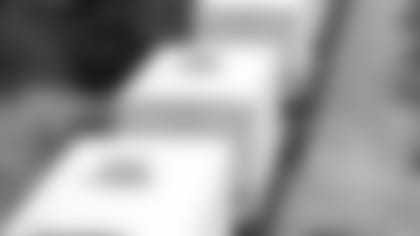 Cyril and the rest of his family were trying to adjust to life in Baker. After spending almost two months with a host of other displaced relatives at his aunt's house, his family qualified for a 30-foot trailer home in what could've been called a refugee camp for former New Orleans residents. Richardson, who was already big for his age, did not take well to the new living arrangements.
"He would sleep on the kitchen table in the trailer which could be lowered and doubled as a bed," said Mrs. Richardson. "But he was so uncomfortable we got him an air mattress and he slept on the floor. Living in that trailer park was a major inconvenience because the newly created community had specific rules and a curfew and meal times. You had to eat at a certain time and go to bed at a certain time. It was like we were in a military camp or something, but Cyril never complained."
Richardson enrolled at the local high school in Baker, but all the upheaval wiped out his freshman season of football. The family was eventually allowed to move into a mobile home after Cyril's father Albert had a fall and injured his back. Even though the mobile home was a slight improvement, Cyril could no longer bear the tight living arrangements.
"Cyril told me he was losing it and that he couldn't handle being in such confined spaces all the time," said his mother. "So that's when we tried to go to Texas a second time to find a home in Texas."
The family had traveled to Texas once before to visit Cyril's older sister, and in exploring the area saw it as a new place to call home.
"We wanted to start living life again, but we couldn't find anything," said Anita Richardson. "So we returned to our trailer in Baker again and that's when Cyril and my husband got on the internet. My husband had Cyril help him out and we literally bought our house on the internet. They both found a house for us."
A $500 down payment got the ball rolling. It was October 2006 when they found a home in Fort Worth. The second move however, wiped out Richardson's sophomore year of football.
"Once I found out we were moving to Texas I stopped playing to help my mother get ready for the move," he said.
A new beginning
After moving to Texas life settled down. There was a routine and Richardson had some much needed space, but football was suddenly an afterthought.
"At that point I wasn't going to play anymore," said Richardson.
That's where Richardson's older brother stepped in. As big as Cyril had become now as a high school junior there was no way Jeremy was going to let his younger brother walk away from football.
"He would challenge Cyril on everything. It wasn't a bad competition, it was a good competition and it would keep Cyril on his toes," said his mother. "He'd tell Cyril, 'I'm not going to let you beat me.' Whatever Cyril did in the weight room his brother would try to outdo. So they would try to outdo each other and it was healthy for both of them."
"My brother pushed me to keep playing," said Cyril. "I met some cool people at my new high school in Fort Worth who encouraged me and they were my main support. They just pushed me to get back on the field. They cared about me, but I'm sure my size had something to do with it too. So I went out there and did my thing and I enjoyed it."
Though Richardson was back in pads he couldn't play for North Crowley in Fort Worth. Academic issues in transferring credits from his Louisiana schools to the Texas school system kept him from playing in all but one game his junior year.
"Louisiana schools and Texas schools are two different animals," he said. "They took credits away from me because things didn't match up."
Left with just his senior year to make a name for himself, Richardson made the most of it. By the time his senior season was over in 2008 he had received All-District 3-5A first-team honors. He was ranked as the 11th best lineman in the state of Texas by the Dallas Morning News and 62nd in the nation by Scout.com.
Bearing down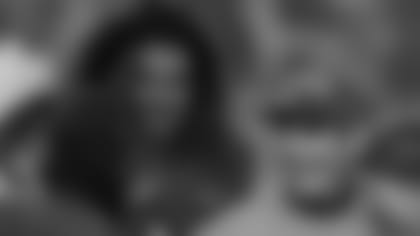 A scholarship to Baylor awaited and much to his mother's relief it was just an hour and 15 minutes down the highway. After going through the separation anxiety of Katrina being far from any member of her family was difficult. Attending many of her son's games with each passing year, Anita Richardson was impressed with the person her son had become.
"When I look at the five years he spent up at Baylor he became very independent," she said. "The most I did for Cyril when he was in college was cook for him after his football games. He made sure he paid his bills on time, he went to class on time, was at practice on time. He showed up and he did what he was supposed to do."
After earning a spot on the Big 12 All-Freshman team in 2010, Richardson moved to left tackle as a sophomore and was named to the All-Big 12 honorable mention while protecting Robert Griffin III's blind side. Second team All-American honors followed in 2012 along with the Big 12 Offensive Lineman of the Year award. He was the recipient of that same award a year later along with unanimous first-team All-American honors despite moving to left guard.
Being made aware of his accomplishments was often something his mother had to pull out of Richardson.
"We had to literally ask Cyril about the awards," said Mrs. Richardson. "I asked to see the award and they would be sitting in the back of his car or buried somewhere in his room. He just won't say anything. He's proud of what he did, but he's not boastful.
"Everything he does he's going to do it to the best of his ability. If he doesn't know something he's going to study it until he gets it. Cyril will persevere. He is not going to let anybody tell him that he can't or he will not. He'll tell you if he has to rethink something and do it another way, but he's not going to fail at it."
The nearly nine years since hurricane Katrina have proven to be the best evidence.
"The word proud is not a good enough word with how I feel about Cyril," said his mother. "I knew Cyril was going to do something, but playing football is not one of the things that I thought he would be doing. He was either going to create a comic book series or work with computers. So to play football and do the things that he's doing he has surpassed my expectations."
Perseverance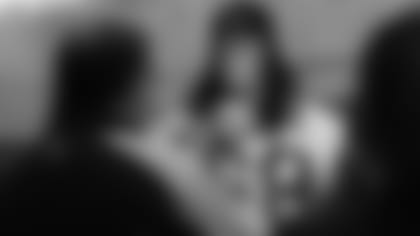 Being an offensive lineman seems fitting for Richardson in light of the obstacles that have stood in his way in his young 23 years. Displaced from his childhood home by a natural disaster, on the move for more than two years, and losing three quarters of his high school football career, Richardson never wavered. He simply plowed through every circumstance that would've given him an excuse to come up short.
"It's taught me resilience and to maintain a positive outlook on life no matter what is going on," he said of his teenage years. "Times get bad and you still have to keep your hopes up and you have to see the light at the end of the tunnel. It's there you just have to make sure you see it and then go for it."
The Richardson family doesn't view Katrina as a scar on their life, but rather a blessing. As Anita Richardson sees it, her children might not have matured into the people they are today were they not prompted to start their life anew in Texas.
"Sometimes you have to look at the disaster and get the good stuff out of it," she said. "Had it not been for Katrina maybe none of this would've happened. That's the way I look at it."
"Honestly I wouldn't trade my past for anything," said Buffalo's fifth-round pick. "I'm definitely not satisfied right now. I've obviously still got to make the team and get these guys to trust me and I plan on doing that. As you see with my track record I don't give up. I'm going to work my tail off here and make sure that everybody knows that I'm about business."